News
Arts Access Aotearoa
Partnership explores brave new ways of telling stories
9 July 2015
Active and Everybody Cool Lives Here teamed up to create Wake Up Tomorrow over a two-year period. Wake up Tomorrow engaged emerging artists from the theatre community to support young actors in the creative process. Together, they developed performance skills, and created props, costumes and other visual elements.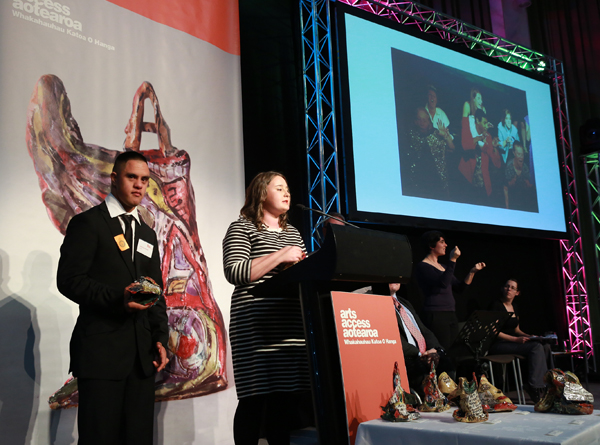 The partnership was recognised at the Arts Access Awards 2015 with the Arts Access CQ Hotels Wellington Community Partnership Award, the judging panel agreeing it was "a perfect marriage between Everybody Cool Lives Here and Active, creating something magical".
Everybody Cool Lives Here Trust aims to produce theatre and art that reflects the unique and diverse voices of Aotearoa. The intent is to connect with communities and artists who want to explore brave new ways of telling their stories by challenging the boundaries between theatre, art and dance exploring new ways of making performance based work.
"We hope to confront audience perceptions about what community art is and could be. We will allow unheard stories to be told in professional and public arenas. We believe this will strengthen connections between different communities," Everybody Cool Lives Here Trust founder, Rose Kirkup says.
Active is a vocation based group which encourages 17 to 25 year old youth with intellectual disabilities to lead their personal transition into adult life. The youth explore their individual aspirations and culture and build partnerships with their peers and the wider community. The goal is to be active and valued members of an inclusive society.
The 2015 season, directed by Isobel Mackinnon, was presented at Circa Theatre as part of the New Zealand Fringe Festival.
"The production enjoyed great success, receiving high praise from audiences, as well as acknowledgement by the theatre community," Rose says.
Wake Up Tomorrow earned six Fringe awards, including Best Show of Fringe and Best Performer.