News
Arts Access Aotearoa
Paying homage to the "creativity, courage and spontaneity" of the women who participate in the Home Ground collective was a key motivating force driving Salā Roseanne Leota, inaugural recipient of the Whakahoa Kaitoi i Te Ara Poutama Arts in Corrections Artist Fellowship 2022.
The Fellowship, presented by Arts Access Aotearoa and worth $10,000, supported Roseanne to explore and research her creative writing processes and abilities, with the supp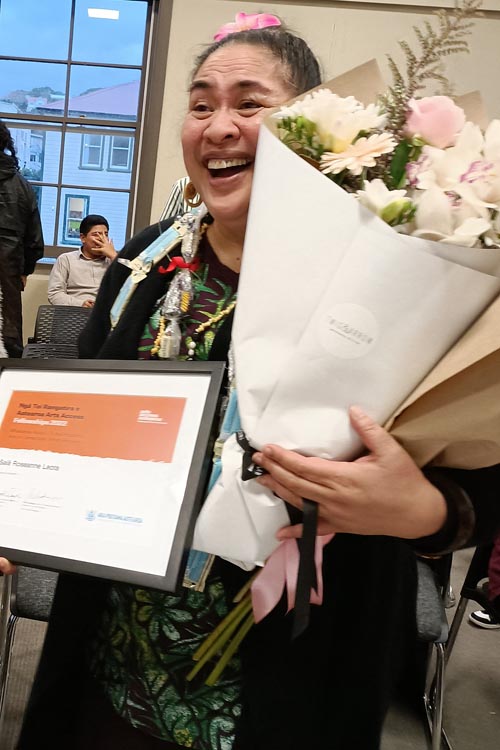 ort of a mentor, writer Tusiata Avia, and the Home Ground women.
In the video, Roseanne says the fellowship was a reflection of what makes her heart sing. "My family, first and foremost. Telling stories, I guess, makes my heart sing and working with the wāhine from Home Ground."
She says she is grateful to Arts Access Aotearoa for providing a mentor as part of the fellowship process. "Tusiata Avia has been insightful and very helpful in helping me to navigate this process. I went to my first play in over 40 years and it gave me a sense of what I could do in the future. So yeah, publishing, performing a play or writing a play, and I'm looking forward to exploring the different avenues that creativity can take me, especially with my writing."
Members of Home Ground, Roseanne's family, and staff from Arts Access Aotearoa and the Department of Corrections attended an event in late June celebrating the completion of her fellowship project.
Roseanne's cultural heritage is Samoan, Chinese and Tongan. Mother of 11 children and grandmother to six, she lives on the Kāpiti Coast with her partner, Ieremia. In 2019, she completed a Diploma in Creative Writing from Whitireia Community Polytechnic and is now working towards a Bachelor of Arts in Creative Writing from Massey University.
Creativity and wellbeing initiative
Home Ground, based in Wellington, is a creativity and wellbeing initiative for women who have experienced incarceration or are engaged in the justice system. Roseanne is its Creative Advisor and Administrator.
However, she first got involved in Home Ground in 2019 through Community Corrections when she was serving a community service. She reluctantly signed up for its project, thinking it would be boring.
"I knew I could already write pretty well and didn't think I'd get much out of it," she says. "But the project went so much deeper than just the writing. I found it healing and transformative.
"When women are given the tools, resources and opportunities to explore their creativity, enhance their wellbeing and share their lived experiences, it can be transformative. Teach a man to fish and you feed him for a lifetime. Teach a woman to fish and she will inspire and empower generations."