News
Arts Access Aotearoa
Circa promotes signed show to Deaf patrons
29 January 2014
Promoting the sign interpreted performance of Kings of the Gym to Deaf networks using word of mouth, email and online tools are key elements of Circa Theatre's marketing strategy to encourage Deaf people to attend the performance on 14 February.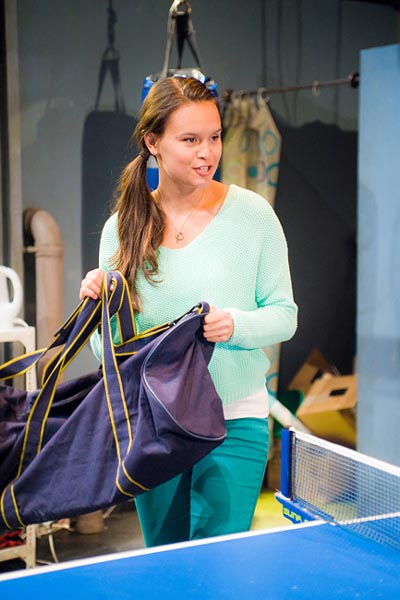 Mark Berry – filmmaker, Deaf tutor at Victoria University and co-presenter on Attitude TV – has also prepared a signed YouTube video promoting the performance.
The interpreted show will be the second to last performance of the return season of Kings of the Gym, a hit comedy by Wellington playwright Dave Armstrong featuring all of the original cast.
The sign interpreted performance was sparked by actor Acushla-Tara Sutton, who plays student teacher Annie Tupua. Having two Deaf flatmates means she understands the barriers Deaf people encounter when trying to access theatre.
Cara Hill, Marketing Manager at Circa Theatre and a member of the Arts For All Wellington Network, says it's important to make theatre accessible to everyone. "Circa Theatre is committed to providing sign interpreted performances when we have the budget."
Funding the performance
Using the crowdfunding website, Boosted, and a grant from the J.R. McKenzie Trust Deaf Development Fund, Circa Theatre raised more than $2200 to employ two sign language interpreters, Elinor Cuttiford and Saran Goldie-Anderson, for the performance.
The Deaf Development Fund also supported Circa's first sign interpreted show, Tribes, in 2013, which Elinor and Saran interpreted.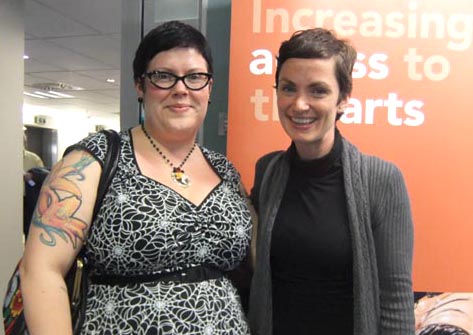 "The cast and crew of Kings of the Gym are really excited about the interpreted performance and are working with the interpreters and Mark Berry to make sure it's done well," Cara says. "We hope lots of members of the Deaf community come out to see and enjoy it."
Saran explains: "It's a whole different kettle of fish from normal interpreting. The preparation takes a lot of time – getting familiar with the script and attending rehearsals as much as possible to create the clearest possible translation."
Interpreting for the stage involves signing in real time with the actor's speech – unlike most interpreting, which occurs after people have already spoken. "I'd love to see more sign interpreted theatre happening."
Theatre interpreting workshop
For Elinor, this is the fifth show she has interpreted. In February, she's attending a three-day workshop on interpreting for theatre, presented by THE EDGE in association with AUSLAN Stage Left.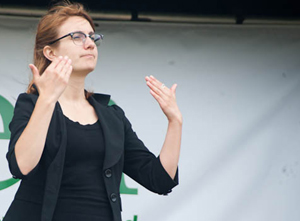 "I'm really looking forward to the workshop, tapping into the knowledge of other professionals and getting more guidance into the actual process," Elinor says.
"I love interpreting for theatre because you have to be so expressive. We're really fortunate that Cara and Circa are providing these opportunities for Deaf people to experience live performance."
Kings of the Gym closes on Saturday 15 February. There is a sign interpreted performance on Friday 14 February. Deaf patrons wanting to book tickets should email circa@circa.co.nz with the number of seats required and advise that you would like seats in the designated area in view of the interpreters. You can pay for your ticket on the night, but you must arrive by 7:30pm to pay and pick up your tickets.