News
Arts Access Aotearoa
Artsenta's community involvement recognised at Arts Access Awards
9 July 2015
Artsenta, a studio where people come to be creative - whether it's drawing, painting, crafts, creative writing, making pottery or playing music - will celebrate its 30-year anniversary next year in Dunedin.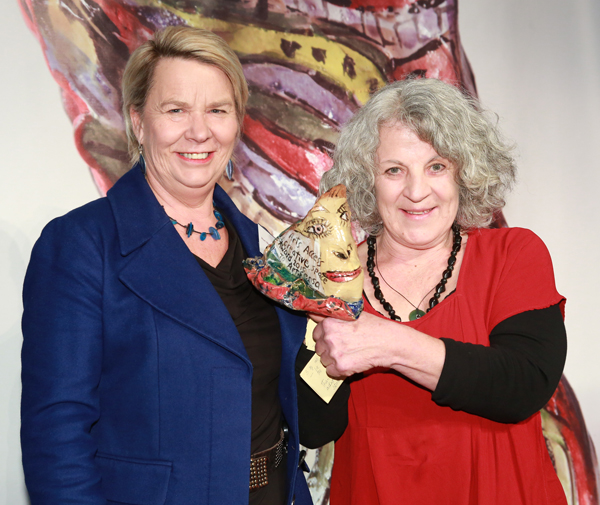 One of the first creative spaces in New Zealand, Artsenta offers a range of opportunities, materials and equipment for people who use mental health services. Artists are able to work on individual creative projects or become involved in more structured sessions.
"Artsenta has evolved and changed over 30 years," Artsenta Director Jill Thomson says. "But throughout all this time, at the core is a creative community where so much becomes possible. What is too hard on your own becomes do-able in a supportive and vibrant community. Artsenta celebrates this."
The recipient of the Arts Access Creative Space Award 2015, Artsenta was commended by the judging panel for its breadth of projects and involvement with the local community. "Over many years the diversity of projects and ongoing involvement in the community has seen Artsenta's reputation grow and as a result build an extensive community following."
Artsenta is an accessible and free resource. No charge is made for attending the studio space or to use materials. Six art workers offer weekly sessions in printmaking, glass work, drawing, jewellery, music and pottery. Artsenta hosts a Radio Show on OAR (105.4FM,) playing a variety of music including songwriters' original songs recorded at Artsenta as well as poetry and stories, some of which are performed live to air.
Artsenta benefits not only from its longevity and established reputation in the wider community, but it also maintains relevance through its programme of activities.
"Receiving this award is a wonderful acknowledgement of our creative community," Jill says. "We are very proud of Artsenta. For those who have been involved over the years, for those who come now ... We're going to enjoy this."