Media Release
Arts Access Aotearoa
MEDIA RELEASE: Ōtautahi Creative Spaces
David Shrigley exhibition inspires Room 5 artists
24 May 2017
Drawings by Christchurch artists, inspired by the David Shrigley: Lose Your Mind exhibition, will be displayed in the gallery of the Centre of Contemporary Art (CoCA) until Sunday 4 June.
The display follows a visit to CoCA by twelve artists from Ōtautahi Creative Spaces' Room 5 art studio in Phillipstown and includes more than 80 drawings in response to Shrigley's work. For some of the artists, was the first visit to the central city for the first time since the earthquakes.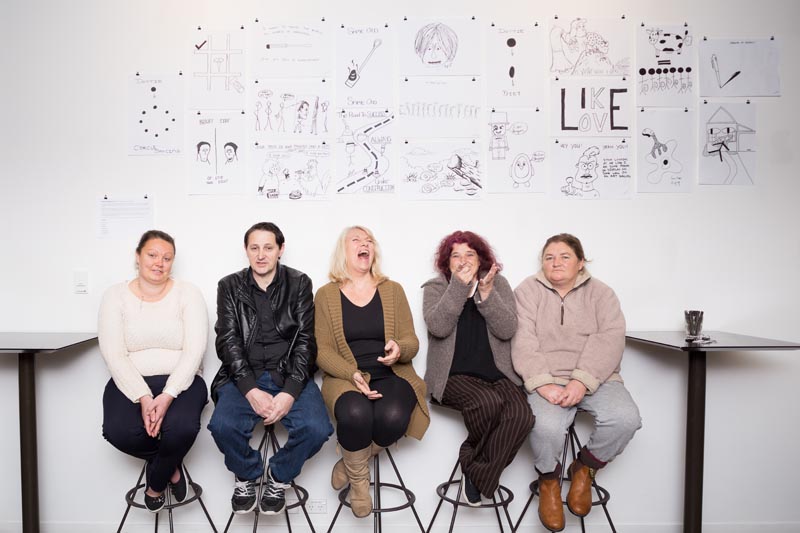 Although their drawings explored the style of Shrigley's drawings, the Room 5 artists' work deals with subjects featured in the full range of his exhibited work (drawings, painting and sculpture). These include boots, eggs and skeletons.
Echoing Shrigley's prolific output, Room 5 artist Kerry Gray produced more than 35 drawings. "I'd moved away from doing black ink drawings and this inspired me to get back into it. I've been creating new comic-style characters."
The British artist's outlook on life resonates with Gray. "I liked his ideas. I think we may have a similar personality. He has a critical, cynical way of looking at things, which is a world I'm very much immersed in. He doesn't hold back or limit himself to certain subjects or art forms."
Collaborating with CoCA
Kim Morton, manager of Ōtautahi Creative Spaces, is excited about the collaboration with CoCA. "We hope David Shrigley enjoys our drawings as much as we enjoyed his. The artists' work reflects Shrigley's quirky, unsettling, confronting and humorous work."
Morton says creative expression is at the heart of wellbeing. "Creativity can help us understand our experiences, explore our identity, find meaning in our lives and connect with others. It also offers a place of sanctuary from the intensity of life."
Shrigley's exhibition had another significant impact. "It was the impetus for some Room 5 artists to return to the central city for the first time since the earthquakes. This took courage."
Connecting with Shrigley
CoCA Gallery Co-ordinator Jennifer Shields says, "We love how Room 5 artists connected with Shrigley's work with so much enthusiasm and are delighted to be able to display their work. To learn we're creating exhibitions that give people the courage to come back into the city is remarkable – it's how we want the Christchurch community to feel about CoCA. We look forward to continuing to work with Ōtautahi Creative Spaces for the foreseeable future."
Ōtautahi Creative Spaces supports artists with experience of mental illness to pursue their creative aspirations. It actively promotes Room 5 artists' work and opportunities for engagement with contemporary art practice. "It is a real honour to have our work displayed alongside David Shrigley's in a contemporary and highly regarded gallery," says Morton.
The work will be displayed in CoCA's cafe until Sunday 4 June. David Shrigley: Lose Your Mind closes on Sunday 28 May.
For more information and to arrange an interview, please contact:
Kim Morton, Manager, Ōtautahi Creative Spaces 022 064 7963