Digital media
This page is about digital media and the opportunities it offers to make the arts more accessible to people who have access to the internet and digital devices. There's a section on e-publishing and ways that publishers can make e-books accessible so more people can read great literature. It is a summary of the information in chapter six of Arts For All: Ngā Toi mō te katoa, pages 63 to 69.
A definition
Digital media is content such as text, audio, video, animation and still images that is stored or transmitted electronically (e.g. via the internet, smartphones or other digital devices). Digital multimedia combines all or some of this content.
Digital media can be an artwork in its own right: for example, an animated movie, a video or an e-book. Or it might be a painting that's been scanned and posted in an online gallery – therefore existing as both digital media and a physical painting.
Digital media can also provide integrated access to the arts, including from different and sometimes remote locations. It creates huge opportunities to develop global audiences, including disabled people.
Digital media in the Deaf and disability world
Deaf and disabled people in New Zealand are already consumers of digital media, sometimes for arts activities such as creating or listening to music, watching arts programmes on television and writing blogs.
Video blogs (vlogs) can be a source of Sign Language information and can also be supplemented with captions and transcripts.
Examples of digital media accessibility in New Zealand include captioning and audio description of some television programmes and movies; transcripts and captioning of online video; and auto captioning of videos on YouTube.
Technological advances such as 3D printers mean galleries and museums can print exact copies of precious objects from collections for blind, vision impaired and other disabled people to touch.
As with much of disability access, it also benefits the wider community and is useful for education programmes run by galleries and museums
Which media for which audience?
The same information can be presented in a variety of ways to different audiences. Digital multimedia, when it includes accessibility features, is ideal for this purpose. Here are some options to consider:
Sign Language videos, presented where possible by a Deaf person, are ideal for the Deaf community.
Captions are very helpful to communicate audio elements to people with hearing impairments or Deaf people.
Audio description works well to describe the visual elements to blind and vision impaired people.
Where possible, incorporate the various forms of accessibility. Technology means you can have audio description or voice-over, captioning and Sign Language on the same video.
Transcripts may be valuable for blind and vision impaired people to communicate visual elements of the video. They will also work for others: for example, people who don't have time to watch, or prefer to read their information.
Podcasts are widely used and are listened to by a variety of audiences, not only blind and vision impaired people.
E-books and e-publishing
Access to literature and the printed word is something that most people take for granted. But for the group of people loosely called "print disabled", access to books is far from an everyday activity.
A wide definition of print-disabled people includes blind and vision impaired people; people with dyslexia and related conditions; people with learning disability; and people who, for usually physical reasons, cannot hold a book, or whose medication makes reading and concentrating difficult. This is a sizeable group of people.
It's estimated that only five to seven per cent of printed information is available to blind and vision impaired people around the world despite e-books, talking books and other accessible electronic technologies. Many other print-disabled people, including a large group of people whose low vision does not entitle them to services, have no access to print.
New markets and new readers
Advances in technology mean that publishers can now reach new markets and new readers. Accessible publishing is a realistic option for publishers of both e-books and print books. International best practice guidelines are available online.
Until the development of e-publishing, special versions such as large print or braille have been required – often at great cost and after considerable delay. These were produced by charities with strict and limited membership criteria.
Now it's increasingly common for a digital device to keep a single copy of a book or other work, from which versions suitable for people with various disabilities can be produced with no delay and with less potential for error in translation.
Libraries have a key role to play here as they make e-books available to borrowers.
Films and videos
Films and videos can be artworks. They can also provide extra explanation or insight into artists, particular artworks or exhibits; communicate information about an arts event; or tell a related story.
Their value can be enhanced by:
adding captions for people who are Deaf or hearing impaired, or those for whom English is not their first language
providing audio description and making it available on smartphones and tablets as well as the more traditional audio guide. It will not interfere with the enjoyment of other patrons
providing Sign Language interpretation to include people who are Deaf
adding music, interviews and visual elements to the traditional pre-recorded audio guide.
Online media
Online media includes the whole variety of sight, sound and interaction available from the internet. However, accessibility must be included in the web-based platform as well as in the multimedia content.
Websites must be:
Perceivable – people know the information is there
Operable – people can find it easily and navigate around the site
Understandable – people can understand the content
Robust – the site can be accessed using a range of current and future technologies.
There's an app for that
Many arts organisations are developing apps for smartphones and tablets. Relatively inexpensive, accessible and out-of-the-box technologies are available. These bring many new possibilities for presenting all kinds of arts activities, and information about them, to different audiences.
Developers should use Apple's accessibility tools when they are developing an app and have it tested by people with low vision. Consider making an android version too.
An app might include:
videos with closed or open captions for audio content
Sign Language videos
enlarged text capability and documents that work accessibly
audio description for visual material
information in Plain English and/or Easy Read
compatibility with braille output.
Ideally, it would have elements of all of these.
An app may be a way to:
provide everyone with a smartphone or tablet with the same access to information about an upcoming arts event, exhibition, performance or festival
enhance your New Zealand Sign Language skills (the New Zealand Sign Language dictionary has a free app for iPad and iPhone)
provide general information about a particular venue, including locations, directions and accessibility features, prices, discounts etc
provide more in-depth information about an exhibition or show
provide self-guided or virtual tours
deliver audio description to a mobile phone or tablet, replacing the portable FM system currently widely used.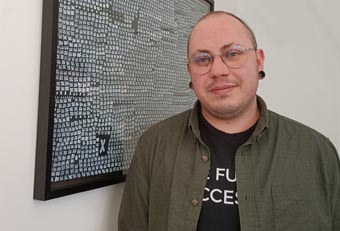 Stace Robertson: Stace is Lead Accessibility Advisor, Arts Access Aotearoa (T: 04802 4349 E: afa@artsaccess.org.nz). Stace works Monday to Thursday. More about Stace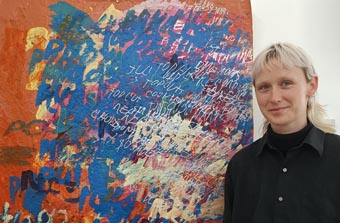 Milly Hampton: Milly is Arts For All Activator, Arts Access Aotearoa (T: 04802 4349 E: afa@artsaccess.org.nz). Milly works Monday to Thursday. More about Milly

Connect through music: this video was made by Lala Rolls of Island Productions Aotearoa for Arts Access Aotearoa and Chamber Music New Zealand.

Access for all: "The good thing about being focused on access and accessibility is that you create a better experience for everybody," says Philip Patston in this video, made by Lala Rolls of Island Productions Aotearoa for Arts Access Aotearoa.