Article
Arts Access Aotearoa
Disability pride shines in tape art partnership
5 July 2017
Strong community partnerships resulted in a tape art mural during Wellington's Disability Pride Week despite November's earthquake almost thwarting the project.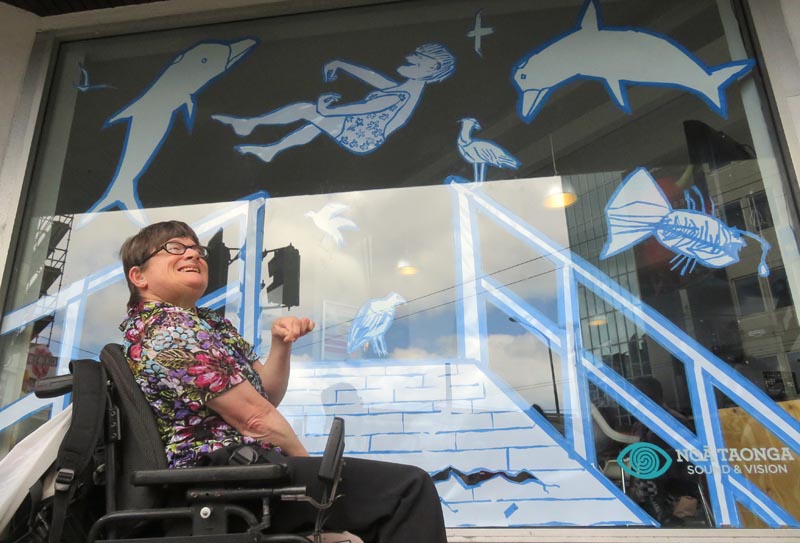 The engagement and strength of the partnership between Rachel Noble's company, Ennoble, Erica Duthie and Struan Ashby of Tape Art NZ, and Ngā Taonga Sound & Vision earned them the Arts Access CQ Hotels Wellington Community Partnership Award 2017.
Rachel Noble, co-convener of Disability Pride Week 2016, first saw tape artists Erica and Struan in action during a project they did with Deaf participants on the windows of Aotea Centre in Auckland.
"I was struck by the collaborative process that Erica and Struan use with groups so they can share their collective stories in public," Rachel says.
"I really wanted to bring this to Wellington and work with them to create a mural as part of the annual International Day of Disabled People on 3 December."
Mural of pride
This idea was the seed that grew into Disability Pride Week 2016, where the tape art workshop and mural was one of several creative activities aimed at giving a greater voice and visibility for Deaf and disabled people to express their pride.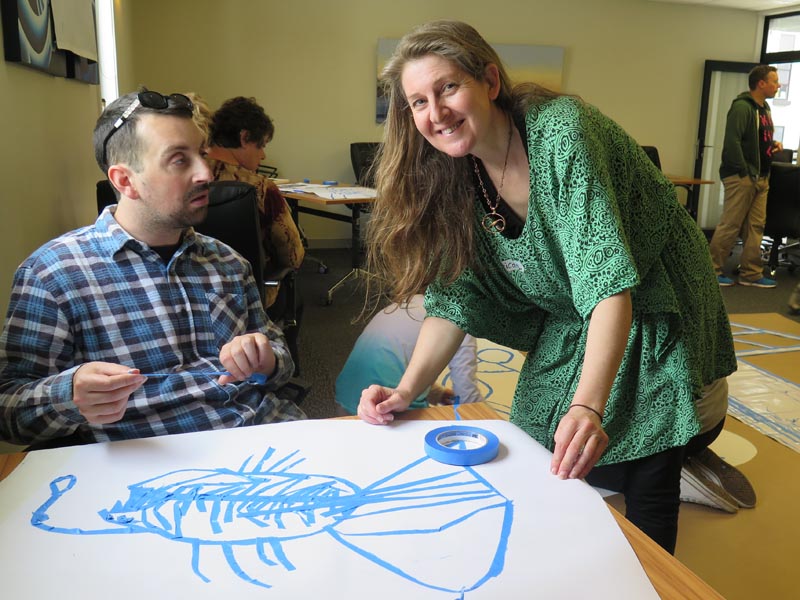 "I thought it would be cool for the public to see disabled artists at work and not hidden away," Rachel says. "The tape art provided a wonderful way to bring together a range of artists of different ages, skills and artistic styles, as well as impairments."
Erica says that when Rachel approached Tape Art NZ with the idea, they thought it was an ambitious but achievable project. "We were delighted to be a part of this important conversation and to feel experienced enough to facilitate what we knew would be a dynamic creative process."
Planning got under way. Ennoble pulled together the sponsorship and confirmed the Asteron Centre as the venue. A call went out and pulled in 13 artists and five assistants from across the region, including participants from Vincents Art Workshop and Pablos Art Studios in Wellington; Passionart in Palmerston North; Thumbs Up in Petone; and other artists from the Laura Ferguson Trust in the Hutt Valley.
The best-laid plans, however, were no match for the November Kaikoura earthquake. Just two weeks out from the event, Asteron Centre was damaged.
Fortunately, Ngā Taonga Sound & Vision stepped in and offered to host the final mural.
During the two-day workshop, held at CCS Disability Action, participants learned the skills involved in drawing with tape. And as part of a conversation about disability pride, they discussed how they wanted to represent their ideas, both individually and collectively.
Sharing experiences
"In many ways, the best part of the project were the conversations this collaborative process fosters," Struan says. "Having a forum and using drawing to share their experiences with each other and with the public was empowering."
Feedback from the participants was full of enthusiasm, pride and praise for the organisers and the opportunities the project offered.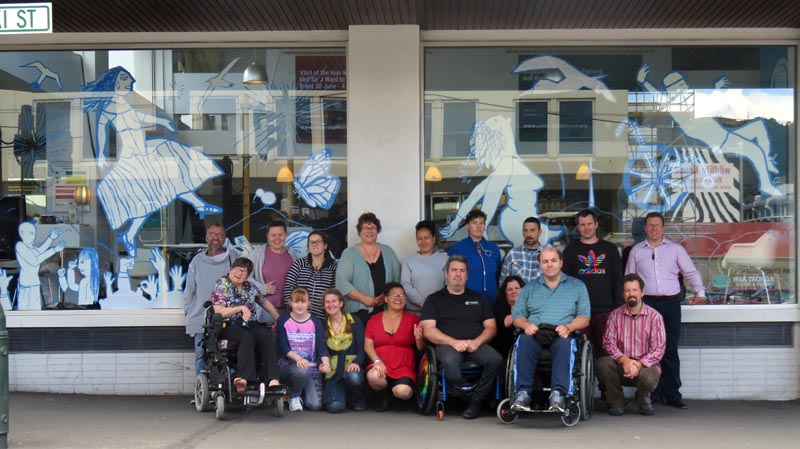 Participant Neil Wallace said: "Rachel invited us all to explore our personal takes on how we identified (or not) with our various disabilities. Then Erica and Struan helped us shape these thoughts into a visual solution that wove together our many ideas.
"The group bonded in a profoundly deep way and we were empowered to produce a visual statement that spoke to who we were and how we wanted to be perceived in society."
Thanks to the timely support of Ngā Taonga Sound & Vision, the final work was created in a cultural institution with a high profile and located on a busy Wellington street.
Diane Pivac, Outreach and Engagement Manager at Ngā Taonga Sound & Vision, says staff were proud of their role in ensuring the project could go ahead.
"The large windows in our cinema café on Taranaki Street formed the canvas for the mural," she says. "The artists interacted with Ngā Taonga staff and regular customers, as the work took over the café. It was a fun and inclusive environment that transformed the café into a community hub."