News
Arts Access Aotearoa
Drama offers choices for prisoners
26 June 2018
A drama group at Otago Corrections Facility recently received a standing ovation from an audience of 50 educators – teachers, lecturers, tutors – for their performance of a devised work called Cool or Fool.
The ten-minute play is about the relationships between a new maths teacher, his school colleagues and a disruptive student group, and the resulting accidental injury of a student. It was presented using the "forum theatre" technique, developed by Brazilian theatre practitioner Augusta Boal in the 1970s.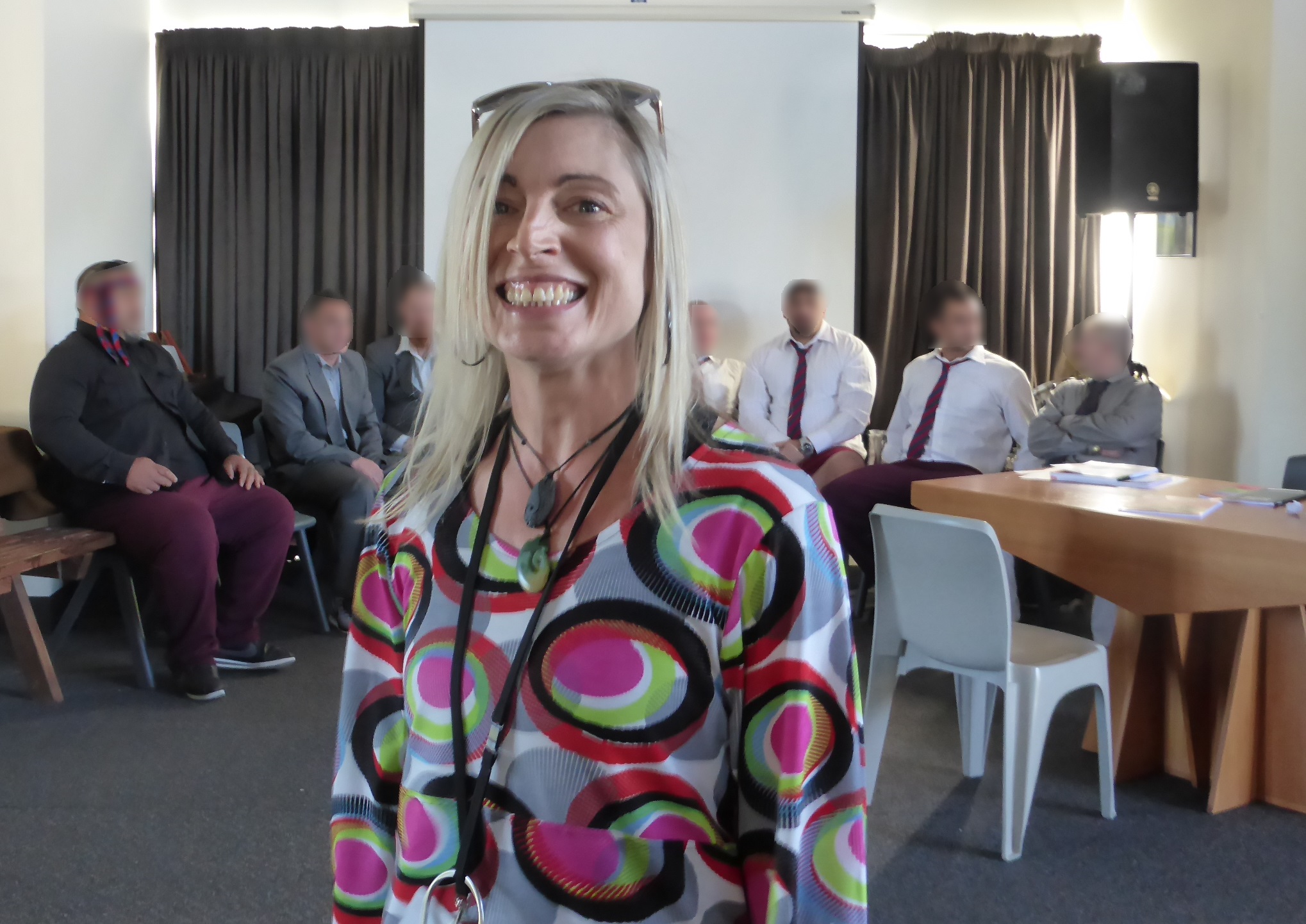 Here, audience members watch a short performance that presents a social or political problem. They are then invited to participate in the performance when it is presented a second time.
Shouting out "freeze", an audience member steps on to the stage. Working with the cast, he or she assumes the role of the protagonist, changing the storyline and providing alternative solutions to the problem.
The group's tutor, actor Ruth Ratcliffe, says the men need well-honed improvisational skills to respond to the changing storyline. "It was the first time they had performed to the public and they were very proud of what they achieved.
"Forum theatre helps the men learn empathy. It asks them to consider different perspectives and they realise they can make other choices. It also gives them an outlet for their risk-taking tendencies but without any victims or crime.
"The nine men in the group have developed strong bonds because you have to trust each other and work as a team when you do theatre improvisation."
Understanding consequences
One of the men has been a member of the drama group for three years. "I've seen him grow up, learn to express his feelings, and understand the consequences of his actions and why he's in prison.
"We play a lot of theatre games, which opens the men up. They leave their masks at the door and allow themselves to be vulnerable when they come into the room."
At the end of the recent performance, the men introduced themselves, and outlined their school achievements and their achievements since being in prison.
Two of the nine men had left school before the age of 14 with no educational achievements. They spoke about their learning challenges and regrets, and their education since coming to prison.
One of the men has achieved a Diploma in Psychology since being in prison, and audience members said they were struck by his articulate tale of attending a dozen schools and his positive plans for the future.
Prisoners congratulated
Ruth says she has received emails and letters congratulating the prisoners on their skills, courage and team work.
One secondary school principal wrote: "I understand that having a respectful relationship between students and staff is essential. Sadly, that is not always what happens for some of our tamariki. Your performance certainly inspires me, as a leader within school, to encourage this to happen and also to provide the support and systems to help grow those positive relationships ... Well done on a great performance and a great message for education leaders and teachers. I hope you have the opportunity to carry on spreading this powerful message."
Ruth first worked in the Drug Treatment Unit at Otago Corrections Facility in 2011 to 2012, and started running a volunteer drama group in 2012. In 2014, she started working for the Malcam Trust as a youth worker, continuing her volunteering at the prison.
Empowering young people
The Malcam Trust works with young people, empowering them through positive life experiences to realise their potential and build stronger communities. Its website says that 80% of the young people it works with return to school, then go on to employment or further training or education.
Now, Ruth's drama classes are part of her work at Malcam Trust. Currently, she is delivering two-hour sessions twice a week at Otago Corrections Facility.
An actor from the UK, Ruth says that as well as her acting roles she also taught drama in prisons and communities in England.
She still writes and acts in Dunedin but her passion is teaching forum theatre because it's such a "catalyst for change".
Ruth's dream is to set up a theatre company made up of former prisoners and offenders in the community. Their performances would target young people at risk and help them learn to make better decisions and choices.
In June 2018, Ruth Ratcliffe was presented a Corrections' Volunteer Award in recognition of her volunteer work at Otago Corrections Facility.