Media Release
Arts Access Aotearoa
Emma Lou wins IHC Art Awards
MEDIA RELEASE: IHC New Zealand
31 August 2017
A finely detailed pastel drawing by Wellington artist Emma Lou has won the 2017 IHC Art Awards and $5000. Emma worked on her self-titled piece, Emma Lou, for almost a year. The large, mainly pink, mauve and blue drawing features tiny pictures of animals and fish and human faces as well as characters in both Cantonese and English.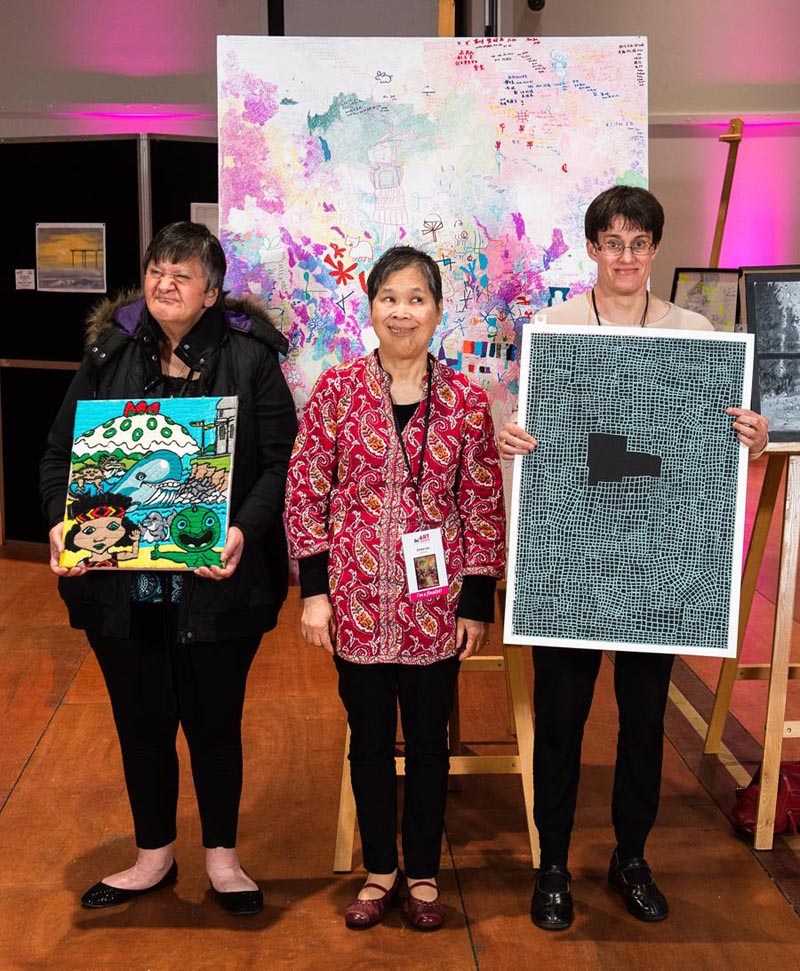 Emma devotes a lot of time to her art: three days at IHC's Alpha Art Studio and Gallery in central Wellington and two days at Aranui vocational base in Kilbirnie. She uses calligraphy pens along with felt pens, pencil and ink pens to achieve the detail she wants in her works.
"Emma Lou is an extraordinary piece of work and a thoroughly worthy winner," says Wellington artist and judge Gina Matchitt. "The hours of work that has gone into the intricate details of the piece is simply awe-inspiring."
Second prize of $2000 went to Wellington artist and 2016 winner, Jo-Anne Tapiki, who works from creative space Arts on High in Hutt City. Third prize of $1000 was awarded to Cherie Mellsopp of Sandz Studio and Gallery in Hamilton.
For the second year in a row the top three prizes went to an all-female line-up of artists.
Calibre of art
Auckland-based Judges Tim Walker and Boh Runga said that the calibre of art produced by this year's 30 finalists was worthy of inclusion in any gallery. "The quality of work in 2017 was outstanding and covered a wide range of medium and subjects, which made the judging process very difficult," says Tim.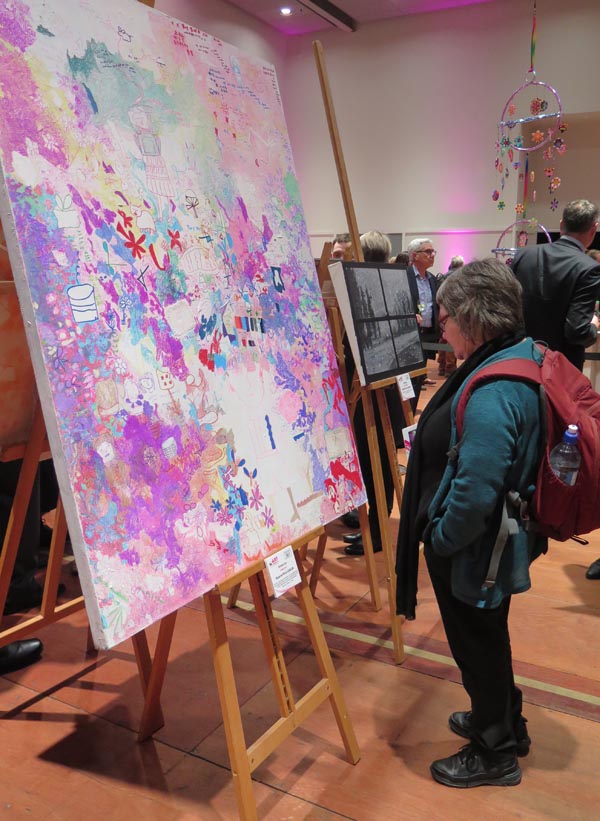 "But the three winning pieces really stood out and each artist deserves to be recognised as a winner," said Boh.
For the second year in a row WORLD fashion director Denise L'Estrange-Corbet undertook the role of Art Awards Ambassador. "It cannot be overstated what a wonderful medium art is for eliciting joy in both artists and appreciators alike. I think every artist with an intellectual disability should be encouraged to enter the Awards and share in that joy."
There were nearly 400 entries in this year's Awards, including sculptures, installations and textile art, painting and drawing. The IHC Art Awards are open to all New Zealanders with an intellectual disability, age 13 or over, whether or not they use IHC services.
The top three prize-winners were picked out of 30 finalists nationwide and announced at Shed 6 in Wellington on Wednesday 30 August. The finalists' work was auctioned at the event, with all proceeds from the sales going solely to the artists.
For more information and/or images, please contact:
Phillip Wakefield, Communications Advisor
E: phillip.wakefield@ihc.org.nz T: 022 010 4437