Article
Arts Access Aotearoa

Exploring the joy of music
25 January 2017
By Daniela Pavez
For musician Andreas Lepper, it's all about inclusion, connection and joy. He's convinced that music is not only a path to self-expression and creativity but also a way to bring diverse people together.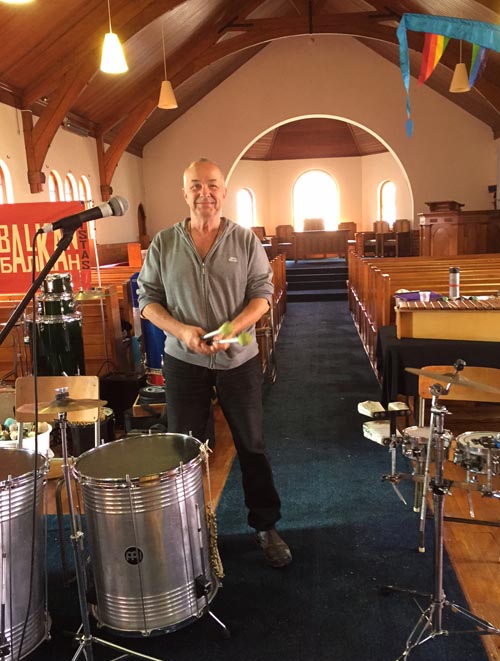 Originally from Germany, Andreas came to New Zealand in 1982 not knowing that he would become a well-known musician and mentor in Wellington's local music scene. His passion for music inspires him to share his knowledge and guide others, especially people who experience mental illness or people with learning disability or a physical disability.
"My pupils are a constant source of joy," he says. "They are always enthusiastic, full of ideas and really happy to be part of the session. That means a lot to me as their teacher.
"Apart from the fun of playing drums, you can really see the non-verbal communication within the group. Teachers, participants and family are all involved in this musical experience. It's just fascinating."
Every Friday morning, Andreas and members of The Glorious Ssendam Rawkustra band have their weekly practice in St Christopher's Church in the Wellington suburb of Seatoun.
Ssendam Rawkustra was started by Andreas and health care nurse Kieran Monaghan, using music to support and empower people with lived experience of mental illness.
"They make me very happy"
The group has been playing together since 2007 and has recorded a CD of its music, which is mainly drums with the addition of guitars, piano, lyrics and spontaneous dance.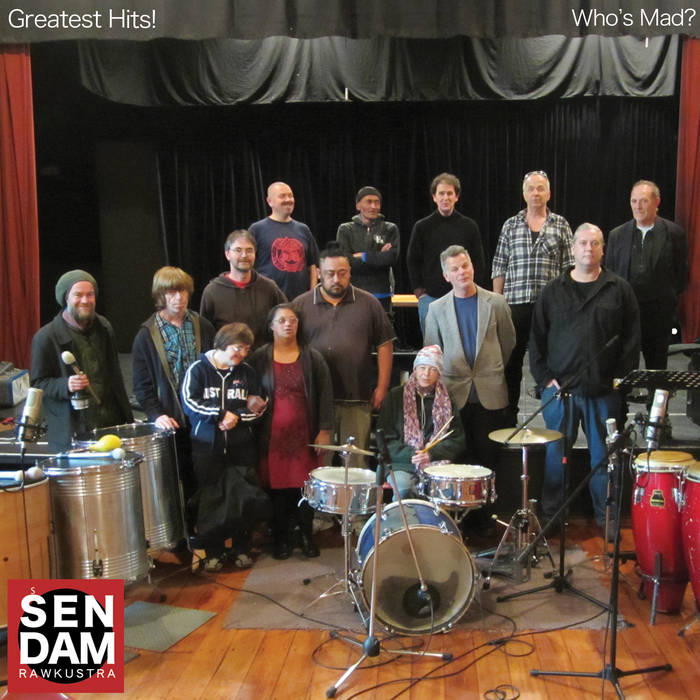 "It is just an amazing group. I have a great time with them. They make me very happy," Andreas says.
His love of music inspired him to lead workshops with young offenders in prisons in the 1990s. He believes music can make positive change in prisoners by improving their confidence, teaching them team work and developing their trust.
"I saw positive changes in the group after we completed the programme," he recalls. "They were much more open and happy with their new skills."
Andreas started his own music journey playing trumpet at school. Since then, he has been learning and gaining expertise driven by his own passion and curiosity. "I am a mainly self-taught man," he says.
He plays with numerous bands in Wellington, including Sulco d' Alma, Balkany and Duo Siboney. "There is something very special about making music with others and teaching brings me joy. Guiding people to explore an instrument is very important to me."
Regular classes at St Christopher's Church
His collection of percussion instruments, gathered from all around the world, are on display at St Christopher's Church, where he runs regular classes on Thursday afternoons and Friday mornings.
Adults and children are able to enjoy themselves and the instruments during the sessions. "The idea is to learn, create and have fun together. There are no expectations but to feel joy and interact with each other," Andreas says.
The old church became the centre of attention after Sir Peter Jackson and Fran Walsh bought it to save it from possible demolition. Now, many community groups in Seatoun and other Wellington suburbs are enjoying their generosity.
"It was very great news for the community and everyone involved in activities here. We are all very grateful," Andreas says.
"For me, music is everything. Like the air I breathe, it makes me feel alive and filled with joy. I wish that feeling for everyone."
For more information about Andreas Lepper's classes:
T: 0​2​7​ 2​9​6​ 6​3​8​5​ E: andreas@teamdrum.co.nz