Blog
Arts Access Aotearoa
2 July 2013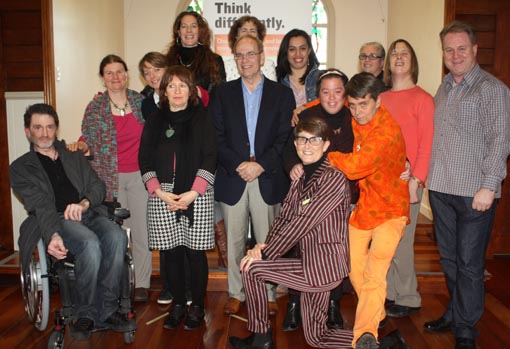 Every now and then, you hit a high point from where you get a sense of achievement and an opportunity to assess the bigger picture. It's not always possible, or even desirable, to be at that level all the time but it sure provides its own reward and opportunities when it does happen.
Saturday afternoon of 22 June was one such high point for all the participants and staff, friends and family of the Arts Access Aotearoa Making a Difference Arts Advocacy Programme.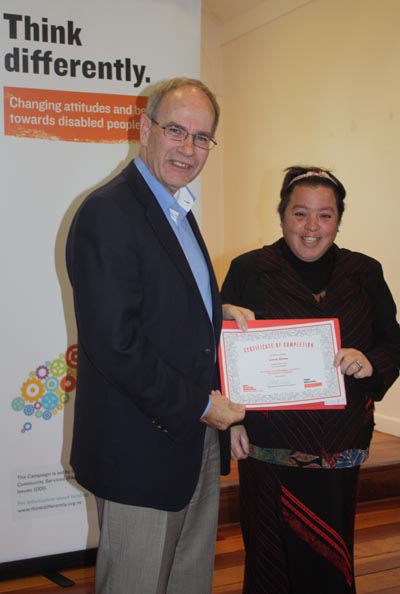 Auckland Mayor Len Brown attended and gave a very supportive speech and presented their certificates. It was very encouraging to hear from the Mayor that through Auckland's Disability Advisory Group, he and the Auckland Council are paying attention to accessibility issues. He was pleased that this new group had been trained to provide ongoing advocacy about improving access to and inclusion in the arts for disabled people across Auckland.
The group met for five workshops and tours of leading arts venues and organisations between March and June. This gave venue staff the opportunity to better understand the experiences of disabled people visiting arts or entertainment venues.
What was very exciting was to see the group learning from and about each other. It's not always possible for a group representing a range of impairments to be together specifically to discuss the topic of arts advocacy and the role they might play. I'm pleased that Arts Access Aotearoa, thanks to the Ministry of Social Development's Making A Difference Fund, was able to provide this opportunity.
A journey of discovery
My thanks to everyone who participated in and supported the journey of discovery and skill development. Arts Access Aotearoa will stay connected to the participants as we build a wide network of advocates, venue managers, producers and arts leaders engaged in our Arts for All forums and meetings in Auckland.
Talking of advocacy, there are many ways to draw attention to issues and subjects that we care about. A major way that Arts Access Aotearoa lifts the profile of the people and organisations across our sector is through the Big 'A' Awards. No only to they provide recognition but that they get attention.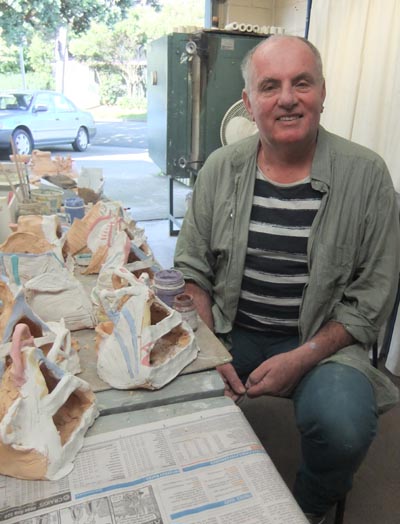 This year's Big 'A' Awards ceremony will be held on 30 July in Parliament. The six awards will recognise artistic achievement, and the leadership, commitment and talent of those organisations and individuals who provide access to artistic expression.
We'll be promoting this year's recipients on Wednesday 31 July. Please visit our website that day. I encourage you to share any of the recipient's stories with your own online audiences. By getting the word out about achievement in our sector we all participate in expanding the opportunities for including everyone in the arts.
There will also be a link, provided by our official photographer Neil Mackenzie, to a website of all the images from the awards ceremony. You are welcome to download these images.
On 24 and 25 June, I attended the annual Creative New Zealand conference at the impressive (and very physically) accessible Vodaphone Events Centre in Manukau.
The conference theme was "Arts by, with, for young people". There was discussion around community building, and the social, educational and community frameworks needed to support our young people.
The conference title was Arts by, with, for young people". An emergent theme was community building, and the social, educational and community frameworks needed to support youth "where they are at". Chief Executive of Creative New Zealand, Stephen Wainwright, reflected about young people and the arts at the plenary, saying "that without a voice we have no place". I agree and think that we are all in the business of advocacy – speaking up for our communities, and encouraging others to find their voice and their place in Aotearoa.
If you have any questions or feedback on this column, or if you would like to let me know about your art, organisation, group or project please email me on richard.benge@artsaccess.org.nz