Finding the "magic glow" of art
23 November 2011
"Sometimes I feel and see a magic glow in parts of my work but sometimes this magic disappears. I work hard to find this pleasing glow of magic but it can disappear in the blink of an eye," says Paul (not his real name), a prisoner in Rimutaka Prison studying art through Chris Barrand's weekly classes.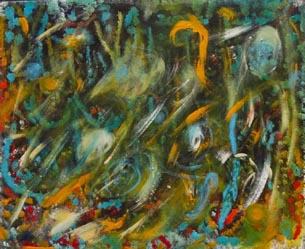 To get back the "magic glow", he says, requires him to keep experimenting, painting and trying.
For Chris, who has been teaching art once a week at Rimutaka Prison since 2005, his student's comments mirror the creative process and highlight the challenges of art making for all artists.
"You can be feeling really good about what you're doing and then suddenly, something will change and the work can go quickly out of shape," he explains. "What matters is your ability to rely on your process or your strategies to get you back on track. Paul is learning to recognise when his work is going out of shape and what he can do to resolve the issues when that happens."
Chris, who teaches three two-hour classes over one day every week, asked two of the men ("Paul" and "Martin" – not their real names) what their art making means to them.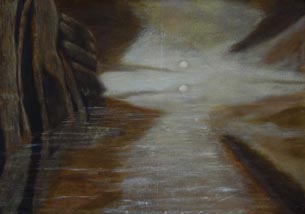 Paul hopes that through art, he can "make my family proud, build on my skills and put right my past wrongs".
For Martin, art has given him "worth, expression and confidence to achieve artwork that could lead to income, joy and satisfaction. In truth, re-offending or any crime is far from my mind because of art."
Until the class with Chris, Paul had never done any art. He comments on Chris' patience and wisdom.
Key skills of art tutor
Apart from patience, what does Chris see as some of the key skills required of a prison arts tutor?
Having a flexible approach and responding to individual needs within a group setting
Making the learning relevant to the prisoner artists by having conversations with them and finding out what is relevant to them
Focussing on their strengths rather than their weaknesses
Building relationships that engender trust. This requires patience, listening, encouraging them to take responsibility for how they behave in the space, and making them feel central to all the decision-making within the space
Working with the energy in the group. "If I walk in and the class energy is low, I have to respond to that – perhaps do some group work until the energy comes back. I also need to know when to be small; when they don't need me. For example, if one of the men takes a lead, he can become the centre."
Being able to motivate and inspire without telling them what to do. "I'm very aware that I need to encourage their independence so they can continue their art practice without me."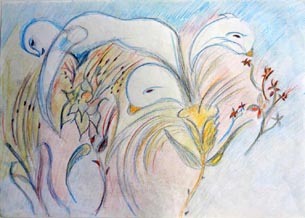 Over time, Chris says, he has seen shifts in the men's attitude and their ability to remain engaged with the art session, their art and their peers. "When they start to believe in themselves, gain the validation of their peers and grow in confidence – that's when you see a positive shift in attitude."
In his comments to Chris, Martin talks about the "sheer joy" of painting. "I draw consistently every day for it consumes me. Art is what I want to do as a job."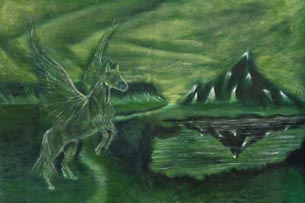 So is it realistic that some of the men in his art sessions will be able to build an art practice and develop a career?
"Absolutely," Chris says. "I've been working with some of the men for more than two years and some have developed a consistent art practice."