Having fun as stars on stage
Creative space: Jorjaz Dance Crew, Manawatu-Whanganui
Professional dancer Georgia Bergerson founded Jorjaz Dance Crew in Palmerston North to give her sister, Jessica, and her friends an outlet for dance.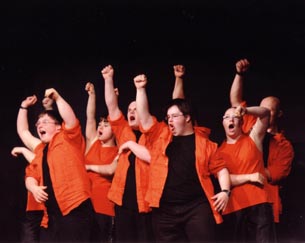 Jessica has Down syndrome and was still in high school when the group was formed in early 2009. The group was called the High School Musical Dance Troupe but later on, it was changed to Jorjaz Dance Crew to pay homage to Georgia, who moved to Germany to work on the roller-skating musical Starlight Express, and to avoid any possible copyright issues.
Jessica and Georgia's mother, Kathy Bergerson, is the manager. Like any parent, she wants her children to have every available opportunity in life to be able to succeed.
"Our kids have the chance to be stars on stage. They get the opportunity to take their talents and abilities out to the community, and to present a positive image of themselves as dancers and as role models. The kids, on the other hand, just want to have fun!"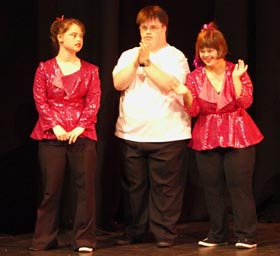 Most Jorjaz Dance Crew members have Down syndrome; all of them have an intellectual disability.
"There aren't many opportunities for young adults with intellectual disabilities to get involved in mainstream dance and performance," Co-ordinator Diana Cole says, "and it just wasn't being catered for elsewhere in the community."
Diana is the mother of Jorjaz dancer Elliott and she makes all of the costumes.
The Jorjaz Dance Crew already has many success stories. In December 2009, they were selected to perform at the opening and closing ceremonies of the National Special Olympics.
"Their performance was undoubtedly a highlight and it was performed and received with great enthusiasm," Diana says.
Special guests at Dance 2010
The crew also performed as special guests at the Dance 2010 event in Palmerston North. "They received tremendous applause for their enthusiasm and energy. Then they were asked to perform as invited guests at the Dance New Zealand Made show at the Regent Theatre, with dancers from all over New Zealand."
In mid 2010 they were asked to perform again – this time at the Palmerston North Dance Association annual competition.
Jorjaz Dance Crew's end of year production in 2010 was held at the Globe Theatre, where they performed to a full house.
"This production was a standout success," Diana says. "It showcased their awesome ability and talent. We could have put on a second show but it was two days before Christmas and to be honest, Kathy and I were exhausted! It was such a brilliant night."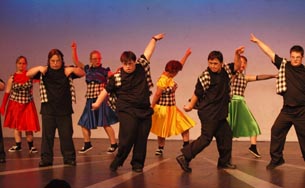 The dancers have also been invited to perform to residents at two local community rest homes. "We consider all this to be a huge feather in our cap and it reflects the commitment of the dancers and tutors."
In 2010 Jorjaz received funding from the Creative Communities Scheme. This allowed them to buy costume materials and pay for the Globe Theatre hire. Funding also came from the Molly Atkinson Arts Trust to create a costume wardrobe.
Contact:
Diana Cole
Co-ordinator
T: 06 354 7520 (X 706)
M: 021 355 521
E: diana.cole@xtra.co.nz
Kathy Bergerson
Manager
T: 06 354 9818
M: 027 355 2397
E: rjberg@xtra.co.nz
Last updated 23 October 2013