News
Arts Access Aotearoa
Hawke's Bay prisoners engage in creativity
29 November 2016
By Ann Byford
A conversation with two Corrections staff at the Arts Access Awards in August this year resulted in a fantastic opportunity for me to run tape art and macramé wall-hanging workshops with prisoners in the Hawkes Bay Regional Prison.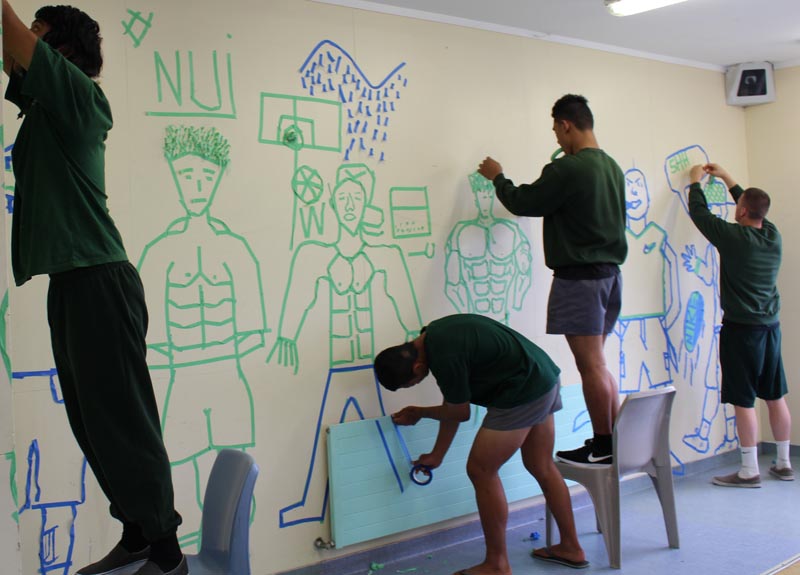 One of my aims in doing these two pilot projects was to gather information about the viability of running such activities: how popular would they be, what skills would the prisoners learn and could they be done with minimal budget?
I arrived at the prison at 9am and was taken onsite to the Youth Unit facility. Meeting the 12 prisoners I was to work with, I was struck by how young they were. Boys really, 16 to 19-year-olds, about to make a life-sized mural on their common room wall using only blue and green masking tape.
For many, this was the first time they had engaged in an art activity. And for some, all they wanted to do was paint. Fortunately, I had a photo essay showing the tape art mural we had made in Puna Tatari Drug Treatment Unit at Spring Hill Corrections Facility. This was all it took to convince them to stay.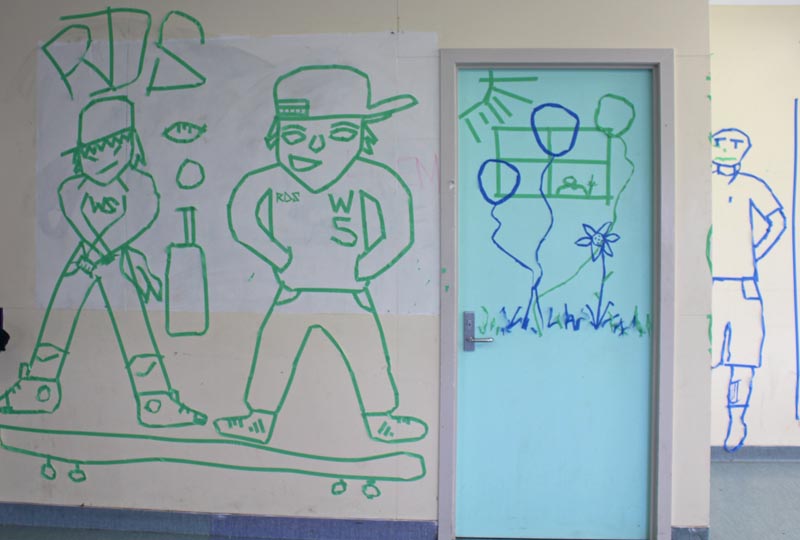 The process took two hours and used six rolls of masking tape. The participants' challenge was to make a self-portrait and engage with the person working next to them using an object: for example, a skateboard connecting the two self-portraits.
It was interesting watching these young men using the tape creatively to make curly hair, flower petals and facial expressions. They said they were surprised that such a simple material could be used to make accurate self-portraits.
Some of the feedback:
"That was awesome, Miss. I didn't think I had the patience but once I got started, I just wanted to keep at it."
"I have never looked at myself like that before. It made me think about what I miss on the outside, especially when I had to use tape to make the things I miss."
"When I go home, I am going to do this and show my family what I can do. Different to the graffiti I did."
After they had completed, admired and commented on the mural, we removed the artwork in 10 minutes and disposed of the masking tape. The men were reluctant to remove the tape but as I had explained earlier, it's all part of the tape art process.
Memories are permanent
Although the mural was temporary, the skills learned and the memories of making it are permanent.
At the Creative Waikato Community Cultural Summit, I took part in a workshop led by Tape Art New Zealand artists,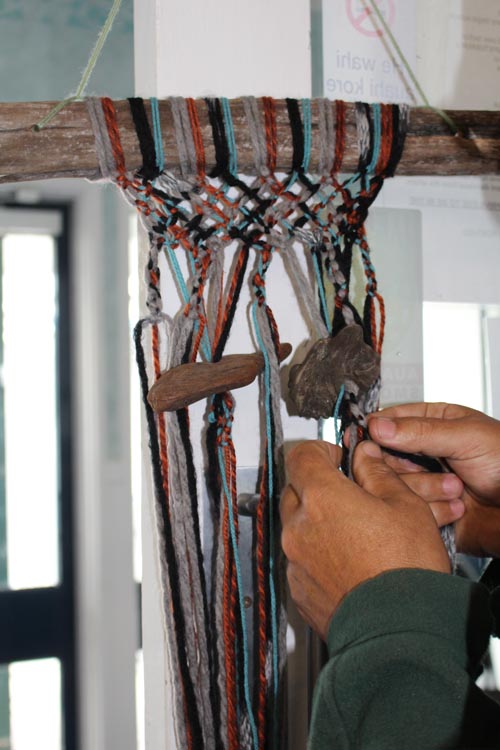 Erica Duthie and Struan Ashby, and I was hooked. Erica and Struan are excited that I'm exploring the possibilities of using tape art with prisoners as a tool for them to communicate, be creative and tell their stories.
The afternoon went as fast as the morning. I was taken to the Māori Focus Unit to run a two-and-a-half hour macramé wall-hanging workshop.
I'd collected the driftwood from the southern shores of Lake Taupo, and the wool and threads had been donated by Spotlight – Te Rapa, Hamilton. I'd made several examples of macramé wall hangings, and also a sample board of the knot-tying process and the various ways of using the knots.
Each of the ten participants had to choose and prepare their wool: 18 strands of similar ply that were two metres in length.
Participants were introduced to the various knots and were grateful to be able to refer to the sample knot board. They were unstoppable once they had memorised the knots and saw how they could be reversed to make a twist or a block.
Several Corrections officers spent some time observing the process and engaging with the men as they worked on their pieces.
Finishing work in free time
The time we had wasn't long enough and the men didn't complete their work. However, they had access to the work and were able to finish it during their free time, and make plans for other works.
As with the men in the Youth Unit, this was the first time many of the men had engaged in what is seen as a female pastime. They all mastered knowledge of a traditional technique and some said they would like to take it a step further to make larger-scale works and functional items.
Ann Byford is an artist and art tutor. She was the recipient of the Arts Access Corrections Leadership Award 2013. Early in 2017, she will deliver an art project in Community Corrections in Hamilton, thanks to funding from Creative Waikato.