Opening the arts door to disabled audiences
4 December 2009 Artists and arts organisations around the country, already opening their doors to disabled audiences and gallery visitors, are profiled in a practical guide on the arts and disability launched today by Creative New Zealand in partnership with Arts Access Aotearoa .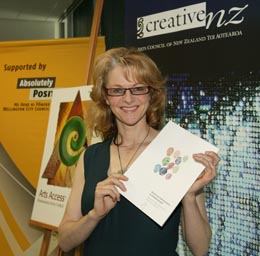 Arts For All | Ngā toi mo te katoa provides low-cost and long-term ways to increase access to the arts, market events to the disabled community and build new audiences. Among the organisations profiled are Auckland Art Gallery Toi o Tāmaki, Touch Compass Dance Trust, Fortune Theatre, Te Papa, City Gallery Wellington, Jolt Dance Company, The Court Theatre, Govett-Brewster Art Gallery and WOMAD.
Stephen Wainwright, Chief Executive, Creative New Zealand, commended arts organisations already adopting accessible practices and said Arts For All has been published to encourage more artists, organisations and venues to improve their access and build new audiences and visitor numbers.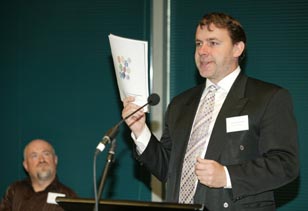 "Engaging New Zealanders in the arts and ensuring they have access to high-quality arts experiences are key priorities for Creative New Zealand," Mr Wainwright said. "I am, therefore, delighted that Arts Access Aotearoa proposed this publication as something we could do together."
Information sheets and check lists about accessibility requirements, marketing, ticketing, seating and exhibition design have been developed as online resources to complement the information in Arts For All. The two organisations, in partnership with local government, are planning workshops in the new year based on the book and the online resources.
One in six
In the 2006 Statistics New Zealand survey, an estimated 660,300 people (17% of the New Zealand population) had experience of disability. Research conducted by Arts Access Aotearoa shows evidence of significant demand within the disabled community for accessible arts activities and events.
Jan Hinde, Executive Director, Arts Access Aotearoa, described Arts For All: Ngā toi mo te katoa as a "ground-breaking" publication for New Zealand.
"Disabled people have as much talent and as much right as everyone else to participate fully in the arts," she said. "The basis of this book is to show that it's a win-win situation for everyone."
As the book states: "Building a reputation as an inclusive and socially responsible arts organisation is good for business, and everyone likes helpful staff, flexible booking practices and more comfortable facilities. As well as enhancing New Zealand's cultural diversity, marketing to disabled people will boost audiences, gallery and museum visitors – and your bank balance."
Ten things to do now and in the future
The final chapter lists ten low-cost things organisations can do over the next few weeks and months (e.g. Get in touch with a local disability organisation and start a dialogue. How could you work together?)
There's also a list of ten things to do over the next five years (e.g. Develop an accessibility policy and action plan).
"Grappling with some of the medium to long-term requirements already outlined may feel daunting," the book states. "But starting with a vision of what you want to achieve over the next one to five years and a comprehensive plan to get there will provide a framework.
"Developing a diverse and loyal audience base can only help your organisation's reputation and long-term future."