Media Release
Arts Access Aotearoa
Jae Kang installation invites visitors to touch and play
MEDIA RELEASE: New Zealand Maritime Museum
8 September 2017
The New Zealand Maritime Museum's new exhibition Knot Touch, opening in Auckland on 29 September, celebrates the versatility and variety of knots. The tactile nature of the exhibition makes it accessible to all ages and abilities.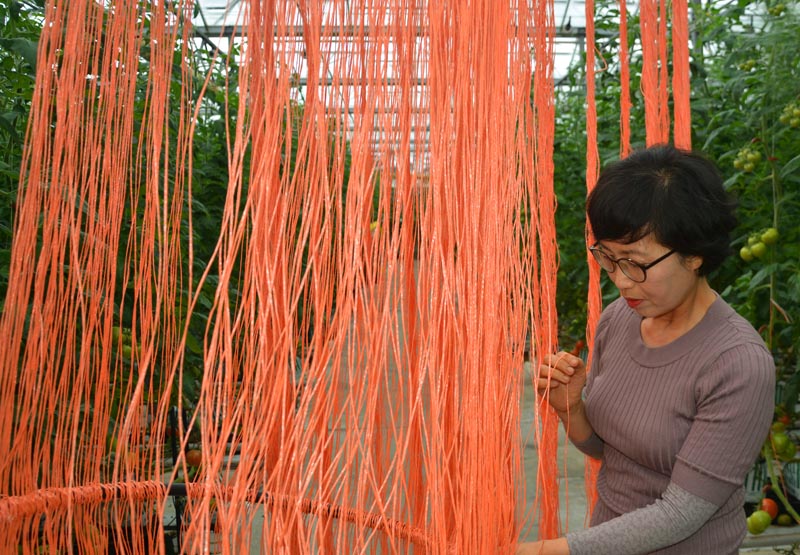 Using netting, rope and a range of knots, artist Jae Kang has created an installation to stimulate the imagination and provide a unique experience.
Often, galleries and museums are off-limits to visitors as far as touching the art and objects. "Children are educated to hold their hands behind their back and to stand back from the artwork," Kang says. "This restriction greatly affects their experience and what they learn."
The site-specific installation Knot Touch, which is located in the museum's Edmiston Gallery, removes this restriction and invites visitors to interact and engage with the work.
Jae Kang is a Korean-born sculptor and painter who lives in Auckland. A trained art teacher, she has worked with both children and adults in the autistic community.
Inspiration for sensory-friendly exhibition
The sensory-friendly exhibition was inspired by Kang's son, who has severe autism and is intellectually disabled.
"I started this project as a tangible installation especially for children and people with special needs," she says, "I have never been able to take my son to galleries to see exhibitions because I know that he will touch the works."
Kang is also passionate about the work being accessible everyone and says it is particularly suitable for people who are blind or are partially sighted.
"How can blind people see the artworks? Touching is their major sense for seeing, understanding, feeling, learning and enjoying," Kang says.
Surrounded by a tactile artwork
Kang has been involved in several projects designed to engage people with disabilities but found there were limitations. "We still had to focus on controlling people not to touch the artworks. I felt I failed them. My thought was that it would be better to make an artwork they were free to touch."
Knot Touch has been created to offer these groups an opportunity to fully interact with an artwork without fear of being reprimanded for touching. The ability to move through and be surrounded by a tactile artwork, provides a very different and engaging experience.
"I am an artist who understands the minorities in our art industry and I want to invite them as the major viewers in this exhibition. They will become the centre of the work," Kang says.
The exhibition has been created from netting and ropes – materials commonly found in the maritime industry. "The open spaces between the looped and knotted cord and rope allow viewing through both sides of the net," Kang says.
"The effect simultaneously promotes the notion of entrapment and freedom, depending on which side of the net you are on. The different zones of the installation invite visitors to engage their imagination."
Soundscape by Christine White
A soundscape by Christine White supplies a spirited audio component to the experience. White's composition explores the textures and qualities inherent in different types of knots. She was also inspired by a long list of quirky knots with names such as baggywrinkle, monkey fist, constrictor knot, the falconer, and crown loop to name just a few.
A small selection of tools and knots from the museum's collection is on display and a Knot Station has been set up to enable visitors to have a go at tying several basic, yet useful knots.
The exhibition opens on 29 September and runs until 29 April 2018. The museum will host a variety of public workshops and activities throughout the duration of the exhibition.
For more information please contact:
Felicity Rookes, Marketing & Communications Executive
New Zealand Maritime Museum T: 09 373 0805