Learning life skills through the performing arts
30 March 2015
The performing arts – dance, theatre and music – can provide powerful ways to engage prisoners and develop a range of life skills such as team work, concentration, discipline, communication and empathy, says Jacqui Moyes, Arts in Corrections Advisor, Arts Access Aotearoa.
Jacqui has seen firsthand the value of the performing arts as a rehabilitative tool. In 2002, she worked as a facilitator on Te Timatanga Hou – the New Beginning, a partnership project between Māori theatre company Te Rakau Hua o Te Wao Tapu Trust, the Christchurch Arts Festival and Christchurch Men's Prison.
The traditional Māori performing arts of haka (dance), whaikōrero (speech making) and waiata (singing) are an integral part of tikanga programmes run in prisons from Invercargill through to Northland.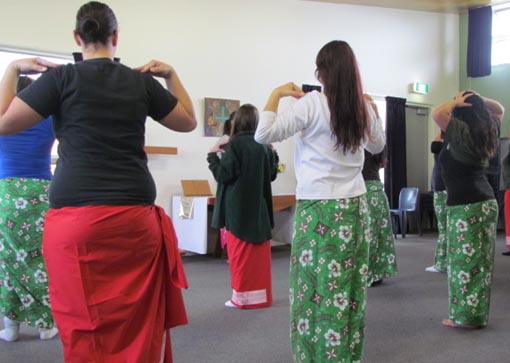 And in Vaka Fa'aola, the Pacific Focus Unit at Spring Hill Corrections Facility, singing and storytelling are a key part of its cultural programmes, and woven into the prisoners' weekly weaving sessions with tutor Mary Ama.
In contrast, Jacqui says, theatre, music and dance performances and workshops tend to be one-off projects – a touring theatre production, for example, or a short-term workshop dependent on the enthusiasm of volunteers.
"Over the past 20 years, there have been some innovative performing arts projects in prisons," she says. "These can provide a strong platform from which to build ongoing programmes."
Examples of innovative performing arts projects
Here are three examples of innovative performing arts projects:
1. The Māori theatre company Te Rakau Hua o Te Wao Tapu Trust was set up in 1989 by actor and director Jim Moriarty. Te Timatanga Hou – the New Beginning was a therapeutic drama programme, using traditional Māori concepts and performing arts to tell the stories of the 23 high-security prisoners and their journeys to prison. Festival audiences were invited into the prison to see the show.
Jim says: "I've seen the way theatre can transform lives: career criminals whose lives have been changed over time by tapping into their creative process. Theatre can challenge and unravel the beliefs that led them into prison. But it's no quick fix: it's a journey that takes time."
2. In the early 1990s, theatre practitioner Miranda Harcourt and writer William Brandt researched and wrote a play called Verbatim. They visited a dozen prisons and spoke to between 40 and 50 people who had committed murder. They then talked to members of their families. As the title suggests, every word in the show comes from a person. It toured every prison in New Zealand. An important part of the prison performances was the follow-up workshop where audiences discussed the play with Miranda.
Miranda says: "Theatre is about story and telling your story can be empowering. It's also very immediate and accessible. Just about everyone can speak and most people can hear. Not everyone is literate, with free and easy access to the written word."
Last year, Verbatim was produced by Auckland's Last Tapes Company in partnership with JustSpeak. A national tour included performances and follow-up forums in four prisons.
3. In 2012, the documentary series Songs From the Inside was screened on Maori Television. Directed by Julian Arahanga and Awa Films, the series documented prisoners taking part in a ten-week music programme that taught them to write, sing and record their own songs. The programme culminated in the recording of the songs and then the presentation of the CDs to the prisoners.
The second series screened in 2014 and a third series is under way.
Builiding sustainable programmes
Building sustainable performing arts programmes in prisons requires additional funding, Jacqui says. "We need to find some alternative funding sources to progress the use of performing arts with offenders."
Also important is the need to research, evaluate and document arts in Corrections projects in New Zealand.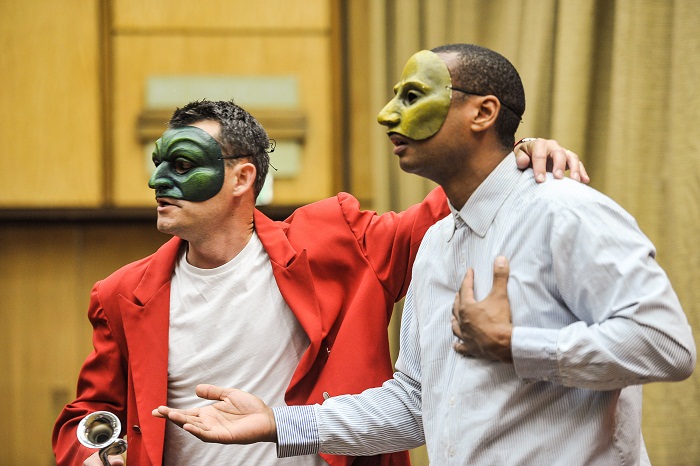 "When we document our work, we get better at what we do. We can practise what works well and improve the things that need development," Jacqui says. "To get consistent funding for arts initiatives in the prison environment, we need to provide evidence that performing arts can work as a rehabilitative tool.
"Fortunately, we have access to international research, documentation and evaluation that illustrate the benefits for offenders in engaging in dance, theatre and music."
For example:
Captive Audiences is a major research project examining performing arts programmes in Australian prisons and their impact on the wellbeing of prisoners and their lives after imprisonment. Findings will be used to implement and evaluate future performing arts programmes in Australian prisons.
Geese Theatre Company in the UK undertakes research and evaluates every project it undertakes. It delivers approximately 65 different projects/performances in prisons every year, working with an average of 1150 adult prisoners.
The Holyoake DRUMBEAT programme was developed in Australia 2003, and is used by school and services working with a broad range of population groups, including prisons. This webpage has a number of links and references to research documents, including one on the impact of the programme in Western Australian prisons.
"Theatre builds communities and provides opportunities for social change, both within prison and in society," Jacqui says. "We have some brilliant theatre practitioners in New Zealand interested in community development and using theatre to transform thinking.
"In a perfect world, we would match them with some fantastic funders and some adventurous academics, and work in partnership with the Department of Corrections to advance our practice and knowledge of performing arts in Corrections."