Libby Patterson: lifetime of art knowledge
15 March 2011
Prison art tutor Libby Patterson brings a lifetime of art knowledge, practice and networks to prisoners at Mount Eden Prison. She is however, very clear about her role there. "I'm here to help prevent recidivism. I'm sure art helps towards recovery."
Encouragement and the development of inherent skills and ideas result in artistic achievement – at the same time lifting mana and self-esteem, Libby says.
Her study of Māori and Pacific cultural arts at Auckland University in the 1990s means she is able to encourage and recognise development among these prisoners. "These are two groups I'm able to encourage. But I'm actually able to engage with a variety of cultures through my knowledge of art history."
How do the arts benefit prisoners?
Men attend Libby's classes for two hours a week.
"Some are able to go about their work and some show concentration. But there are limitations in a remand prison and my best artists often get moved on. It's hard to do major projects such as muraIs. These are not projects that can be done with a transitory prison population."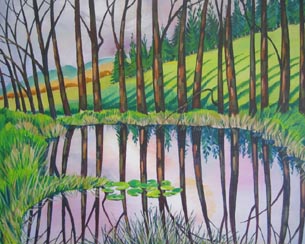 For Libby, one of the most important elements of her classes is that she can create a quiet environment for prisoners.
"When you're doing art you're not talking. A different part of the brain is being used. People are relieved of stress; they develop and bring a peaceful attitude. When they leave the class, they're appreciative of the two hours just spent. Having the time to concentrate in an environment where they know they will be encouraged promotes a raft of different possibilities and positive thinking.
"The boys just love coming into the education room. They're often very surprised at what emerges in their artwork. The brain is a wonderful thing."
When prisoners come into the education room concerned about their families she introduces a range of pop-out style cards made from templates she invented.
"These are useful communication tools for the men and their families," Libby says. "The men are often deeply concerned for their families and so they are able to express those concerns through the cards, which are then posted."
Transferring knowledge and building partnerships
There is much in Libby's life and experience in the arts community that can be transferred to prisoner artists. And the already existing art networks and partnerships that Libby and other prison art tutors bring to their work have increasing value to the Department of Corrections.
Libby has been involved in developing community arts in Auckland for many years. This includes the Kumeu Art Centre, which offers workshops and an exhibition space – and the venue she was able to use for a rare public exhibition of remand prisoner art from Mt Eden Prison.
Ensuring a high standard of art is an important goal – and an outcome of the skills and techniques that Libby is able to pass on to the artists. Prison art exhibitions and competitions encourage quality artwork.
Three recent examples are the Matariki exhibition in June 2010, the Mount Eden Prison exhibition at the Kumeu Art Centre (December 2010 to February 2011) and a second showing of the work, called the Mt Eden Prison Charity Art Exhibition at the Mount Eden Community Hall from 10 to 25 March.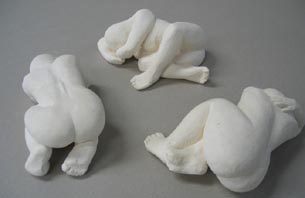 Libby has been working as an arts tutor at Mt Eden Prison since 2001. She studied for a Diploma in Fine Arts at Canterbury University in the 1960s, majoring in sculpture and three-dimensional form. On graduation, she attended Auckland Teachers Training College.
Before taking up her role teaching art in prison, Libby spent ten years in the art department of the Auckland Institute of Technology teaching various groups and subjects. She also taught art and craft courses at a Helensville training centre, a satellite of Carrington Institute.