News
Arts Access Aotearoa
LitCrawl celebrates diversity in Wellington
12 November 2018
"There's no such thing as a disabled writer. We are all just writers." That was the moot of a debate attended by a huge crowd at CQ Hotels Wellington during the LitCrawl Wellington festival on Saturday 10 November.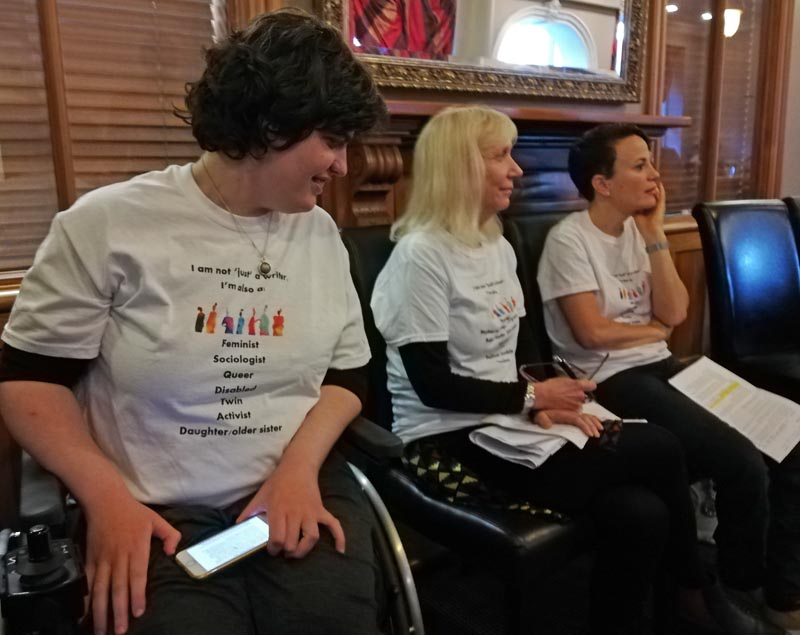 Organised by Wellington writing group Crip the Lit, the debate included Mandy Hager, Paula Tesoriero and Henrietta Bollinger taking the negative, with Trish Harris, Steff Green and Alisha Tyson taking the affirmative. Matthew Jansen was the adjudicator.
Crip the Lit was founded by writers Robyn Hunt and Trish Harris in 2016. "We set it up because we were concerned about the portrayal of disabled characters in books, movies and on television," Robyn says. "We wanted to make sure disability was represented as part of the richness and diversity of humanity and to give disabled writers a platform."
The Great Debate attracted around 200 people and was recorded by Wellington Access Radio. Both sides were convincing, well-prepared and witty and the winner - the negative team - was decided by audience applause.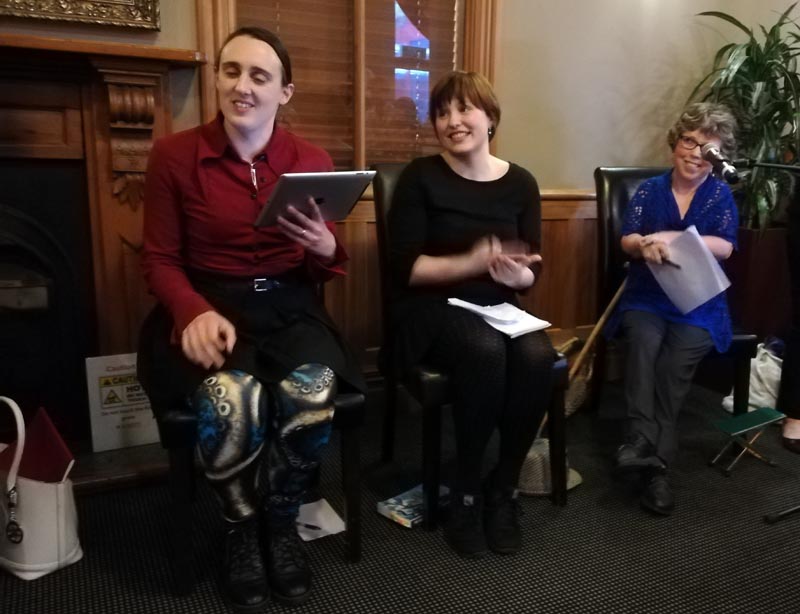 Robyn, a non-fiction writer and blogger, also appeared in Armistice Day: the Eleventh Hour on the Eleventh Day at the National Library of New Zealand on Sunday 11 November, alongside Murdoch Stephens, Stefanie Lash, Rachel Buchanan, Harry Ricketts, Yazan El Fares and Mohammad El Fares. Using the art of storytelling, these writers and thinkers voiced their thoughts and reflections on Armistice Day.
The Saturday night Crawl events were free (a $5 koha was suggested) while most of the LitCrawl Extended series, such as a session and workshop with Raymond Antrobus, were ticketed. Deaf UK-Jamaican poet and social commentator, Raymond also appeared at LitCrawl this year.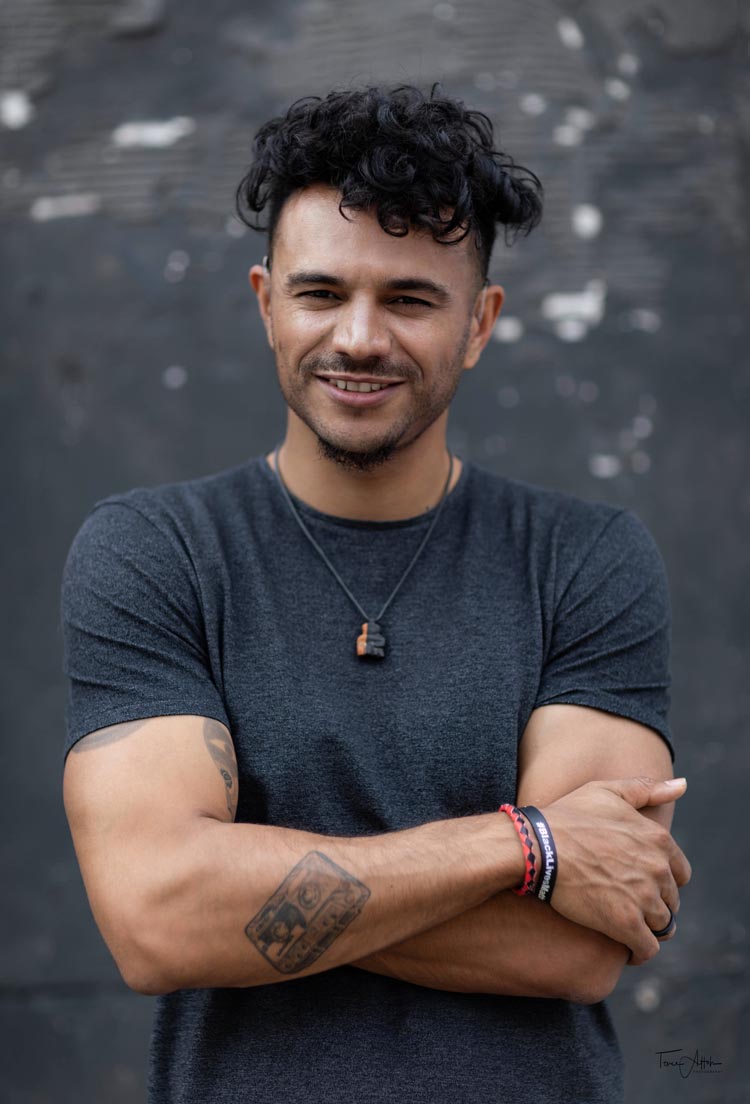 Of Raymond's latest book, The Perseverance, fellow poet Kaveh Akbar says: "It's magic, the way this poet is able to bring together so much – deafness, race, masculinity, a mother's dementia, a father's demise – with such dexterity."
Winner of the 2018 Geoffrey Dearmer Prize for his poem Sound Machine, Raymond's session on Sunday 11 November included a NZSL interpreter.
These were just a few of more than 50 LitCrawl events, spanning four days in Wellington from 8 to 11 November. The inaugural LitCrawl in 2014 kicked off with 15 events over one night.
Co-Director Claire Mabey says that LitCrawl's success is due to a combination of things. "It's all of the amazing writers, publishers, venues and other arts organisations we work with who have made what we do possible.
"There's a real buzz in Wellington as people crawl from event to event, held in a whole range of different venues such as bars, bookshops, galleries and hotels.
"I also think there's a healthy dose of FOMO – fear of missing out – because the venues are often intimate and they fill up fast. That means you might not always get into something but it also means you're forced to try something you might not otherwise have picked, thus making discoveries."
Claire says that offering a diverse programme is at the core of LitCrawl. "For a writers festival, that means really looking at what's out there and trying to remove the blinkers from our own confined experience.
Diversity at the core of LitCrawl
"Our guest curator programme is part of our diversity strategy. Starting from this year, we have a guest curator to shape the programme. It means that what we offer each year is refreshed, bringing different perspectives and experiences to the programme.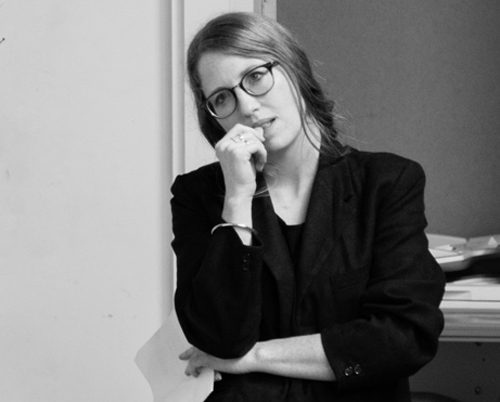 "We also try to achieve diversity by making the Crawl open access: no tickets, no prohibitive costs, welcoming and comfortable venues. This means that our audiences are atypical of literary events: quite a bit younger, and people who tell us they don't usually go to writers' events."
Disability is another core part of LitCrawl's diversity strategy. "We've been learning so much and we love working with Robyn Hunt and Trish Harris on the Crip the Lit series of events," Claire says.
"Robyn and Trish have really helped us understand what we need to be thinking about in terms of access: for example, sign language interpretation. We're also working towards 100 per cent venue accessibility and are looking at how we can make sure our marketing materials are accessible too."
All the LitCrawl Extended venues were wheelchair accessible, except for San Fran. During the Saturday night crawl, three of the 22 venues were not wheelchair accessible: Caroline, Hashigo Zake and Photospace Gallery. City Gallery Wellington and the National Library of New Zealand have induction loop systems for people with hearing impairments.