Article
Arts Access Aotearoa
Graham Lalor lives right in the middle of a creative hub in the Christchurch suburb of Philipstown. Three blocks from his house in one direction is Ōtautahi Creative Spaces' Room 5, where he goes every Monday to make art. Three blocks in the other direction is the Eastside Gallery, where he volunteers two days a week.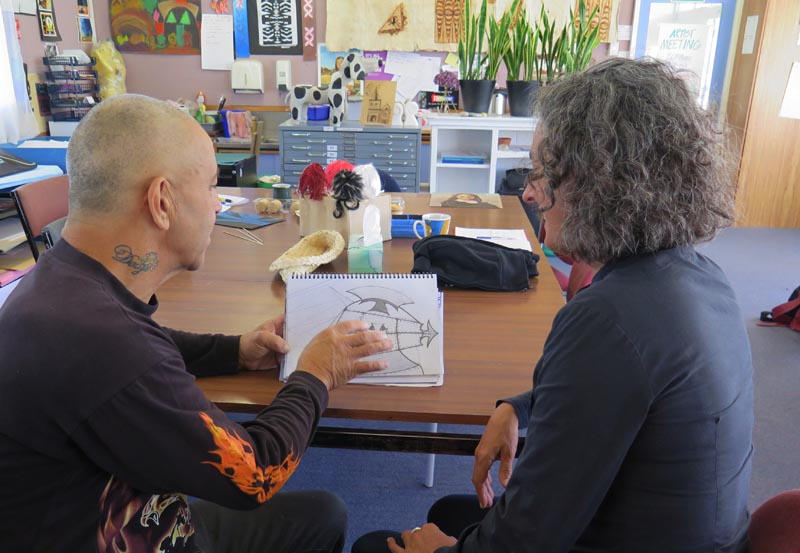 "Ōtautahi Creative Spaces has been my saviour," Graham says. "If you have no money and ill health, what can you do to put a smile on your face? For me, it's my children, my art and being here. This is my second home. Everyone is on the same page and it keeps me well in my mind."
In April 2016, Graham moved from his home on the West Coast, where he had his own business, to Christchurch for medical reasons. He has kidney failure and spends ten hours every night hooked up to a kidney dialysis machine.
Turning cardboard into art
Every month, 40 boxes of kidney dialysis solution are delivered to Graham's house. He puts the cardboard to good use by turning it into art – whether it's a mask, puppet, gargoyle, mural or medieval castle.
At the moment, he's making puppets of four singers: Lady Gaga, Rihanna, Nicki Minaj and David Bowie. Once he's completed them, he plans to give them to his two-year-old daughter.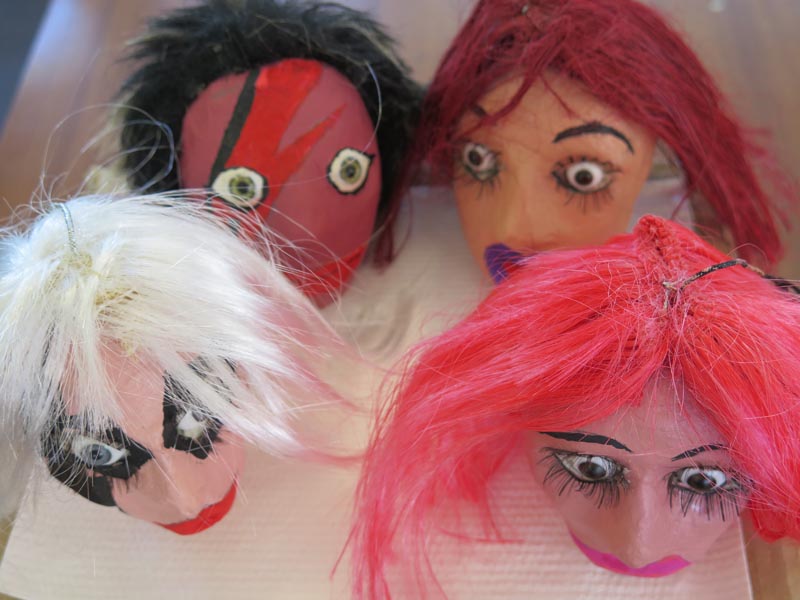 In fact, it was a Lady Gaga concert in Auckland six years ago that inspired his creativity. "The concert set was a medieval castle and it's something I'll never forget. Afterwards, I built a medieval castle with dragon door handles out of plywood. I brought it with me from the West Coast when I moved to Christchurch."
Graham says he's always been keen on art but had no confidence because he'd never been taught. "On my first day here, back in May last year, I set to and drew a picture of a medieval mask but I didn't think much of it. I wanted to work out how to make a mask."
Graham went on to make three masks before puppet-making became his current focus.
"I try to use stuff other people don't use – like the dialysis boxes, food colouring, crepe paper and things I see around me."
Family space
Kim Morton, the Manager of Ōtautahi Creative Spaces, says the space has been a "stepping stone" for Graham to show leadership and volunteer at Eastside Gallery.
She remembers his first day at the creative space. "He's been very focused from the start and is amazing at initiating projects he wants to work on. I also see him helping and inspiring a lot of the other artists here.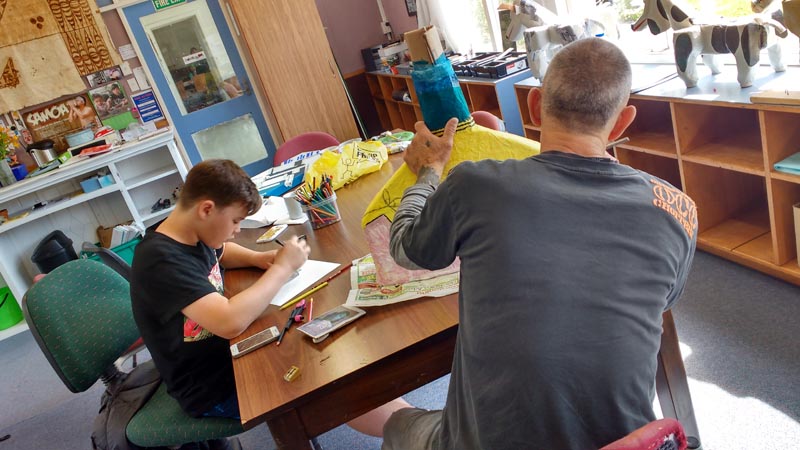 "We love it when his son, Brody, visits in the school holidays. He's a very creative boy and fits in well. We work from a whānau wellbeing basis and some of the other artists bring their children along too."
Graham draws inspiration from real life experiences. There's a story in everything, he says. "Kim and the art tutors are so helpful and understanding of where I've come from. They offer advice and inspire ideas. For instance, Leanne inspired me to make puppets, and Alexia encouraged me to do wood cuts and screen printing."
His latest project is collaborating with two other artists at Ōtautahi Creative Spaces to paint a mural, using the three stone arches of the Christchurch Arts Centre as the backdrop.
"The artists inspire each other," Kim says. "There's a great spirit of generosity in the room and people feel valued. We work in small groups – between ten and 12 in each group – and people get to know each other."
For more information about Room 5, Ōtautahi Creative Spaces, please contact Kim Morton, Manager (T: 022 064 7963 E: kimm@ihug.co.nz).