Make/Believe celebrates diversity of art making
22 August 2011
"Art does not belong to museums, to the state or to universities. It's bigger than that. It's a part of living, like breathing," Stuart Shepherd told guests at a recent curator's talk about Arts Access Aotearoa's Make/Believe exhibition, on in the Bowen House exhibition space in Wellington until Thursday 25 August.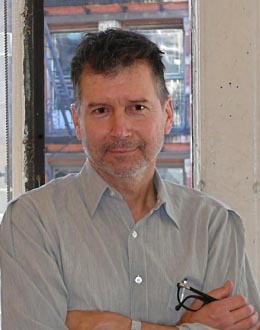 "In 1978, I went to Moscow and I saw state-sanctioned public art: one form of socialist art, one car design, one colour for packaging," he said. "I want to live in a community where diversity of expression is celebrated – not where diversity is feared.
"So I'm pleased to be a part of this show, which celebrates the diversity of art-making in New Zealand."
Stuart, artist and academic, curated Make/Believe, an exhibition showcasing the work of artists attending creative spaces from Dunedin through to Auckland.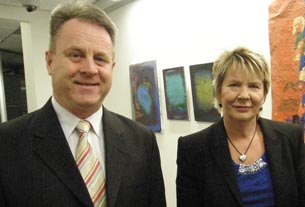 Arts Access Aotearoa gathered more than 250 images from creative spaces and every image is in the show via a continually revolving digital presentation. From these images, Stuart selected 34 works for hanging in the Bowen House space.

"A working title for the show was 'materials and processes'. This is what I wanted to use as my measure – the artist's choice of materials and their particular response to those materials," he explained. "This is a modernist approach to art and art-making."

Taking the guests on a guided tour of the 34 works, Stuart said another element in his selection process was the ability of the work to "delight" him.

Stuart commented on what delighted him about each artist and his/her work.
Alpha Art Studio, Wellington
Damon Catchpole: "a strong three-dimensional and tactile presence"
Martin Kershbaumer: "his use of colour washes and the creation of cave-like, pictorial spaces."
Shaun O'Riordan: "the physicality of the work and energy of the text-based graffiti"
Juliet Nally: "bold and expressive construction of a painting as an object"
Michael Cupples: "great colour and confident application of paint"
Victor Bright: "great rich colour and nicely ambiguous suggestion of humanoid form"
Hohepa Helios, Auckland
Mark Warner: "a comic 1960s style with strong design and sensational lines"
King Street Artworks, Masterton
Wendy Harlick: "skilful and slightly gothic treatment of a floral arrangement"
Val Sutherland: "imagination and loving attention to detail"
Peter Quest: "a surprising design with an electric line"
Pablos Art Studios, Wellington
Reece Tong: "bold, primal and graphic interpretation of the world"
Sandz Gallery and Studio, Hamilton
Cherie Mellsop: "work that's simply beautiful – delicate and minimal"
Phillipa Aubrey: "humourous editing of graphics on found object – a tea towel"
Isabel Meta: "strong graphic quality and use of space"
Paul Sedgewick: "a piece that blurs the line between map-making and painting"
Kenny Edge: "great line quality and process of layering"
Dianne Cadman: "great mark making, treatment of paper, and sense of design and pattern"
Natasha Ash: "fine rendering and great design treatment of a subject that sears our collective memory"

Spark Studio, Auckland
Gail Witheridge: "a clever piece of print-making and collage"
Studio2, Dunedin
Tanya Faiva: "outrageous colour, texture and technique"
Take 5 & Te Whare Marama, Lower Hutt
Stephen Borrows: "haunting intersection between the religious content and the process of drawing"
Vincents Art Workshop, Wellington
Emma Gregory: "a comic-like explosion of detailed colour"
Jennifer Munro: "a well-proportioned and comic model"
Colin Korovin: "a committed text-based artist who fills volumes of drawing pads with intensely rendered shapes and messages"