Men stitch their way to a new life
25 June 2012
Male prisoners in 29 prisons across England, Scotland and Wales have been embroidering high-quality cushions, bags, rugs and patchwork quilts since 1997.
Fine Cell Work, the social enterprise behind this endeavour, trains 450 prisoners every year. This training and support is provided by 60 volunteers from the Embroiderers and Quilters Guild.
Seventy-five per cent of the prisoners are men. Fine Cell Work not only helps the prisoners develop new skills but also provides them with a sense of purpose and self-worth.
One prisoner, Kevin, writes: "For some of us, it's a way to use our time wisely and to be pro-active. Also it's a chance for us to learn and gain new skills and to be creative. The other thing that we all can say is that we all do find a feeling of calmness and we all do come together to help and support each other, just like a family, and these two things are so rare to feel and find in prison."
Lee, who is no longer in prison, writes: "I got loads, loads of thank-you letters from people. Sometimes it chokes me up and brings tears to my eyes because some people have some powerful stories where they've lost someone and the cushion now is a part of what that person meant to them. I used to choke up regular."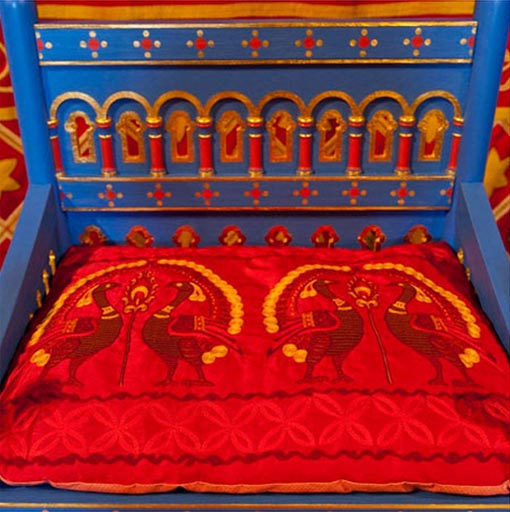 The needlework has also given the prisoners hope of long-term sustainable income. The prisoners are paid for their work, which is then sold around the world. They are also being commissioned as heritage or interior design pieces. Since 1997, more than 10,000 commissions have been completed for organisations such as the Victoria and Albert Museum, the Tate Modern and the National Gallery.
Learning to channel their time, energy and frustration in creating something unique has made a difference to the lives of many prisoners.
Andy, who is serving a life sentence, says: "Being able to stitch was a great way to take my mind off what was going on inside my head. In times of great stress I would pick up my tapestry and immerse myself into it, which helped every single time. At times I wouldn't put it down until the early hours of the morning. I can confidently state that Fine Cell Work has helped me get through many problematic times in my life and has stopped me from going over the edge."
Some statistics
More than 200 volunteers give their time at events, in prison and at the Fine Cell Work head office.
Of these, 60 volunteers go into prisons every two weeks to teach and mentor the stitchers.
The average time it takes to produce one of the products is 100 hours.
On average, the stitchers do embroidery in their cells for 20 hours a week.