Article
Arts Access Aotearoa
Moving on: highlights of Arts in Corrections role
13 December 2018
An exhibition of prisoner art in Parliament, meeting like-minded people at a conference in Brisbane, touring New Zealand with the founder of the Shakespeare Behind Bars programme and facilitating a year-long drama project at Arohata Prison are among the highlights of Jacqui Moyes' time as Arts in Corrections Advisor at Arts Access Aotearoa.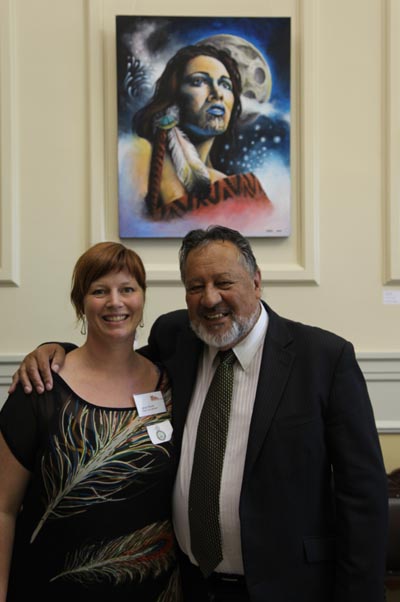 Jacqui, who finished at Arts Access Aotearoa on Thursday 6 December, remembers putting together an exhibition of prisoner art in Parliament in late 2012.
"This was my first big job after I started at Arts Access Aotearoa in September that year," she says. "As well as the artworks from prisons, there was also a work that had been gifted to Parliament's art collection from Auckland Prison when Robyn Hughes was the art tutor there. It was called Rona and the Moon and represented my close connections with the north.
"There's a photo of me standing in front of Rona and the Moon with Dr Pita Sharples, who opened the exhibition as Associate Minister of Corrections."
Some of Jacqui's other highlights are:
Asked what she is most proud to have achieved as Arts in Corrections Advisor, Jacqui says: "That during a time of great challenge in Aotearoa, politically and socially, I managed to hold the space for creativity in Corrections – and possibly even grow it a little!"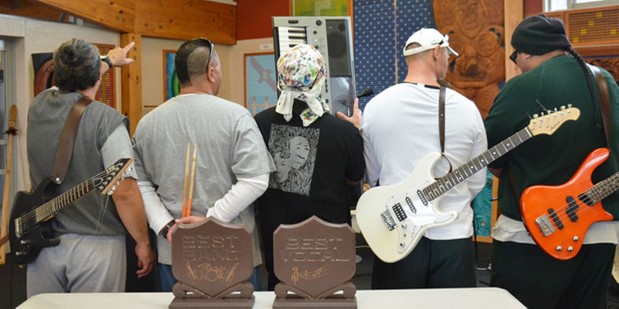 The most rewarding aspect of her role was working creatively in a space where honesty and authenticity are crucial. "Working with the prison community over the past six years has sustained my hope that creativity can build strong, healthy communities and provide a platform for us to connect with each other, with staff and whānau."
Richard Benge, Executive Director, Arts Access Aotearoa, describes Jacqui as "a wayfinder" for everything within and outside Corrections and the arts. "She has established the path for us to follow and build upon."
Beth Hill, Northland Region Corrections Facility's programme leader for arts, self-directed learning and living skills, worked with Jacqui on a number of projects over the past six years. She describes Jacqui as "tenacious, warm and inspiring".
"Jacqui advocates for facilitators like me and our students with integrity and out-of-the-box thinking," Beth says. "Our partnership has enabled me to drive the arts at NRCF as a vehicle for change and to inspire community members locally, nationally and globally to take the leap of faith and join us on our waka."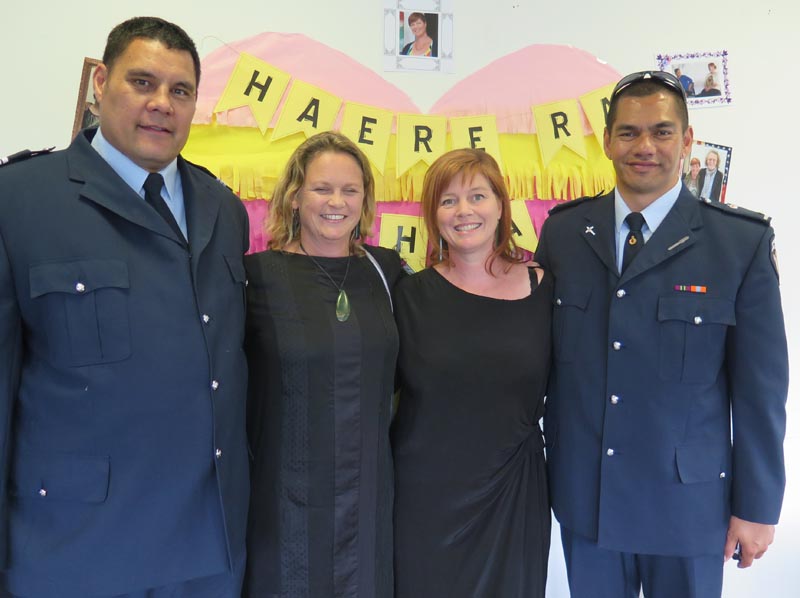 Lawrence Ereatara, Residential Manager, Special Focus Units, Hawkes Bay Regional Prison, says the prison has been privileged to work with Jacqui over the past six years.
"Jacqui has provided us with guidance, support and networking opportunities that have enhanced our capabilities in the contemporary and creative art space."
At her farewell, Lawrence presented Jacqui with a putiputi (an original flax flower from the formerly known Māori Focus Unit) and a taonga manaia (bone carving).
"The putiputi represents our whakapapa, our connection to papatuanuku (mother earth) and was dyed the colours of our local Iwi, Ngāti Kahungunu.
"The facing manaia represents her future hopes, dreams and aspirations. The smaller manaia represents the people that have been privileged to undertake journeys or be a part of her inspiration."
Ko te pae tawhiti whaia kia tata.
Ko te pae tata whakamaua kia tina.