News
Arts Access Aotearoa
Music video to promote inclusion
22 December 2014
Wellington musician and disability advocate Pati Umaga is teaming up with Auckland's PHAB Pasifika to make a music video celebrating dance for people of all abilities.
To be filmed in Wellington in the new year, the video will feature Siva (the Samoan word for dance), a song written and recorded by Pati Umaga, and PHAB Pasifika's inclusive dance troupe Pasifika PHusion.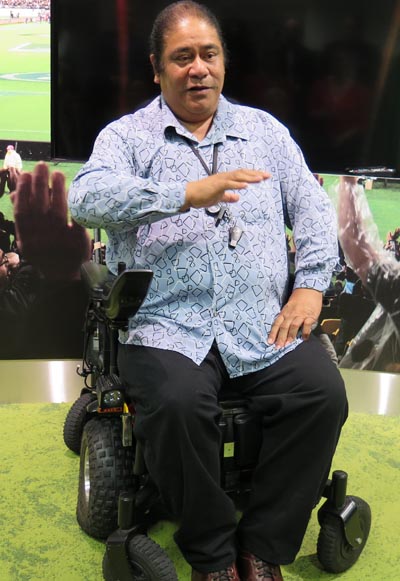 The aim of the video is to break down stigma and stereotype surrounding disabled people, showing the public what disabled people are capable of, Pati says.
"I was moved when I first saw these young people perform and was keen to take up any opportunity to work with them," Pati says. "In an industry that's so image-focused, it will be interesting to see how people respond to the video."
Pati himself uses a wheelchair after slipping in the shower in May 2005 and becoming paralysed. "Today I'm more active than I was before the accident. It's made me a lot more courageous and appreciative of life, so I don't take anything for granted."
Pati plays in a band called Kabasa. Before his accident, he was the bass player in the Holidaymakers, which recorded the hit song Sweet Lovers in 1988.
A message of love and hope
"I want the music video to have wide appeal and to promote the power and positivity of the arts, and what music and dance can do for everyone," he says. "I want to send a message of love and hope.
"Music feeds the soul and it's an artform that can do a lot to build confidence and performance skills. Participating in the arts also connects people to others and also to themselves."
Advocating for disabled people
In recent years, Pati has been very active in advocating for disabled people and in 2012, he received the Queens Service Medal.
"I got involved in consumer groups and advisory boards in the disability sector to see what the lay of the land looks like. I learned that there aren't many Pacific people sitting at that table.
"What I like about PHAB is that they're building leadership in the youth sector, including disabled Pacific youth. I believe the arts and music can provide a pathway for young Pacific leaders, both disabled and non-disabled."
The music video will be made with funding from the Ministry of Social Development's Think Differently Campaign, the Ministry of Health and ACC.
Looking beyond the video, Pati says he would like to make an album of electronica dance music that celebrates disabled musicians.