Nelson creative space works with local offenders
16 April 2010
Painting the walls, tidying up the outdoor area, working alongside the artists and helping to make props for Community Art Works' float in the annual Christmas parade in Nelson are some of the tasks undertaken by local offenders serving a sentence of community work.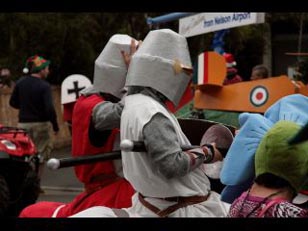 Over the past couple of years, Community Art Works has been developing a valuable relationship with the Community Probation and Psychological Services in Nelson. This means that offenders serving a sentence of community work may be placed at Community Art Works to complete their sentence.
Established 17 years ago, the Nelson creative space caters for people who cannot access art programmes via the mainstream. This includes intellectually disabled people, disconnected youth and people with experience of mental ill-health.
Steady growth in referrals
The number of referrals from Community Probation and Psychological Services has grown steadily, says Faye Wulff, Community Art Works co-ordinator. She estimates that more than 50 offenders have completed their community work sentence at the creative space.
"We really benefit from our involvement with Probation Services. Our artists love the extra attention, and it gives them more of a sense of community and social inclusion," Faye says. "For the people on probation it can be just as valuable. They learn understanding and tolerance, and it can make them see how fortunate they are.
"One young man said that doing his community sentence and coming here had made him rethink what was important in life. Working alongside our disabled artists made him see that his life wasn't so bad after all. He's got his own business and he's gone back to that now but he still pops in to say hello."
Community partnerships crucial
Polly Cunningham, Area Manager for Nelson, Marlborough and West Coast, Community Probation and Psychological Services, says its partnerships with community groups like Community Art Works are crucial.
"It benefits the community but also serves a valuable purpose for the offenders involved. It broadens their horizons, and teaches them new skills and work habits," she says. "Down the track, this can help them gain employment, which has been shown to greatly reduce the chances of further offending."

Sponsors need to have integrity and the ability to relate to a range of people. "We really value the contribution of sponsors like Faye," Polly says.
Probation officers have a good knowledge of the community. They assess the offenders and ensure they are the right fit for the sponsoring community group or organisation.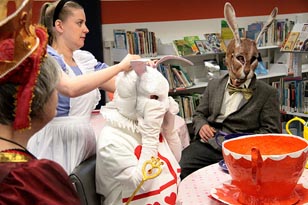 At the moment, one young offender at Community Art Works is making props to illustrate various nursery rhymes. When they're completed, they'll be passed on to the Nelson Public Library.
For last year's Christmas parade, three men on probation made props for Community Art Works' float, Alice Through the Looking Glass, and then played some of the characters.
"They come here to work for us and so they don't pay any fees," Faye says. "But if we can help them develop new skills and attitudes, then it's a positive outcome for everyone.
"When they work on a project, they learn all the necessary processes and how to see a project through to completion and to a high standard. When they finish a project and see what they've achieved, you can see how proud they feel."
Ways of working in partnership
Faye is happy to talk to any creative spaces interested in exploring ways of working with Community Probation and Psychological Services and offenders serving a sentence of community work. She offers the following suggestions:
Establish a good relationship with your local Community Probation and Psychological Services, based on clear guidelines about what's required for each party.
Start slowly.
Be clear about your expectations in terms of behaviour, work ethic and dress code.
Be open to the potential of the offenders.
Please contact Rebekah Mckenzie, Senior Community Work Supervisor, Nelson Probation and Psychological Services (T: 03 545 9423) if your group or organisation in Nelson is interested in sponsoring offenders on probation.