News
Arts Access Aotearoa
Trombonists and students to perform in New Plymouth
22 August 2013
Trombone quartet BonaNZa, along with disabled students from Marfell Community School and Stratford High School, will perform together in New Plymouth on Monday 26 August in a concert presented by Chamber Music New Zealand.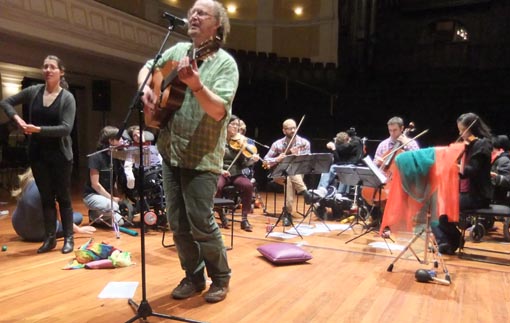 The performance will be led by Julian Raphael, community musician and education facilitator for Chamber Music New Zealand's Ensembles In Schools programme.
Playing the guitar, singing and speaking, Julian will introduce each piece of music and support audience members wanting to join in.
It's a role Julian played in last year's performance in the Wellington Town Hall, which combined the music of the Enso String Quartet from the United States and students from Kimi Ora School in Wellington. At times, Julian and Enso String Quartet walked through the audience, playing and connecting with an audience of nearly 200, including disabled students from nine schools in the Wellington region.
Richard Benge, Executive Director, Arts Access Aotearoa, attended last year's performance and says that under Julian's leadership, the atmosphere was safe, relaxed, energetic and full of fun.
"This initial performance was supported with a grant from Creative New Zealand through our Arts For All programme," Richard says. "Chamber Music New Zealand is opening up new possibilities for disabled people by taking this presentation of music to Taranaki."
The project is managed by Jessica Lightfoot and Victoria Dadd of Chamber Music New Zealand, members of Arts Access Aotearoa's Arts For All Wellington Network.
Trombonists love to entertain
Jessica says that the BonaNZa trombonists love to entertain, have fun and dress up. "It will be a very relaxed performance. The audience don't need to worry about disturbing the show and they can sit wherever they like. There are accessible toilets and a quiet space outside the theatre. Wheelchair access is also available."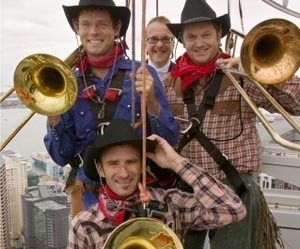 Andrew Tutty, music therapist at Kimi Ora School, says the school's involvement in the Wellington performance was "fantastic".
""I really liked the students being given a chance to perform and share their musical skills with a wider audience," he says. "I also liked the way that everyone was so comfortable and able to participate so easily."
This event by Chamber Music New Zealand has been made possible with support from IHC Foundation, Pelorus Trust, TSB Showplace and Taranaki Arts Festival Trust.
The performance will take place in the Theatre Royal, TSB Showplace on Monday 26 August at 1.30pm with koha on entry. The TSB Showplace is at 92 Devon Street, New Plymouth.
Reservations are essential as places are limited. For reservations please contact Jane Manning (T: 06 759 6712 E: tsbshowplace@npdc.govt.nz). Please let Jane know if you have any accessibility requirements.