Media Release
Arts Access Aotearoa
Ngā Heke at Wellington Museum
7 December 2016
MEDIA RELEASE: Museums Wellington
Wellington Museum's new exhibition Ngā Heke highlights the migrations and journeys of people and objects to Wellington through different perspectives.
While The Attic space at Wellington Museum has a Steampunk Victorian theme, Ngā Heke has a more contemporary slant, with a rib-like structural design and a pared-back, modern-gallery feel, with bold and strong graphics.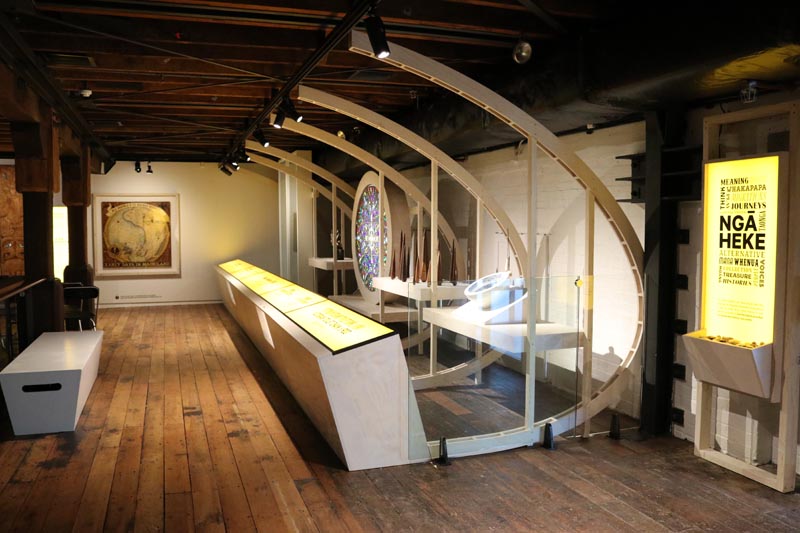 The space brings more Māori voices to the museum, with new works by young contemporary Māori artists, writers and poets. In the Mana Whenua section, the works stand alongside Te Whanganui a Tara, one of the most prized taonga Maori at Wellington Museum, the tukutuku and poupou panel by Rangi Hetet, the late Erenora Puketapu-Hetet and their whanau.
Tina Makereti, Māori Curator at Wellington Museum, explains the concept of Ngā Heke: "Ngā Heke refers to the many migrations that have come to Wellington from many different areas. There's a physical meaning as well, which is the rafters of a traditional wharenui called 'heke' or 'ribs'. When we were designing the space, we were thinking about the resonances of the rib-like structure, and how Ngā Heke links all these different people into this area – and the many different journeys that people and objects take."
Other objects on display each have their own story and connection to the Wellington region. From the Evergreen Coffee House sign to the effigy of pacifist Archibald Baxter, this collection reflects a social and cultural history of Wellington that's fascinating, occasionally weird and always engaging.
The exhibition also features alternate histories, which offer visitors a choice of two different historical possibilities, and they can then decide and vote on which one they prefer.
Wellington Museum is a member of the Arts For All Wellington network, facilitated by Arts Access Aotearoa.
For more information, contact:
Tom Etuata
Communications Co-ordinator
Museums Wellington
T: 04 894 7415 or 027 946 9564