News
Arts Access Aotearoa
A group of young Wellingtonians are shining a light on the arts and accessibility – both for theatre practitioners and their audience. Their show, Women Drinking Hemlock, features in the NZ Fringe Festival 2023's programme and includes audio described, captioned and relaxed performances.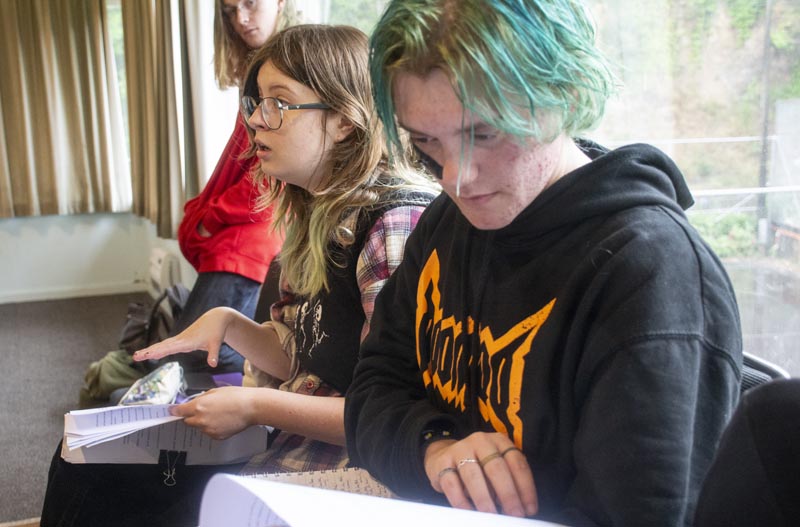 In addition, most of the cast and crew live with a disability, says director Bee Wilson Kilby. A student at Victoria University, Bee is majoring in theatre and classical studies.
"If you enjoy making theatre, as we all do, the Fringe is often the first step into the local theatre scene," they say. "For me, being accessible is about meeting the needs of everyone in your team and actively creating a space where they can verbalise those needs.
"As for audiences, people shouldn't be excluded from experiencing a joyous storytelling event."
Holly Kennedy, one of 11 characters, agrees. "We live in such a creative city, and the Fringe Festival has a special vibe that everyone should be able to enjoy.
"Accessibility is important in all sorts of ways – and not just when you're visiting a doctor. Being able to go out to a show and participate in your community is vital for your health."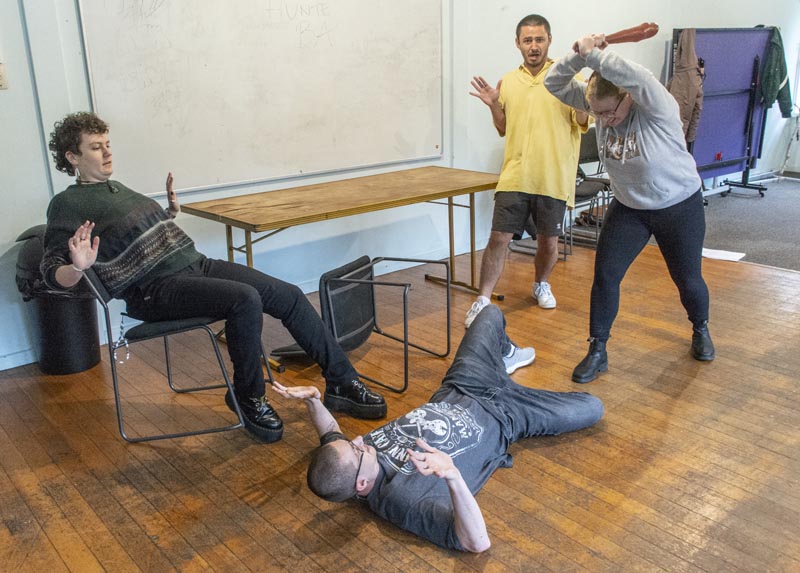 Written by Sacha Acland, Women Drinking Hemlock is described as "a queer feminist comedy about two rival breweries". Set in Wellington, it touches on themes of the drinking culture in New Zealand and gender stereotypes in the hospitality industry.
Sacha Acland and many of the team are under 25. Bee says that young voices, especially those from marginalised identities, are an important part of Wellington's theatre scene and need to be heard.
They also need to be funded, she adds. A Boosted campaign to raise $2500 will support the cast and crew.
"Artist sustainability is very important to us and as a new theatre company, it's very difficult for us to pay our team fairly," their Boosted campaign page states. "We're very grateful to everyone who's worked on this project and we want to be able to compensate them for their time in some way."
Accessibility at the NZ Fringe Festival
The NZ Fringe Festival runs from 17 February to 11 March, with more than 400 artists involved and 170 shows taking place over 45 venues.
Other accessible/inclusive shows to watch out for include:
Access: described as a "provocative and award-winning interactive performance artwork by Hamish Annan exploring human connection and emotional vulnerability". Visit his website for accessibility and pre-visit information.
Limits: choreographed and performed by Bonnie Curtis, it's described as "a hard-hitting dark comedy that challenges perceptions of beauty, perfection and disability". There's a digital show that's captioned and audio described from 17 February, as well as a relaxed performance on 22 February.
SEEDS 2022-Unseen: a full-length dance film presented online by Maya Dance Theatre from 17 February and featuring dancers with diverse abilities from Diverse Abilities Dance Collective.
The Tempest: this outdoor Summer Shakespeare production has an audio described show at 4pm Sunday 19 February.
Visit the NZ Fringe Festival website for the full programme. If you have an accessible/inclusive event you would like to promote, please add to Arts Access Aotearoa's events calendar.