Article
Arts Access Aotearoa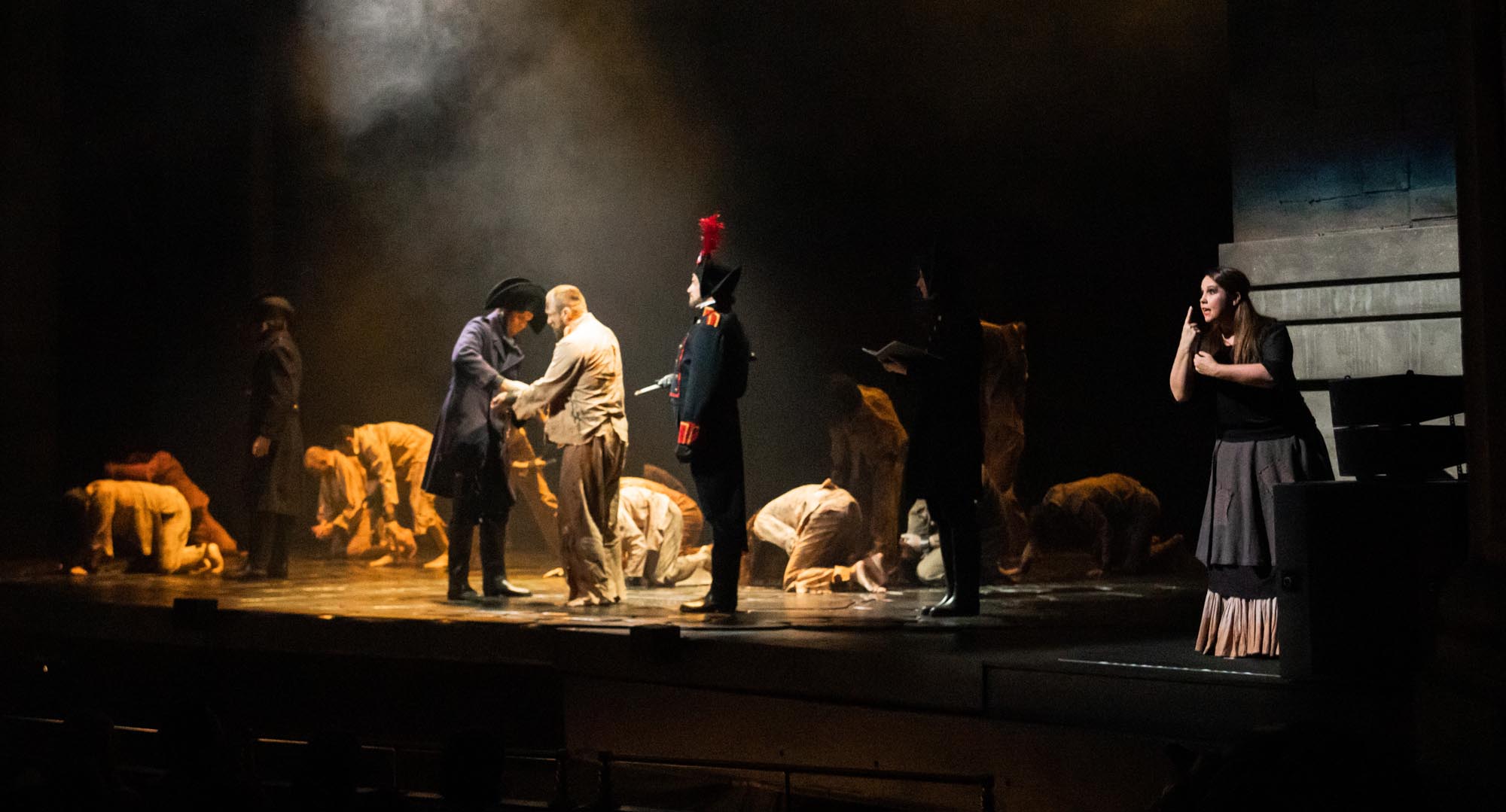 Aucklander Kelly Hodgins' passion and bubbly personality shine through when she talks about New Zealand Sign Language (NZSL) interpreted theatre and other arts events for Deaf people.
From the age of six, Kelly performed on the stage in amateur theatre and dance productions and she remembers seeing a Deaf child signing in the film Miracle on 34th Street.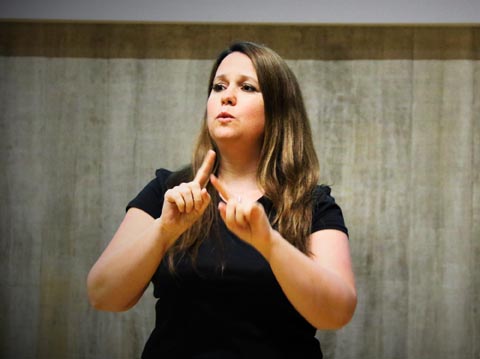 "I was captivated," she says. "When I later went to sign language night classes, my wonderful Deaf teacher suggested I train to become a New Zealand Sign Language interpreter."
That was the start of an 18-year career of opening up the world of the arts to New Zealand's Deaf community. After graduating in 2002 with a Diploma in NZSL/English Interpreting, Kelly began working as a qualified NZSL interpreter on the stage in 2004.
Based in Auckland, she is now experienced in conference, legal, political, health, employment, education and media interpreting throughout New Zealand. But her passion is performance interpreting.
"The demand for sign language interpreting access is growing all the time but there is so little regular funding available in the arts," Kelly says. "My goal is to grow the performance interpreter pool with both hearing and Deaf interpreters to remove the barriers to access for the arts.
"What I love most about NZSL interpreting in the arts is bringing families and friends together and giving Deaf people the opportunity to be involved in social events like everyone else. Traditionally, the Deaf community has been isolated. NZSL access means they can experience the richness of the arts, impacting positively on their mental health and wellbeing. It's wonderful to see the joy on their faces. It's about achieving equality."
For more than a decade, Kelly was the resident sign language interpreter with the Tim Bray Theatre Company, which presents theatre for children. In 2012, she interpreted the Royal Jubilee performance of Hairy Maclary for HRH Prince of Wales and the Duchess of Cornwall at the Bruce Mason Theatre.
Sign interpreting for local and international performances
Kelly has also worked alongside several other organisations such as Auckland Live and the Auckland Arts Festival, providing sign language interpretation as part of their accessibility programmes for both local and international performances. This includes The Sound of Music. Disney's Aladdin, The Phantom of the Opera and Les Miserables, to name a few.

"Performance interpreting is so different from platform interpreting at a conference," Kelly explains.
Performance interpreting is a specialised skill and requires more than being a competent interpreter with a passion for performing. "There are translation skills. You have to translate the entire script from English into NZSL, including any lyrics if there are songs within the performance.
"You also need great memorisation skills. You have to memorise all of your characters' lines and their mannerisms, along with where the actors are standing on the stage at every moment throughout the show."
Kelly lists some of the other skills required: musicality and self-reflection skills; the right signing style and precision; physical stamina to continue interpreting with high energy for prolonged periods of time; advanced linguistic skills; openness to intense critique and mentoring; and excellent teamwork.
"On top of all of that, a sense of humour is an asset. It's intense but rewarding work."
Kelly also interprets music concerts. "Sometimes people don't realise that deafness is on a spectrum: Some Deaf people can hear at certain frequency levels and many actually enjoy listening to music.
Sign interpeting a music event
"Today, young Deaf people can plug their hearing aid devices into their phones and listen to their favourite band. When they go to a music event they might be able to hear some of the music but they can't always hear the lyrics so it's important interpreters are provided.
"Music interpreting is one of the hardest forms of interpreting. It's multi-layered and requires the interpreter to take the poetic imagery from a spoken language and convey it meaningfully in a visual language."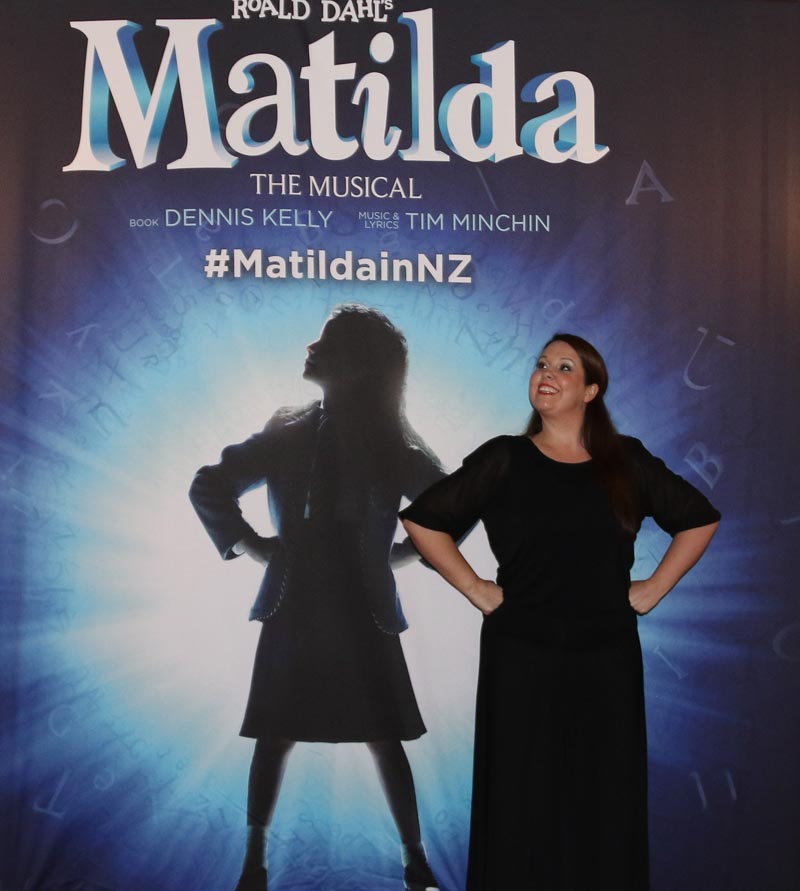 In 2014, Kelly was awarded Interpreter of the Year at Deaf Aotearoa's NZSL Awards. In particular, it acknowledged her work in establishing theatre interpreting and ensuring the arts were accessible to New Zealand's Deaf community.
In January 2019, Kelly set up her own business, Platform Interpreting NZ, specialising in providing interpreting services for the arts and offering a package service to companies wanting to be NZSL/Deaf accessible. From the first initial meeting through to the completion of the event or performance, it advises companies on culturally appropriate practice for Deaf audience members.
She says her company has an experienced team of performance interpreters, Deaf consultants and NZSL interpreter advisors. "We don't only do NZSL interpreted theatre performances. We support companies with arts events across the board from visual performances to conferences and forums, gallery tours, festivals, film and television, and music concerts."
Platform Interpreting NZ has worked hard to expand its services beyond Auckland to other parts of the country. This included providing performance interpreters for the New Zealand Festival of the Arts in Wellington and the Wiggles NZ Tour.
"Our aim is to provide regular, high-quality NZSL performance accessibility across New Zealand."
Kelly Hodgins and Platform Interpreting NZ is a member of the Arts For All Auckland Network.