Media Release
Arts Access Aotearoa

Otago Museum wins Arts Access Museums Award 2019
23 May 2019
Otago Museum was presented the Arts Access Museums Award 2019 for its collaboration with the local autistic community at the ServiceIQ New Zealand Museum Awards 2019 at Te Papa Tongarewa in Wellington on Wednesday 22 May.
Richard Benge, Executive Director, Arts Access Aotearoa, presented the Arts Access Museums Award 2019 for a collaboration that resulted in an exhibition of works by 28 autistic artists from Dunedin and around the country.
Of the winning nomination, the judging panel said: "The iNDx exhibition and supporting public programmes brought new visitors to the museum and opened up deep conversations about lived experience of autism. Throughout the process, museum staff respected the autistic-led kaupapa. The result was a thought-provoking exhibition with an impact far beyond the gallery space."
Craig Grant, Director Visitor Experience and Science Engagement, Otago Museum, said: "This is what museums are all about. The project was a true collaboration, involvedRachel Cooper's passion and her ability to gain the trust of the autistic community."
Driving the project was Dunedin's Tanea Paterson, an autistic woman who says she is used to speaking and writing about autism and its challenges.
"I came to see that often I was only reaching other autistic people and their families, who already had a good understanding of autism. I needed to engage with the wider society and realised that using art as a platform to give our group a voice had the potential to be superbly positive.
"I was also very aware of the size of the talent pool in our community."
A group called iNDx – Autistic Arts and Culture Aotearoa worked with Rachel Cooper and others from the museum and the exhibition began to take shape.
Respecting the autistic-led kaupapa
Tanea praises the support the group received from Otago Museum. "Rachel and the team were always around to answer our questions and support us but totally respected our autistic-led kaupapa. That's what made the exhibition possible."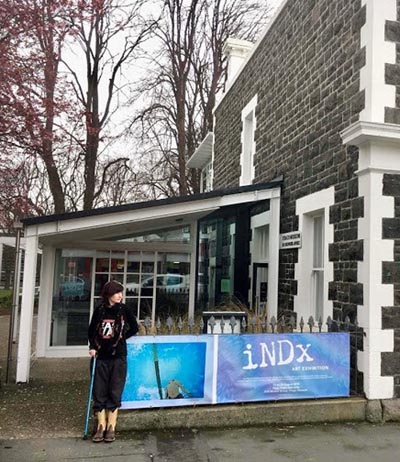 Every artist who submitted work had at least one work in the exhibition. Along with local artists, there were artists from Auckland through to the Hawkes Bay, Wellington, Canterbury and Southland. One artists was from Canberra, Australia.
Tanea says the involvement of museum professionals meant work was displayed with a skill that revealed its quality and drew in the audience.
Rachel Cooper, the Public Engagement Manager at Otago Museum, says it was a privilege working with the iNDx team.
"Providing a platform for members of our community to express themselves and share information is really important to us," she says. "Developing the iNDx exhibition and its supporting programmes required us to adapt our thinking and planning processes so that the group felt comfortable working with us.
"The result was a collaborative and thought-provoking exhibition and we are so grateful that the artists trusted us to help tell their stories."
Workshops held over the weekends provided open dialogue about autism. For some visitors, it was their first encounter with autism and autistic people. It gave them the chance to ask questions and appreciate the uniqueness of autistic perspectives.
Talking about autism
Some spoke of feeling more confident to talk about autism in a positive way as a result of having seen the work on show.
"It wasn't an exhibition to look at autistic people," Tanea says. "It was about engaging with people and using amazing art as a wonderful catalyst for conversations about autism."
Some of those conversations were between autistic people, who may have few opportunities to meet socially. "The autistic community tends to have very few social events because the communication, social and sensory differences we have can hinder our ability to socialise in typical ways.
"We need a theme or focus to bring us together and the exhibition gave us that. We were connected by being a part of this project and that gave the artists a great sense of self-belief, identity and pride.
"Connection is an imperative part of wellbeing and everyone benefits when art is the focus for that."
Other finalists in the Arts Access Museums Award 2019
Auckland War Memorial Museum Tāmaki Paenga Hira for its diversity and inclusion policy and accessibility initiatives: Auckland Museum's Diversity and Inclusion Policy draws on international best practice, committing the museum to diversity and inclusion in the widest sense.
Auckland Art Gallery Toi o Tāmaki for its access tours of Pacific Sisters He Toa Tāere/Fashion Activists: The Public Programmes team collaborated with the Auckland Arts Festival, the blind and Deaf communities, and cross-gallery teams to provide access tours of the Pacific Sisters
Govett-Brewster Art Gallery / Len Lye Centre for its Sense Art tours: The judges were impressed by the gallery's Sense Art tours, offered in collaboration with Taranaki's disabled and Deaf communities.