Article
Arts Access Aotearoa
Combining the skills of an art worker with those of a peer support worker has been a winning formula for Artsenta's outreach art programmes in North Otago and Central Otago.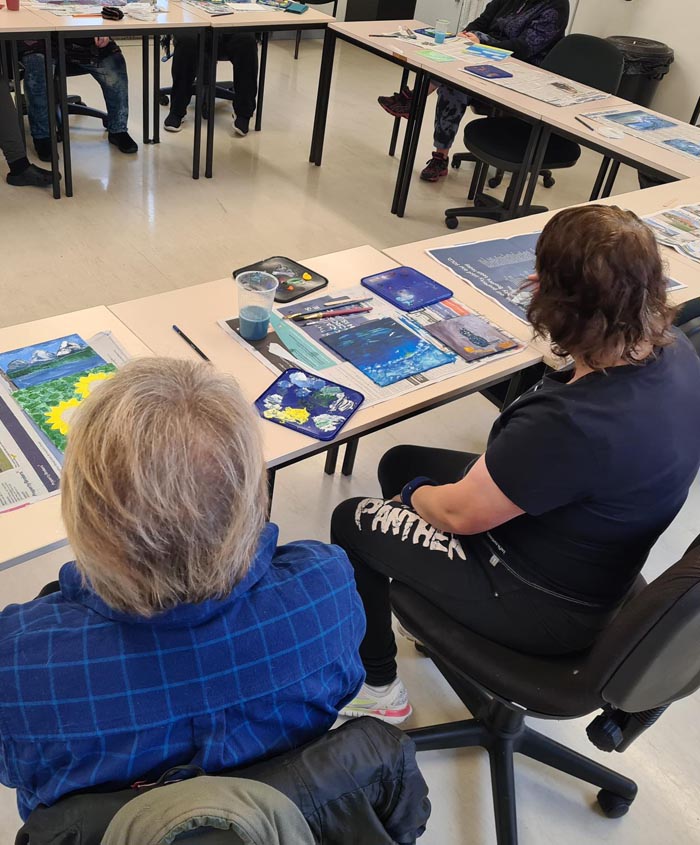 Artsenta, one of the oldest creative spaces in New Zealand, is based in Dunedin. Its mission is to support community wellbeing in local communities through creativity. Thanks to three-year funding from Manatū Taonga, it has developed outreach programmes to nurture the creativity and mental health of people living in rural communities.
Paul Smith, Director of Artsenta, says feedback from participants shows the effectiveness of the art worker/peer support worker combination.
"I'm passionate about our new model of an outreach programme, which was enabled through the Manatū Taonga funding. We've gone from occasional visits to regional towns to having two local people delivering a larger, high-quality service.
"The outreach team are skilled and effective, and the programme itself is addressing issues of isolation, mental health, stigma and self-esteem."
Maintaining a safe space for everyone
Using this model, the art worker (an experienced artist) leads the artmaking while the peer support worker (a person with lived experience and peer support training) helps welcome new participants, connects with community services and helps maintain a safe space for everyone.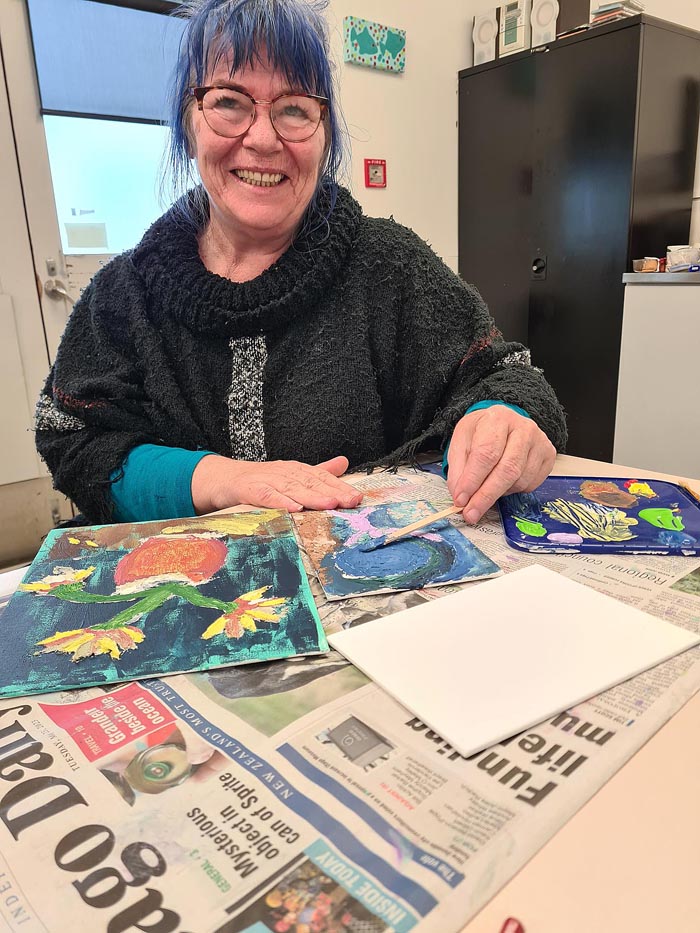 Peer Support Worker Toni Huls and Art Worker Natalie Carpenter facilitate weekly two-and-a-half hour sessions in Kurow, Palmerston and Oamaru. In Central Otago, Peer Support Worker Janie Shaw and Art Worker Jude Faircloth facilitate weekly sessions in Wanaka, Cromwell and Alexandra.
Sessions in the Waitaki Creative Wellbeing Programme include structured art activity, discussions and refreshments, providing participants with time to connect with each other. The arts activities range from drawing and painting to collage, marbling, air-dry clay work, embroidery, kumihimo braiding and raranga.
Toni, who has experienced mental health distress, uses that experience to support the 30 or more participants in the weekly sessions.
"This is a very different model of care and the way it's delivered is pivotal to the success we've had," Toni says. "It can be an important vehicle for change and the peer support is an intricate and vital part of the service we offer.
"We know that art and creativity can help people. It also normalises mental distress and isolation, breaks down barriers.'
Bringing people together through art
Natalie, an artist as well as art worker, says the importance of mental health and wellbeing has become more recognised and talked about since COVID. "Our art lessons bring people together, encouraging them to get involved in their local communities so they feel less isolated.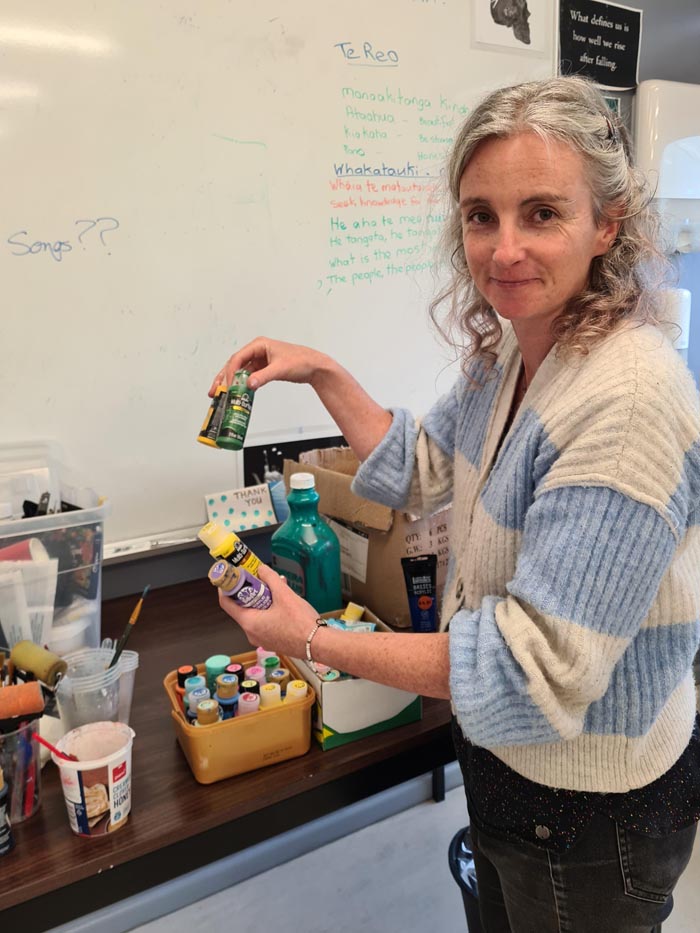 "I really enjoy my position as the art lead, I get to share my art and passions but more than that, I also get to connect with people. The connecting, talking and sharing has become really important for my own mental wellbeing. I can see others feeling the same way and so it's a mutual experience. We share as much as we want, highs and lows, and know it's a safe space.
"We're also learning new skills and creating something that brings us joy and a moment of achievement. And so I share what makes me happy to inspire people to try something new and because I realise togetherness is important for everyone."
A recent survey of participants confirmed the programme had made a very positive difference to people's lives. It showed that community connection, learning opportunities and wellbeing support were the main reasons people attended.
At first, participant Linda was reluctant to attend. Unable to work, she says the programme has given her a sense of purpose. "I look forward to every session, enjoy making new friends and feel much more visible in the community."
Anyone experiencing mental health distress or isolation in North Otago and Central Otago is encouraged to find out more about Artsenta's outreach services. Contact Toni, Waitaki Creative Wellbeing (T: 021 184 8470 E: waitaki@artsenta.org) or Janie, Central Otago Creative Wellbeing (T: 021 027 81078 E: central@artsenta.org).