Blog
Arts Access Aotearoa
On Monday 5 July, Arts Access Aotearoa presented Te Putanga Toi Arts Access Awards at Te Papa Tongarewa. This is the annual celebration of artists, venues, producers, staff and volunteers who are committed to improving access to the arts for everyone in Aotearoa.
I've chosen these nine photos to convey how access, inclusion and participation in the arts reflect the vision of Arts Access Aotearoa. Thanks to photographer Elias Rodriguez, marktantrum.com. You can download any of the photos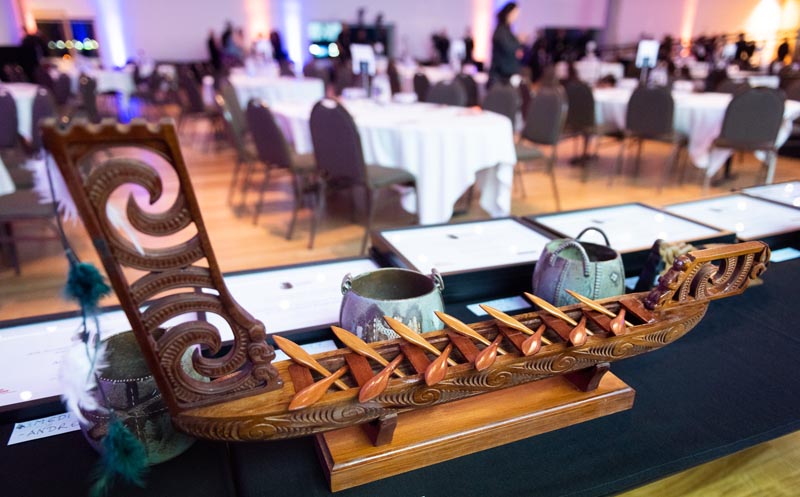 JOURNEY WITH THE TROPHIES: The Māui Tikitiki a Taranga Award trophy waits on the trophy table. By the time this night came around I had a very close association with this whakairo waka. We had physically journeyed together. It was carved at Hawkes Bay Regional Prison and I went to receive it and the Whai Tikanga Award trophy to bring to Wellington. In the handover with the staff and prisoners, I conveyed to the artist that it would be flown to Wellington to grace the awards ceremony at Te Papa Tongarewa. The museum's name means "Our container of treasured things and people that spring from mother earth here in New Zealand". The waka now holds the journey to Te Papa in its whakapapa and the whakairo master can be proud that his work has been steeped in meaning and status.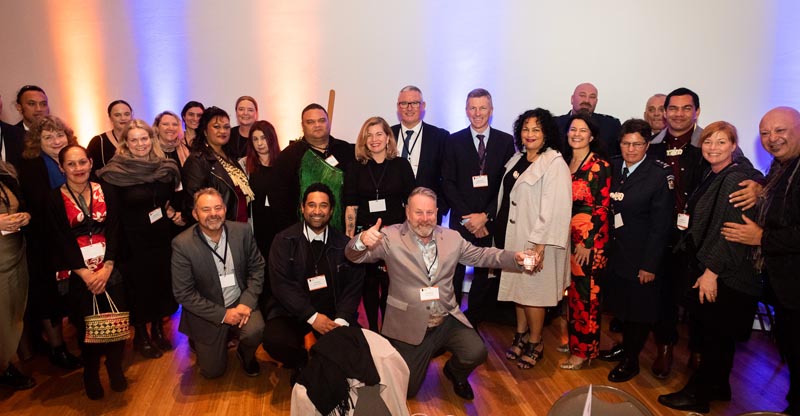 ARTS AND CORRECTIONS: Every year, Corrections recipients, staff, volunteers and members of the Arts in Corrections Network come together before the ceremony starts for a group photo with Hon Kelvin Davis, Minister for Corrections. What a great bunch!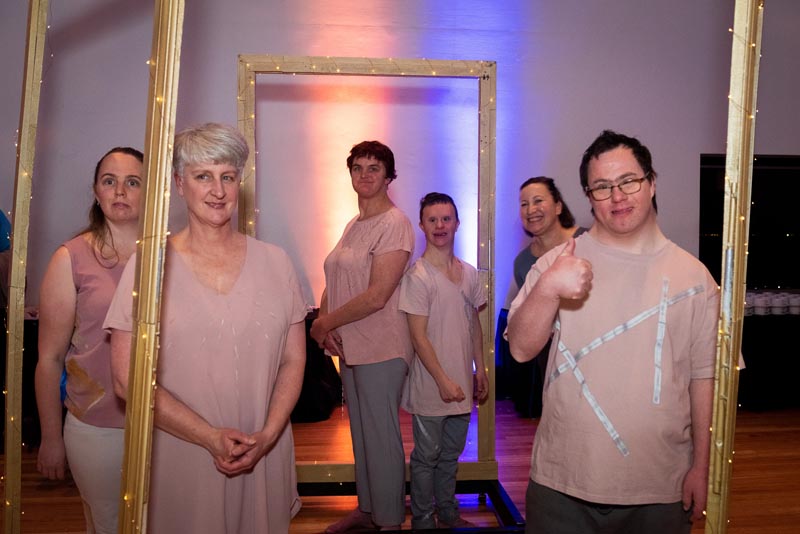 WIDANCE WISH: It is my wish for guests to understand what inclusive arts look, sound and feel like. Wellington Inclusive Dance – or WIDance – performed at the beginning of the ceremony, allowing the audience to experience the joy of dance and establish the spirit and energy of the event. The audience was enthralled.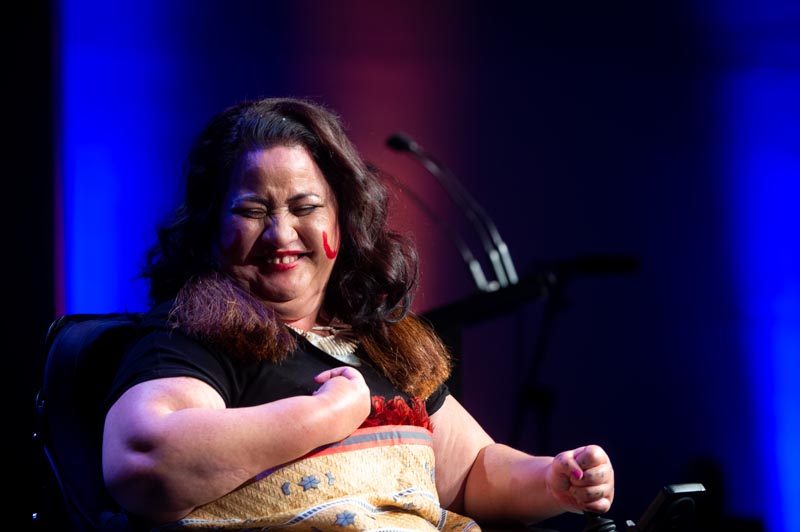 JOY AND DELIGHT: I heard these two words often when guests talked about Lusi Faiva's performance and then her acceptance of the Arts Access PAK'nSAVE Artistic Achievement Award. As award first-timers, a good proportion of the audience is unfamiliar with the extent of what accessibility to the arts means for people who face barriers. Lusi's performance, presence and story reveals what an inclusive society and arts community can look like. You can read more about Lusi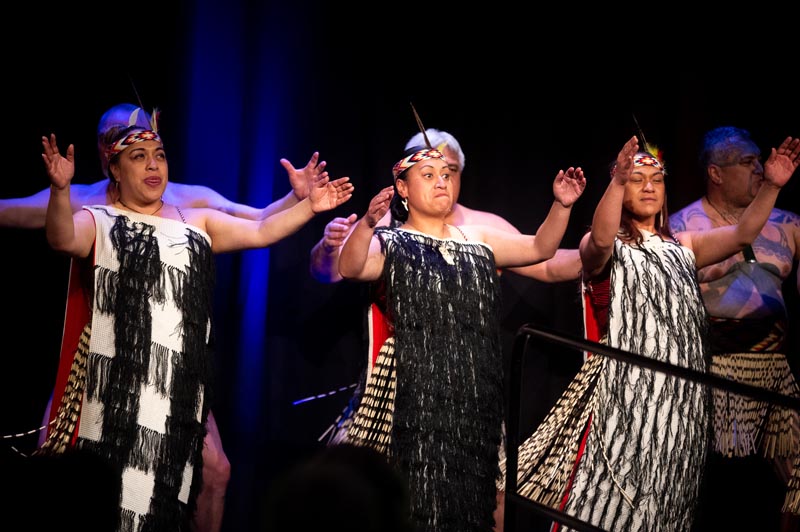 MANAAKITANGA: Te Putanga Toi Arts Access Awards are warmly supported by Ngāti Pōneke Young Māori Club as we provide manaakitanga to and for all award recipients and their whānau. Waiata are chosen to support the kaupapa of the event. Waiata and haka are acknowledging, uplifting and deeply memorable.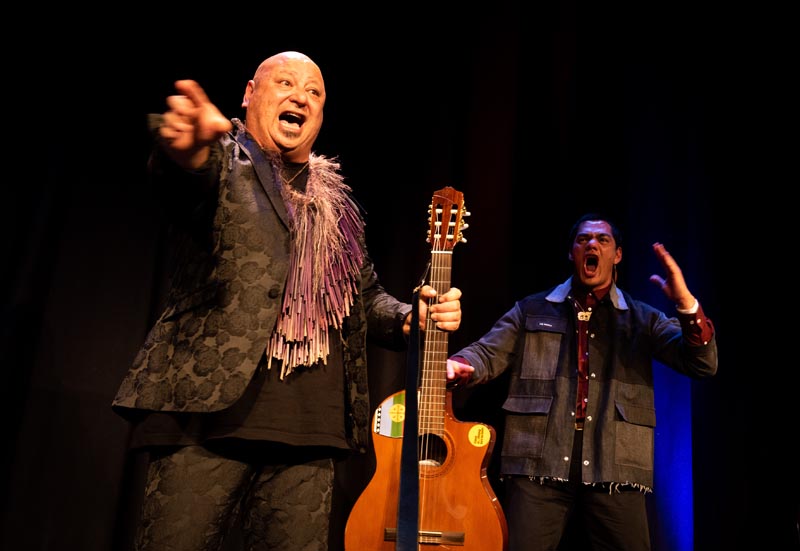 POWER AND WAIRUA: As Lawrence Ereatara And Hone Fletcher were announced as the recipients of the Arts Access Accolade a haka began from Ngāti Pōneke kapa haka recognising their mana. The power, commitment and wairua of our two recipients flowed back and forth in this haka leaving the guests with a deep appreciation of their service.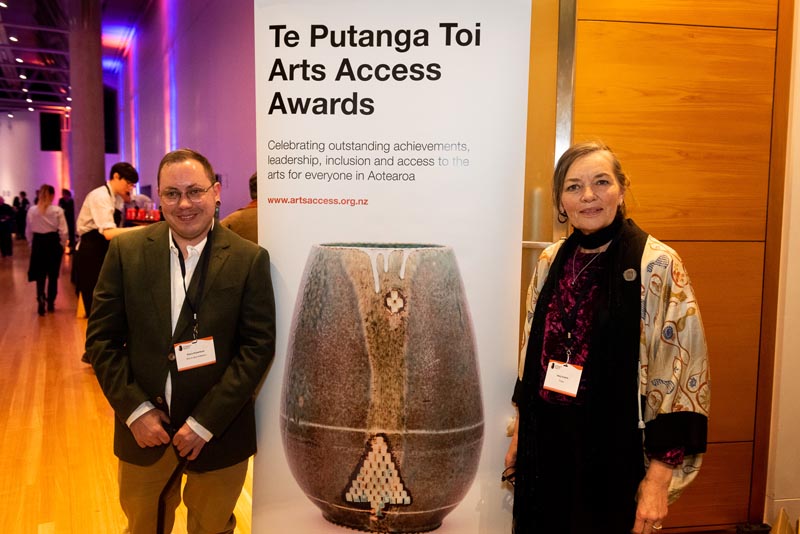 CERAMIC VESSELS: Six of the trophies for Te Putanga Toi Arts Access Awards were made by Hedy (Heidi) Ankers. Multiple steps are involved in making and firing each vessel and each tells a unique story. The Arts Access Accolade trophy was chosen as the awards' overall icon. Here is Heddy with Stace Robertson, our Access, Inclusion and Participation Advisor (and also a ceramics artist) beside a banner that features the Accolade trophy.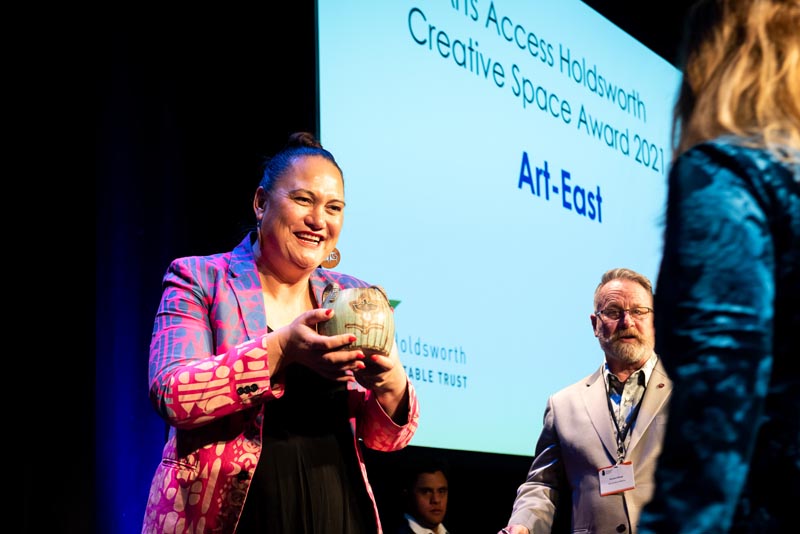 MOMENT OF DELIGHT: The moment of presentation is filled with joy and generosity. Minister Carmel Sepuloni, a champion of creative spaces, shares her delight in the moment as she passes the award trophy to Art-East, recipient of the Arts Access Holdsworth Creative Space Award.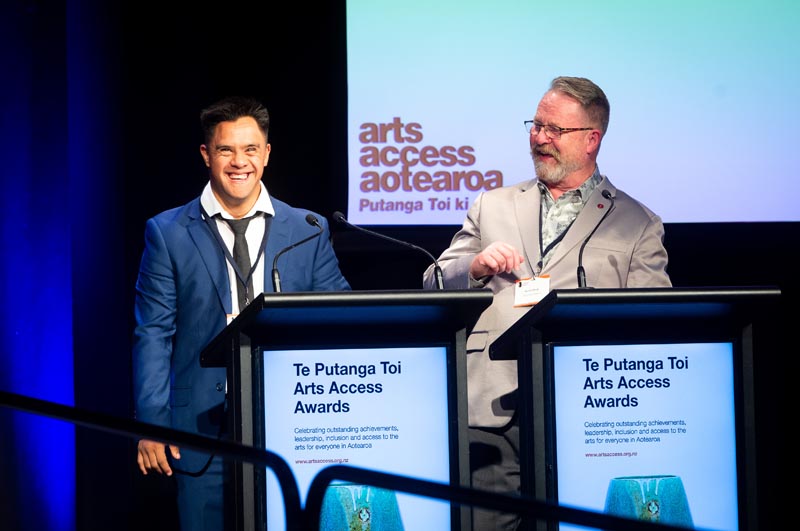 COMPERES FROM THE COMMUNITY: I don't compere Te Putanga Toi Arts Access Awards on my own. Each year I look for and ask leaders from our communities to share the role. This time I was ably supported by actor Jacob Dombroski and Beth Hill, arts tutor and education facilitator at Northland Region Corrections Facility. The delight of working with Jacob is evident here in this photo.