Prisoner profile: opening up new paths
22 August 2011
Paddy Hayes (not his real name) has been a student with The Learning Connexion for the past two years and is currently completing the first year of the diploma programme. Initially, he studied from prison and says he appreciated the fact that he wasn't judged.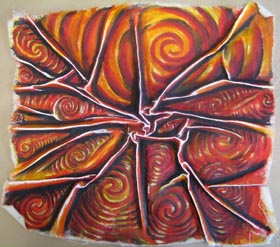 "There were no questions asked or expectations. I instantly felt comfortable and able to speak openly about my art," he says. "The course and people are down to earth."
When he's completed the diploma programme, Paddy says he will keep making art. "It's now a really big part of what I do and how I see things. The benefits are great and I really enjoy it. I have ideas for future work and want to use my art as a way of bringing a message or to tell a story."

There are approximately 80 prisoners studying art from Corrections' facilities around the country, using the distance-learning processes at The Learning Connexion. Sharon Hall, Restricted Programmes Co-ordinator and Distance Delivery Mentor at The Learning Connexion, says that right from the start of his study, Paddy opened up to the creative process and start experimenting.
"In fact," she says, "the further into the programme he gets, the more experimental he becomes. This is not just in terms of materials but also with his ideas and how he brings these to life."
1. Before enrolling in the course, how much art-making experience did you have?
I've made art all my life in some form or another but I never really took it seriously until winning an art award in Austria and this sparked a desire to take it a bit more seriously. This helped me see that I could use art in different ways and it opened up new paths in my life.
2. Do you think it's important to have good arts instruction and a mentoring process that supports the development of your art?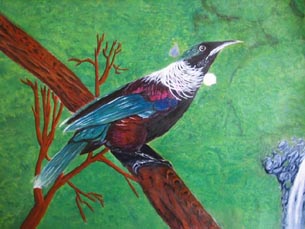 Most definitely. Before I started the course I thought I knew it all but quite early into the process it became clear that in fact I didn't know it all. My mentor helped open up my thinking and encouraged me to try out different techniques and approaches to making my art and before I knew it I was away.
One big thing for me was getting comfortable with making mistakes and letting things happen. This helped me relax a lot.
3. What sort of problems have you overcome in the process of making art?
There's the technical side to the art making that can be challenging but there is also learning about ways to deal with the subject matter of the work or the ideas I'm trying to express. Often I paint something and it won't be until a few weeks have passed that I understand what I have created. This process helps me deal with things that are going on in the background or things that I am thinking about subconsciously.
4. What are some of the skills you have learned through your art?
Art is now a part of my entire life. It helps me communicate. It also helps me stay real and calm. I am able to identify when I need to step back and assess the bigger picture or situation, and this applies to actually making artwork and just life in general.
5. Do you think the skills you learn when you're making art transfer to other things you do in your daily life?
Yip. A big thing for me is how it's helped me communicate better. I find it grounds me and gives me a place to think about process things. I felt quite chaotic before and now I feel more thought out.
I often get ideas from places that I may not have looked before: for example, on the TV I look at the artworks that are on the walls of people's houses. I find I am looking more.
6. What does being able to participate in exhibitions mean for you?
It's an opportunity for my work to be seen by a wider audience and it's good to put myself out there. I was initially shy to the idea but have gotten over this. I think, why not? Otherwise I just make work for myself. The feedback from being part of this is great. It is good to get both positive and negative feedback as this helps me think about what I am doing.