Prisoners' sculpture among finalists in national awards
25 July 2012
A sculpture created by men in Waikeria Prison was one of the 17 finalists in the National Fieldays No. 8 Wire Art Awards 2012 displayed, at Arts Post in Hamilton until mid July.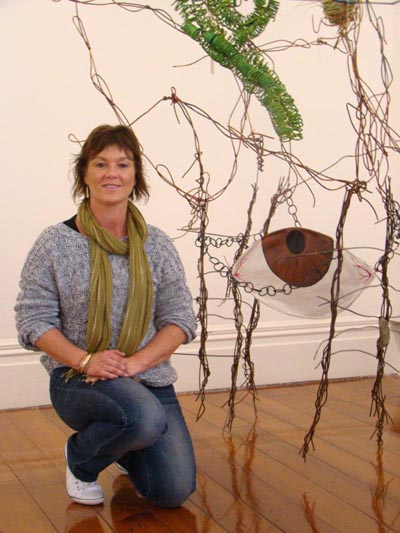 Called Odyssey, the work was created by men in Waikeria Prison's Karaka Special Treatment Unit. Ann Byford, a volunteer art tutor in the unit, worked with a small group of men who had already completed her painting programme. The men sketched their ideas and wrote about what the work might mean to them, and then made the sculpture over a ten-week period.
"The men had never worked on a sculpture before, let alone made art out of such a rigid material as No. 8 wire," Ann says. "It was pretty challenging and they were involved in everything – from the planning to the design, construction and blessing of the work."
Along with the wire, the work included flax, canvas and paint. The text describing the work says that Odyssey "represents a prisoner's journey from dark despair to hope and then discovery … It is about regrowth, connecting with faith in times of doubt, washing away fears in the ocean and feeling the energy of the sun on our faces. Freedom. Tuia te Whaiao ki te o Marama."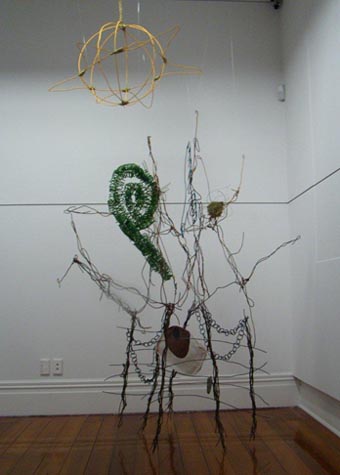 Ann, a professional artist, has been volunteering with the unit since October 2011. The art programme runs for ten weeks and always culminates in an exhibition of the men's artwork.
"The exhibition is extremely rewarding for the men," she says. "There is a lot of talent that needs exposure and the men gain a real sense of achievement and pride."
The Karaka Special Treatment Unit delivers treatment programmes for men with a high risk of re-offending in a serious and violent manner. Therapy is supported by employment training, music, and an art programme delivered by Ann.
Wendy Farrell, the unit's programme facilitator, says that the art programme complements the therapy programmes. "It allows men to continue expressing their thoughts, feeling and ideas through painting and other visual media. This can help them develop greater insight into their own lives and move forward in their therapy."