News
Arts Access Aotearoa
Prisoners' carved seats feature in Orewa walkway
22 January 2013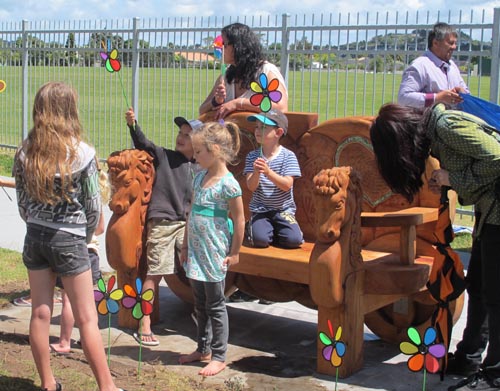 Six carved seats created by Auckland Prison's carving group for Te Ara Tahuna, the 7.5 kilometre walkway and cycleway in Orewa, Auckland were unveiled in December.
The seats were carved using macrocarpa trees that had been felled during the walkway construction. Five of them represent the various hapu of the Kaipara Harbour who travelled to their traditional fishing grounds in the Orewa estuary to collect seafood.
The sixth seat was unveiled in memory of Kiara Morgan, a young Orewa girl who died of cancer in 2011.
Handover and public unveiling
In early December, the project was handed over to the Auckland Council's Hibiscus and Bays Local Board, which commissioned the seats, in a ceremony at Auckland Prison. This was followed by the public unveiling of the installed seats on 8 December 2012.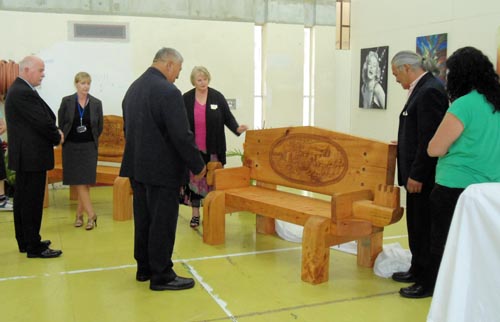 Mark Lynds, Manager, Contracts and Services at the Department of Corrections, says the hand-over was "brilliant". It was attended by representatives of the Hibiscus and Bays Local Board, Ngati Whatua and Corrections, along with Kiara's parents and whānau members of some of the carvers.
"We have a longstanding and valuable partnership with Auckland Council through the Hibiscus and Bays Local Board," Mark says. "The InsideOut exhibitions at Mairangi Arts Centre and two pou created by prisoners for the North Shore District Council were the catalyst for this partnership, inspired by the vision of board chair Julia Parfitt."
Insight into Orewa's Māori heritage
Feedback about the seats has been "extremely positive", Julia says, and has given people an insight into Orewa's rich Māori heritage.
"The seats are being well-used and we'd love to be able to extend the number of seats on the walkway," she says.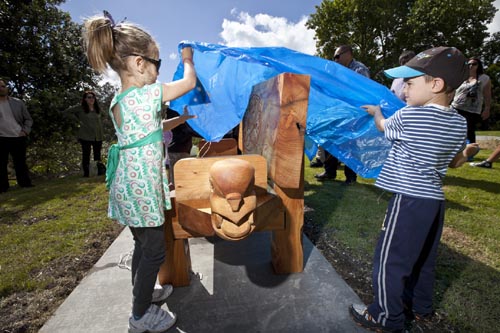 "We enjoy our partnership with Corrections and with the prisoners who carved the seats. Over the past four years, I have watched the prisoners and seen huge personal growth, and a new sense of direction and enthusiasm among the men. I believe it has been truly life-changing for them.
"At the hand-over, the master carver said that when he was released, he would like to continue working with the men in the carving programme and sharing his skills."
Auckland Prison is located in Paremoremo on the North Shore. Over the years, a number of projects between the prison and local community groups have been developed. These have result in carvings and paintings gifted to the community.
A new project next month between Auckland Prison's carving group and the Hibiscus and Bays Local Board will involve creating a large pou with donated totara for the township of Silverdale, which links with Te Ara Tahuna Walkway.