News
Arts Access Aotearoa
Prisoners' quilt an auction highlight
10 November 2016
A quilt created by more than 16 prisoners in Auckland Region Women's Corrections Facility will feature in Arts Access Aotearoa's fundraising Awesome Arts Access Auction on Thursday 1 December in CQ Hotels Wellington.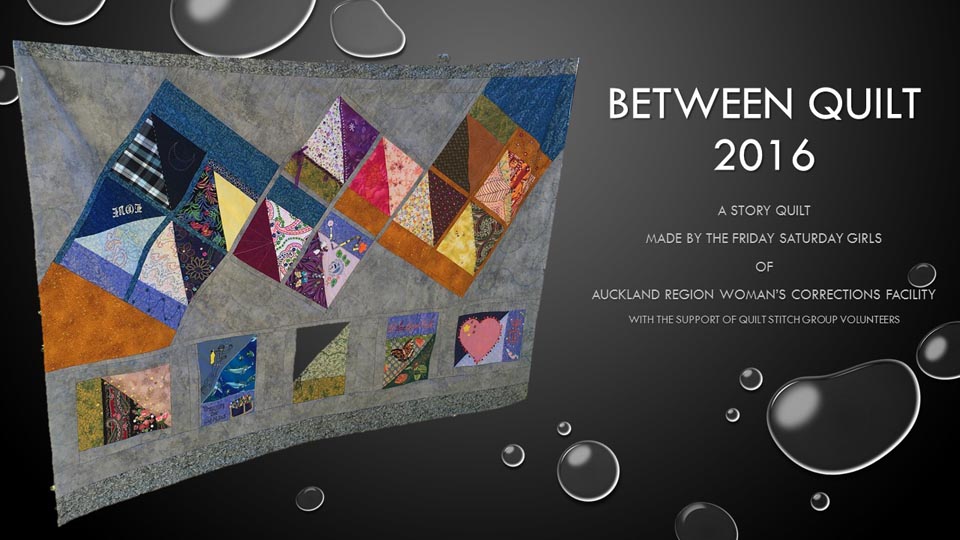 Called Between Quilt, it reflects the "between" that is prison life. The book that accompanies the quilt (140cm by 184cm) asks: "What is between? It's an imaginary line connecting two points."
The women see themselves between "who we were and who we will be". Between dark and light, good and bad, right and wrong, today and tomorrow, in and out, past and future.
Stories about family and home, love and loss, cultural identity, beauty and nature are stitched into the quilt's 16 blocks. They refer to mistakes and pain; moments of peace; and the hope of new beginnings.
New beginnings
"I am grateful to have a safe family home to return to with my children giving me a place to heal. An opportunity for a new beginning with my family." These words in the book accompany an image of a block, where the blue star represents the quilter's father, who passed away. The five gold stars are for her children.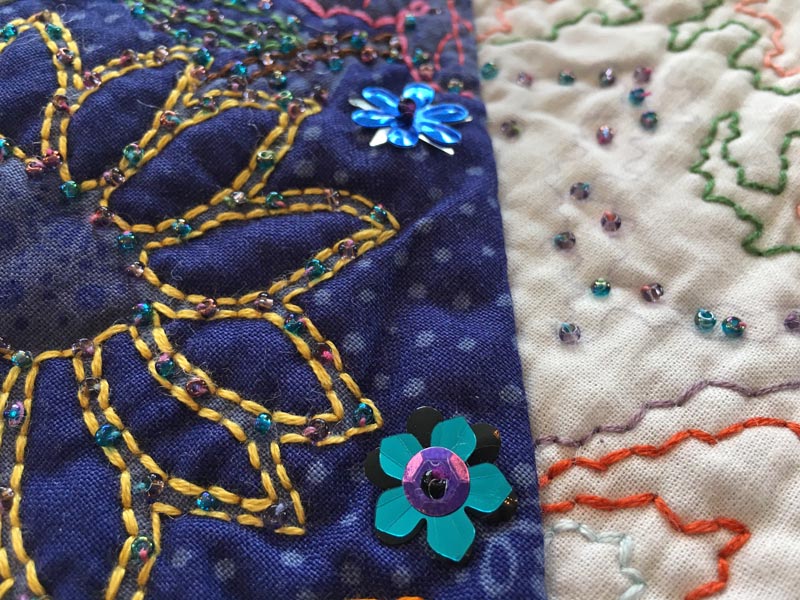 Work on the quilt began in January 2016 with the Quilt-Stitch Volunteers and the prisoners discussing the concept and how it would be created. Then each woman chose one of the four "between" colours: gold, green, teal and lilac. They completed a block, adding other fabrics and embellishing it with stitch work, beads and embroidery.
The women were able to work on their blocks in the class or in their cells, and were encouraged to put their "between" selves into the block.
Finally, the completed blocks were laid out and assembled by the Quilt-Stitch Volunteers with hand quilting by women who hadn't provided a block but wanted to participate.
Friday-Saturday Girls
Kim Callard and Cathy Baal are two of the dozen volunteers who visit Auckland Region Women's Corrections Facility every Friday and Saturday to run the Quilt-Stitch sessions with the prisoners, whom they call the "Friday-Saturday Girls".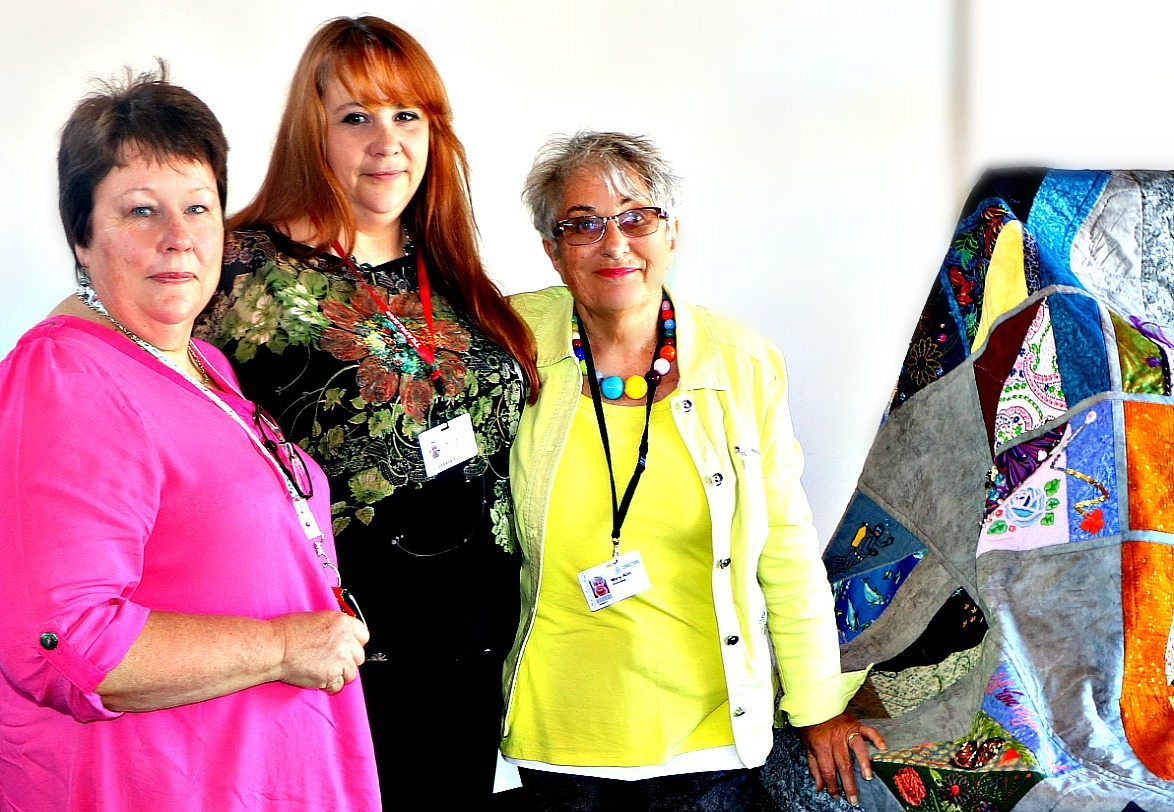 Kim and Cathy led the project to make a quilt for Arts Access Aotearoa's auction. Kim, an award-winning quilter who has been volunteering with the group since 2010, says Between Quilt is a symbol of the volunteers' relationship with the women in the class.
"It's about how we co-operate and plan; how we use words and talk; and how we get things done," she says. "I feel privileged to be part of that interaction."
She says the Quilt-Stitch Volunteers are a committed and creative group of women who love to share their craft and skills.
"We know we are appreciated for the time we give," Kim says.
Learning practical skills
"Quilting is a meditative process, and some of the Friday-Saturday Girls say it keeps them in a good space. They also learn practical skills such as working together, using a sewing machine, design and the use of colour, and how to problem solve."
The Quilt-Stitch Volunteers hope this "story quilt" will be bought by someone who will appreciate all the different parts of the quilt and the stories that have been stitched into the fabric.
The Quilt-Stitch Group will receive 50 per cent of the proceeds from the auction sale, which will be used to buy materials.
The volunteers have been sharing their skills with prisoners at Auckland Region Women's Corrections Facility since 2006 – a commitment that was recognised when they received Arts Access Aotearoa's Arts Access Corrections Community Award in 2012. Team leader of the Quilt-Stitch Volunteers, Mary Ann France, received a Department of Corrections Volunteers Award in 2016.