Article
Arts Access Aotearoa
Raukatauri spreads its music therapy wings
12 September 2019
When the Raukatauri Music Therapy Centre first opened in 2004 it had just one client, one music therapist and two instruments – a violin and a piano. Fifteen years later the centre has over 260 clients, nine music therapists and more than 500 different instruments.
The Auckland-based centre, which is New Zealand's only music therapy centre, has recently set up regional centres in Hawke's Bay and Northland, and earlier this year it expanded its Auckland services to include weekly sessions at Starship Children's Hospital and the Mason Clinic, which provides forensic psychiatry services in Auckland. And in August this year, it started a weekly programme at Hawke's Bay Regional Prison.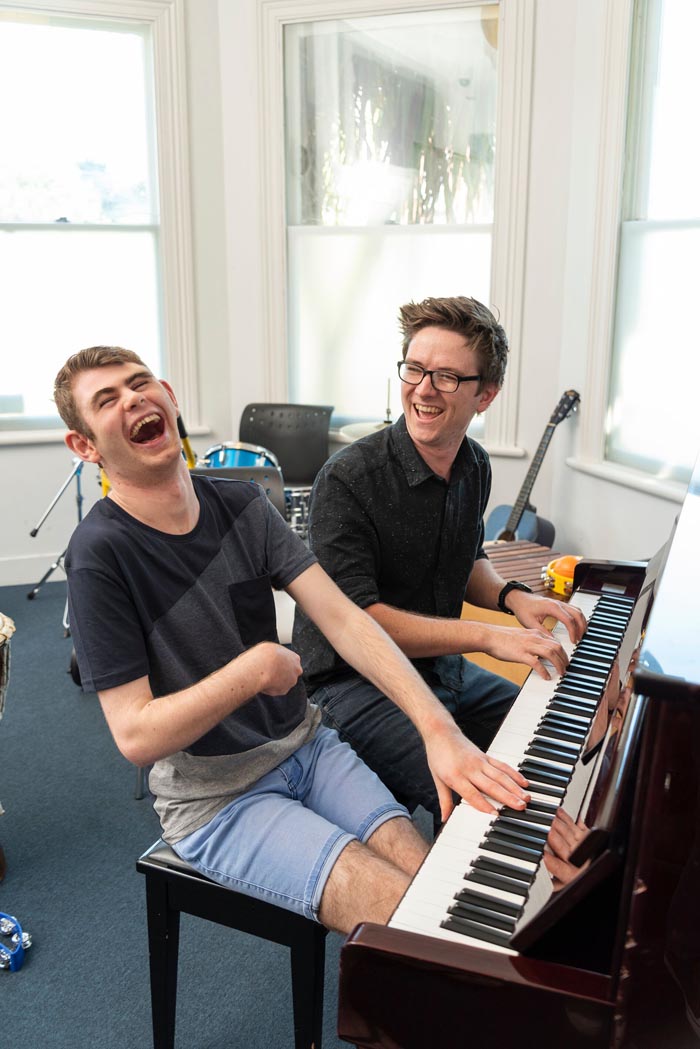 Raukatauri Music Therapy Centre's commitment to providing music therapy to people who have emotional, intellectual, physical and social challenges was recognised at Te Putanga Toi Arts Access Awards 2019 on 11 September when it received the Arts Access Holdsworth Creative Space Award.
In their comments, the judging panel said: "This nomination had the wow factor! Raukatauri Music Therapy Centre delivers quality programmes to a wide range of clients and their families with outstanding results. It has a clearly articulated vision and policies, responding to need and expanding its services beyond Auckland and into Hawke's Bay and Northland."
Centre director Jen Ryckaert says their clients range in age from one to 70 but most of them are school-aged and have a variety of developmental disabilities such as cerebral palsy, autism spectrum disorder and Down syndrome.
She says around 75% of clients attend one-on-one sessions with a registered music therapist and the rest attend small-group programmes. In both cases, participants play instruments, sing, dance and move around the room.
"Music therapy isn't passive. It's very, very active. It's about using music to address non-musical goals such as increasing communication, improving social and emotional skills, and improving cognition. It involves both the music and the therapeutic relationship."
Jen says research has found that taking part in musical activities can help form new neural pathways in the brain. MRI scans have also shown that singing lights up the brain's pleasure centres.
"It's an incredibly enjoyable and motivating experience."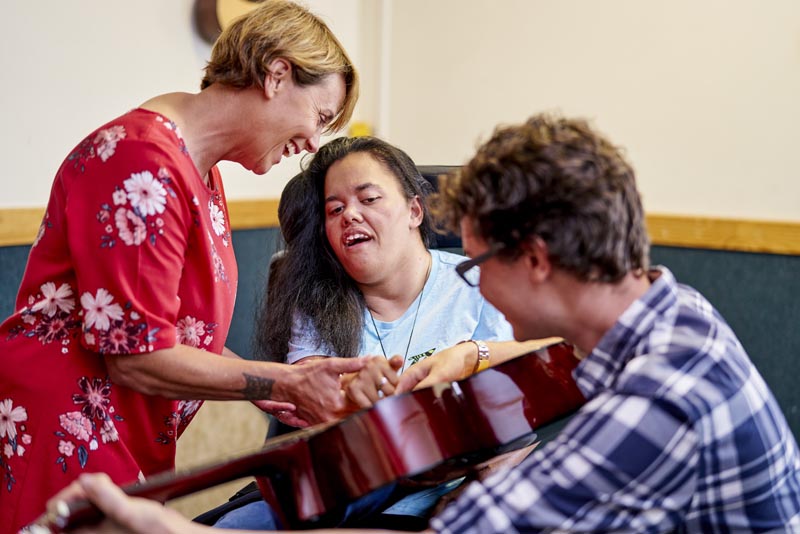 The centre was set up in 2004 by singer/songwriter Hinewehi Mohi, whose daughter, Hineraukatauri, has severe cerebral palsy. She experienced life-changing benefits from the music therapy sessions she took part in during a family trip to London in 1999 and Hinewehi wanted other New Zealanders to have the same opportunity.
Since then, the centre has expanded its services to include five satellites in Auckland and more than 20 outreach projects, including the new service at Starship Children's Hospital that started in March 2019. A therapist works one-on-one with children in the cardiac, long-term medical and neuro wards with very positive results.
"It provides amazing anxiety relief and can offer pain relief," Jen says. "It's also fun and stimulating for those kids and their families."
In June 2018, the Trust opened a regional centre in Hawke's Bay. This was followed by a second regional centre in Whangarei, which opened in February 2019.
Motivation to expand services
Jen says the motivation to expand their services into the regions came from a 2016 survey, which found that New Zealand had only eight music therapists working outside Auckland, Wellington and Christchurch.
All the centre's therapists have master's degrees in music therapy and are accomplished musicians. Some are particularly skilled at using taonga pūoro – traditional Māori musical instruments such as flutes and percussion instruments.
Taonga pūoro are among the more than 500 different instruments the centre now owns, ranging from orchestral instruments such as violins and clarinets to a wide variety of percussion instruments, including a marimba.
The centre is committed to making sure its services are accessible to anyone who want to use them, regardless of their income. It runs an active fundraising programme to help keep the cost to clients as low as possible.
"We don't get any direct government funding, and the centre manager and I spend a lot of our time applying for grants," Jen says.