Blog
Arts Access Aotearoa
Manuia le Kerisimasi ma le tausaga fou. We're heading towards the holiday season and I want to reflect on the past two months and what's been happening in the Arts in Corrections sector.
Since the October e-newsletter, the recipients of the Creative Arts and Cultural Well Being Initiative, which will result in an increase of arts activity across prisons in Aotearoa, have been selected. Subject to due diligence, they are scheduled to start their projects in the new year.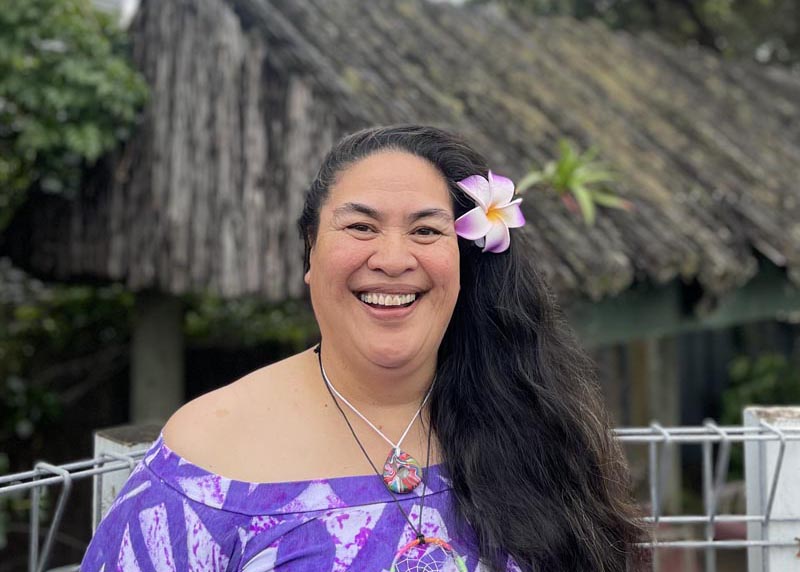 Arts Access Aotearoa also announced that Sāla Roseanne Leota of the Kāpiti Coast is the recipient of this year's Whakahoa Kaitoi i Te Ara Poutama Arts in Corrections Artist Fellowship. Roseanne will explore and research the development of her creative writing processes and abilities, with the support of an arts mentor.
She is Home Ground's Creative Advisor and is working towards a Bachelor of Arts in Creative Writing from Massey University. Read Roseanne's profile
Last month, Milly and I travelled to Tāmaki Makaurau, where we met with Vikram Subramaniam and his education team from Mt Eden Corrections Facility to discuss distance-learning options for prisoners.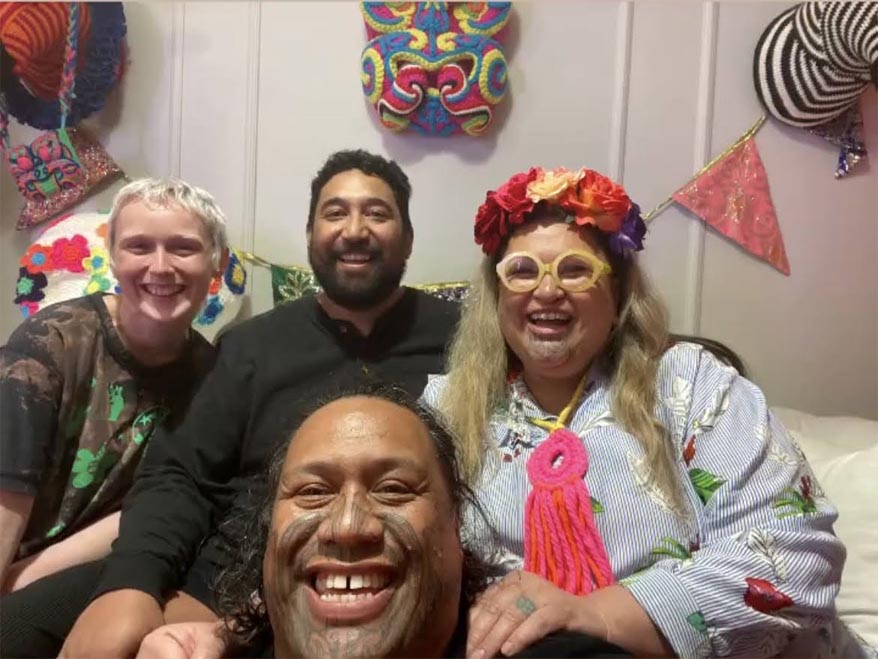 We connected the team with Lissy Robinson-Cole and Rudi Robinson, who delivered a crochet programme at the Facility in 2020 and would like to return and exhibit Wharenui Harikoa. This exhibition is on display at The Dowse in Lower Hutt until 19 February 2023. Lissy and Rudi hope to complete the Wharenui in 2023 and tour it around Aotearoa.
Also in Auckland, we visited Kohuora Auckland South Corrections Facility, where we were given a tour by Anthony Cribb, its Arts Co-ordinator. We checked out all the art activities happening on site and the e-learning digital platform for all of its prisoners.
Anthony has been looking at ways to promote autonomous learning on his site by getting the men to facilitate their own murals in their units. This has changed the culture of the site. Allowing the prisoners to change the environment with beautiful artworks has given the men pride and there are fewer incidents because of the pro-social activity.
Arts in Corrections Northern Network meeting
We also facilitated the Arts in Corrections Northern Network meeting at Auckland Town Hall. There was an amazing turn-out and people had travelled from across the Northland and Auckland regions.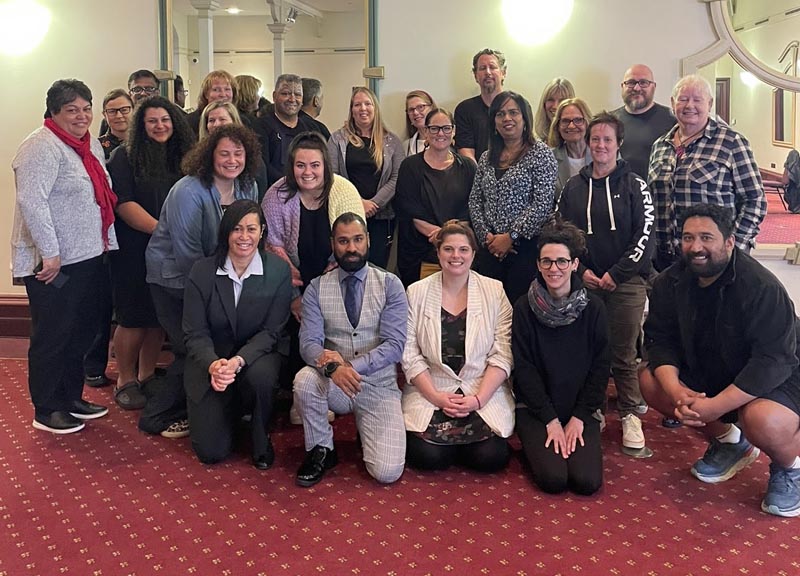 I gave a presentation on the 2021 Arts in Corrections Literature Review and then we moved into a workshop to explore the six different arts practices outlined in the review:
1.Therapeutic arts practice
2.Culturally appropriate arts practice
3.Adjunctive/participatory arts practice
4.Humane arts practice
5.Quality arts practice
6.Social arts practice
The aim of the workshop was to explore the following questions: What makes a successful Arts in Corrections programme? How are we able to evaluate how rehabilitation works or is managed within our programmes? When we do evaluate our Arts in Corrections programme, how can we ensure that the information is meaningful for facilitators and participants?
Ways to create meaningful evaluation
This is the beginning of a larger research project we will undertake in the new year on ways to create meaningful evaluation. At the hui, Arts in Corrections members highlighted the following points:
Therapeutic arts practice has two meanings and needs further definition or rethinking: clinical therapy and therapeutic outcomes are two different things.
Carving and whakairo programmes are not the same thing and participants who are involved in carving programmes need to be aware of the difference.
An evaluation tool needs to incorporate feedback from prisoners and people are on community sentences. This will help make the data useful to the participants and prioritises lived experience.
Each prison setting is different with its own characteristics and needs to be able to provide input to ensure we're aware of the nuances of each site.
These six practices should also be included in discussions around any Arts in Corrections strategies or frameworks.
In early 2023, we are plan to develop this work by hosting research sessions with different stakeholders. We will be assisted by Lia Pikus, an American who is visiting New Zealand from January to March.
Lia is a musician and songwriter who has taught art in a prison in New York City and will be in New Zealand as the recipient of the one-year Thomas J. Watson Fellowship, learning about arts pedagogy and prison abolition, and how those areas intersect. We will let you know more about her visit in early 2023 but if you want to meet Lia please email me on aic@artsaccess.org.nz
Highlight of the year
I thought I'd end 2022 with my favourite moment and an observation. I attended the Creative New Zealand Arts Pasifika Awards in a venue filled with colourful lights, amazing entertainment and a buffet fit for kings. At the event, Creative New Zealand awarded Fa'amoana John Luafutu a special recognition award.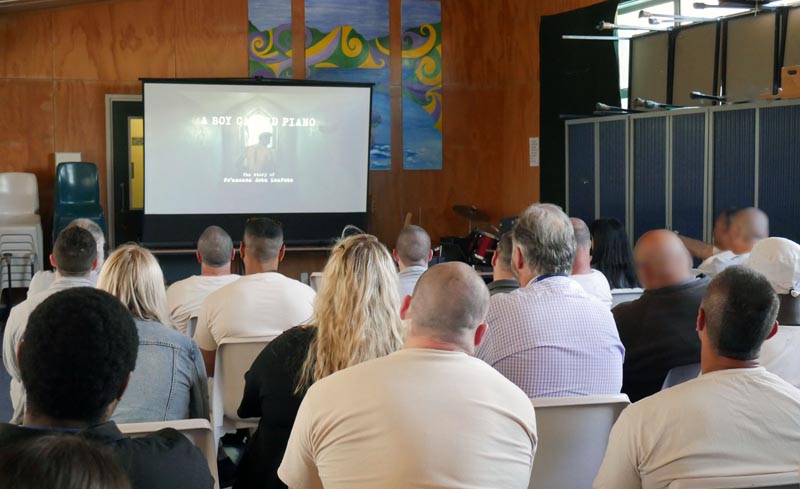 On receiving this reward, Fa'amoana spoke of the importance of the arts in rehabilitation. The subject of the award-winning documentary, A Boy Called Piano, Fa'amoana uses his platform to advocate for people in the criminal justice system and people who have suffered abuse in state care. Read more about his advocacy in the article called Documentary gives hope to prisoners.
It's extremely valuable to have someone like Fa'amoana who has been affected by the criminal justice system and has an international platform to tell his story of healing and rehabilitation.
This is something I hope Sāla Roseanne Leota, this year's recipient of Whakahoa Kaitoi i Te Ara Poutama Arts in Corrections Artist Fellowship, will be part of – a group of Arts in Corrections artists, filmmakers and writers who don't just survive. They thrive!