Blog
Arts Access Aotearoa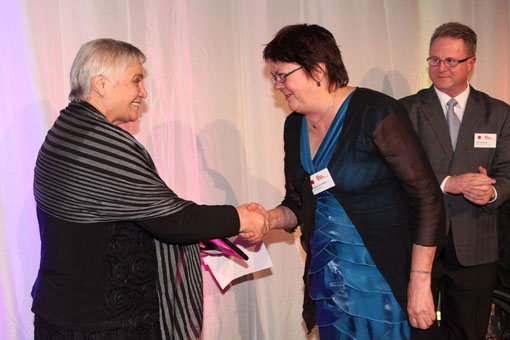 Richard Benge looks on as Lorraine receives Sandz Studio and Gallery's High Commended judges' citation for the Big 'A' Creative Space Award from the Hon Tariana Turia at the Big 'A' Awards 2012 ceremony in the Banquet Hall of Parliament. The citation read: "The quality of art produced at Sandz Studio is of a high standard and it goes to extraordinary lengths to promote its artists, here and overseas. We commend Sandz Studio's national and international outreach, and the freshness of what it's doing."
07 October 2013
Everyone at Arts Access Aotearoa is deeply saddened to learn that Lorraine Pemberton died on 3 October. We have admired Lorraine because she was a lovely person and an exceptional team leader at Sandz Gallery for Idea Services in Hamilton. It is no surprise that several of the artists whom Lorraine nurtured are award winners.
The studio and the community she created reflected the high standard she envisioned. Her care and encouragement benefitted all the artists (and their families) who had the good fortune to be close to her.
This year, Lorraine was included in our leadership mentoring programme because we believed her skills and passion needed support so she could keep on doing what she did best.
Our sympathy goes to Mike, Lisa and Kaleb, Gail and Callum, and everyone at Sandz. We will remember and be inspired by Lorraine's example, and will continue the work and connection to the creative arts and life she believed in.