"My songs have set me free"
25 July 2012

By Moana Tipa
Lina Teepa, one of six women who became unexpected celebrities as a result of Maori Television's landmark Songs from the Inside series, says that "my songs have set me free".
Since her release into the community she has been navigating what she calls a foreign new life – brought about in part by her songs from the series and, as she puts it, by "giving a damn".
"Giving a damn" has meant making new life choices for Lina and her seven children – choices that offer very different outcomes from those that brought her the prison term.
While she couldn't have imagined some of the harsh realities of being released into this new and foreign life, nor could she have imagined that she would be taking part in a television series in the final weeks of a 30-month sentence. It was an opportunity that would possibly influence major changes in her life.
Making a new start
Even though being in jail is tough "because you lose your rights to be someone", Lina says that it's tougher outside the wire – especially when you're making a new start. "When you've moved away from being a drug dealer to being a mother."
The unexpected interest that the television series created came as a shock to Lina, she says. "Strangers come out of the blue. They see things in you and want to help. It's easy to take advantage of that. She says it's also easy to trick yourself, to break the good habit out here."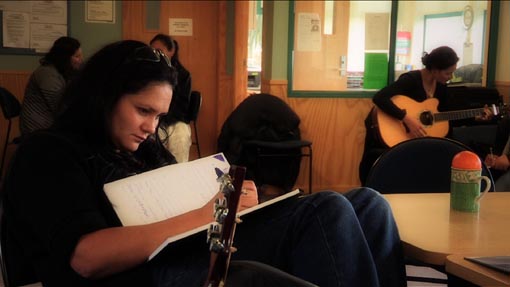 So she keeps a picture of Arohata Prison to remind herself that she's not going back "even though I miss the cell, the ability to close the door, and the support of other women".
Ann Abraham, Prison Manager, Arohata Prison, sits in on the interview. Lina says she has been a major part of her rehabilitation. "She's the person I've had for a couple of years calling me on my stuff and helping me find my way back to reality. She took the time to get to know me."
She pauses, then adds: "I've done enough of the wrong stuff in my life and I don't want it to be for nothing."
Ann reminds her that the person who came into Arohata Prison is a long way from the woman who was released. "One of the hardest things," Ann says, "is to give compliments and also accept them from others."
Making music
Lina has always composed songs and played guitar but says that her music began to consolidate when she started playing guitar for kapa haka groups at Arohata. "Kapa haka opened everything up."
Songs from the Inside was never about learning to write songs, she says. It was about the kaupapa – the focus of the work - and the possibility of "jamming with Anika Moa". Without the series, she says her songs "wouldn't have come out on their own any time soon. They would have stayed inside."
She says the kaupapa was the opportunity to write something real, to get a hold of the important things buried more deeply. These were the emotions and feelings that Lina "numbed" in order to survive prison.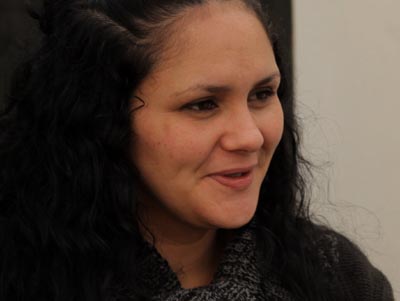 The melody, the rhythm came from her heart beat. "That's all it was. I listened and followed that."
The hardest part of the television series was being in front of the cameras, along with the huge amount of work involved, both internal and external: the material to prepare, people to talk with, agreements to understand and sign.
Was it worth it? Lina's children were a major motivation for her songs. "My lyrics speak for me and I wanted to get them out there. I had one thought when I was writing and it was about my children and my mother. I'm glad she is recognised in this."
Lina's songs have helped her find a way towards the freedom within that she's looking for. Her song, Today, sums it up. "Today we talk about change, today we sing. Today it feels as though it may be too much, today we walk in the sun."
Words are powerful, she says, but the actions are what count. "Starting the day with a hymn, keeping a balance, you want to keep pushing through, just doing it … "