Spark Centre a healing place for artist
4 December 2012
By Janelle Cheesman
For Auckland artist Pearl Schomburg, diagnosed with rheumatoid arthritis 23 years ago, "art is about more that putting paint on a canvas. Attending Spark Centre's art therapy classes has given structure to my life and provided an outlet for my emotions."
Pearl's previous work with computers contributed to the development of Repetitive Strain Injury, which affected her shoulders, neck and hands. Her condition worsened over time to become rheumatoid arthritis, an auto-immune system disorder that attacks soft tissue in joints and organs.

Adjusting to living with chronic pain and a disability was very difficult and she eventually began exploring ways of expressing her frustrations. Three years ago Pearl realised that art was the release she had been searching for.
"Nothing hurts when I do art," she says. "I'm so submerged in my work that nothing else matters. When I get home the pain sets in but art gives me so much pleasure that it's worth experiencing discomfort for."
For Pearl, Spark Centre of Creative Development offers more than art therapy. It also gives her a place to interact with like-minded people.
"At Spark Centre, everybody is doing art and we can all communicate that way. Helping people in the classroom gives me as much satisfaction as the art itself."
Arie Hellendoorn, an art tutor at Spark Centre, says Pearl is a vital part of the Spark Centre community. "She tells the best stories and she has a lot of friends. She's one of those people who never turns down a challenge. She's a proactive artist who is constantly trying new things."
Work sold in silent auction
Pearl's moonscape painting, Blue, was chosen to be part of the silent auction at this year's Attitude TV Awards, presented in late November. She was thrilled when the work sold. She was invited to the exhibition to talk about her art but she also used it as an opportunity to promote Spark Centre.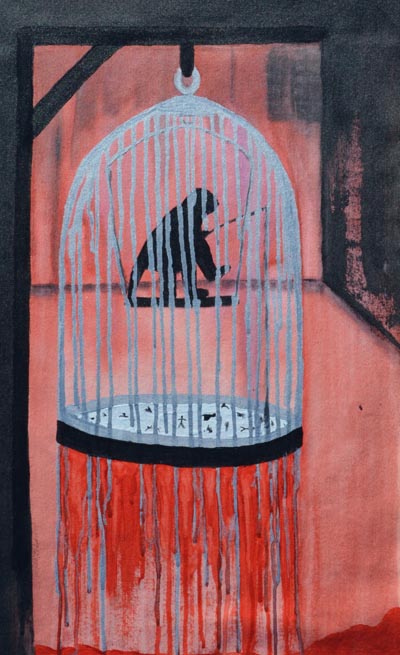 "I'm so supportive of the work they do there. For every class, the artists come through the door with big smiles on their faces. For some people, including me, it's the highlight of their week."
Pearl says her artistic style has completely changed over time. "I keep breaking tendons as part of my condition, and I have had my right hand operated on three times this year. I was forced to start using my left hand, which gave me a new way of painting and a new challenge to conquer."
Without any formal training in art, Pearl is hesitant to call herself an artist. "To think of myself as an artist is a big leap for me because when I do art, it fells like quite a hit-and-miss affair. I wouldn't say that I have a particular artistic style because I'm still in the early stages of exploring."
In her garage studio at home, Pearl does what she calls "recycled painting". "I am on a very limited income so I buy my art supplies from op shops. I usually find old framed prints, which I pull apart and use as a canvas."
She even uses pastry brushes to paint with. "It's just a way to continue what I do."
Funding for art classes
Pearl is thankful to the Jubilee Trust for funding her art classes this year. "They went out on a limb to help me and I am extremely grateful to them."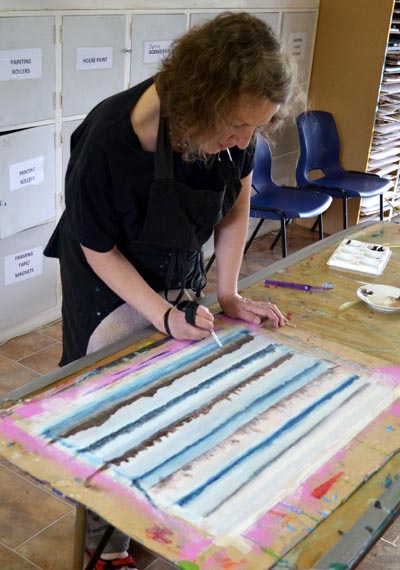 She doesn't know where she will find the funding to continue at Spark Centre next year. "I want to stay at Spark Centre because it is a way of healing for me. But my disability has got me into a place of financial hardship."
Arie Hellendoorn says that it's unfortunate that art classes aren't easily affordable for everyone. "Our classes are heavily subsidised through our own fundraising efforts but they still cost the participants around $25 a week. It can be a challenge for people who don't have much disposable income."
Despite uncertainty about the future, Pearl remains optimistic. "If I can't continue at the studio I will keep trying to improve at home. I'm afraid it will isolate me, but I will keep doing art no matter what. I'm an optimist. It's just who I am."