News
Arts Access Aotearoa
Students create mural for Cannons Creek
16 November 2017
By Dylan Bird
A new mural in Porirua, based on a picture book by Patricia Grace, has been created by local students from Glenview Primary School and Porirua Alternative School.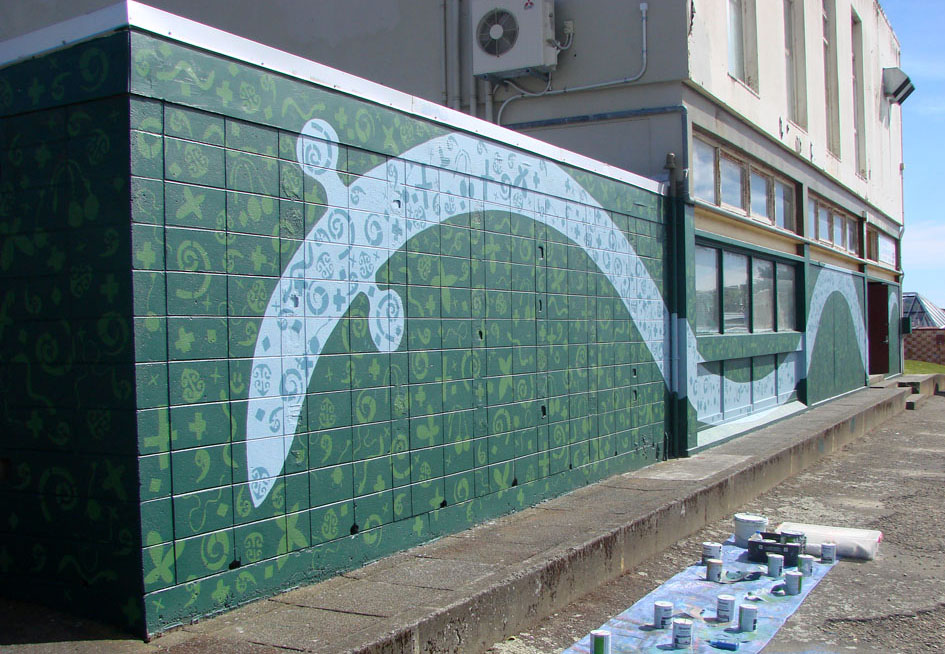 Patricia Grace's book Watercress Tuna and the Children of Champion Street is set in Cannons Creek. Illustrated by Robyn Kahukiwa, the picture book shows a tuna with a magic throat weaving its way along Champion Street delivering gifts to the children.
The mural is painted on a concrete wall behind the shopping centre in Cannons Creek. It shows a large pale-blue tuna forming an arch over stencilled artwork that reflects the students' ideas about the story and their community.
The mural is part of Porirua City Council's Eastern Porirua Project, aimed at redeveloping Eastern Porirua and encouraging young people to contribute to their community.
As a result, Partners Porirua was contracted to consult with young people to find out what they wanted as a recreation facility in the area.
Chris Barrand brought on board
As part of the overall project, artist and art tutor Chris Barrand was brought on board to work with students from Glenview Primary School and Porirua Alternative School.
"Projects like this are a great way for students to connect and collaborate with each other," he says. "They workshopped, designed and developed their ideas, working together to create the mural."
In this and other similar projects, Chris uses an approach that encourages individual learning and collaborative work – one where the students "learn by stealth".
"The environment is more informal than the classroom but there's still a structure and intention that drives the process," he explains. "It opens up rich possibilities for personal growth, self-awareness and positive connections."
"Stencilling gives them confidence"
The students create stencils from their own drawings. "Stenciling gives them confidence, helps maintain their energy and encourages them to complete a project. Team work is also involved in the planning, creation and placement of the stencilled works.
"It's all about being collaborative, making choices and decisions, and enabling them to feel in control of their own creative journey. They also come to connect with their community and feel proud of it."
As the older students in the group, the Porirua Alternative School students took on mentoring roles. "There were a lot of really positive experiences," Chris says.
Chris has just completed a project with Mission for Youth, an alternative education programme in Newtown run by the Wellington City Mission. He worked with six students, who designed and created art on the shipping containers.
The overall project, funded by Wellington City Council, includes two shipping containers, a dance space and two community bike organisations, Mechanical Tempest and ReBicycle.
"It was great to see the students engaging with the space and developing their own ideas about what they wanted to create," Chris says. "It's about them following through from an idea to a completed, dynamic artwork in a public space where everyone can enjoy it."