Blog
Arts Access Aotearoa
In the busyness of life, we don't always stop long enough to celebrate important achievements and milestones. I was pleased in October and early November to celebrate with five communities the achievements of their artists and the creative spaces that support them.
The five events welcomed the I'm an Artist Campaign and its striking posters (thanks, Craig and Graphic Solutions) to Wellington, Dunedin, Auckland, Christchurch and Hamilton. They were a good reason to pause for celebration and recognition.
The five artists who volunteered to be on the posters were the faces of the campaign. They also represented disabled artists and artists with lived experience of mental ill-heath throughout New Zealand who are achieving and participating in their chosen artform and practice.
The campaign drew attention to the value of creative spaces and their staff, who are dedicated to providing support and opportunities for their artists and performers.
A milestone to look forward to is the inaugural Auckland Outsider Art Fair on 21 to 23 November at Britomart. You can read up about it in this month's In Touch. There's also a blog by curator Stuart Shepherd talking about the art of Susan Te Kahurangi King, whose work will feature in the Auckland fair.
The term "Outsider art"
Some will disagree with the term "Outsider art" and I appreciate why. If the term "outsider" is used as a label, it can set artists apart and, if we are being inclusive of all people, then why make a distinction like this?
On the other hand, it's both a marketing term and genre that curators find helpful when explaining the unique quality and value found in paintings by artists who are not of art schools yet have found their way into the art market or been discovered by a smart curator or collector.
However people feel about the name, the Auckland Outsider Art Fair is a great initiative by the team of organisers, led by Erwin van Asbeck at Toi Ora Live Art Trust. It's an opportunity for artists from Auckland and elsewhere in New Zealand to be exhibited in a highly publicised event, and to be included in the wider discussion and profile about what constitutes art and who is making it.
As curator Stuart Shepherd says, "The Auckland Outsider Art Fair aims to create a platform from which to not only celebrate and popularise artwork that originates outside the usual venues but review new ideas around the field of self-taught art in New Zealand."
A forum where accessibility champions can meet regularly
Arts Access Aotearoa co-ordinates networks that include arts venues and theatre managers, festival producers and touring organisations, and representatives from the disability sector. Called the Arts For All Network (using the name of the free guide to accessibility and inclusion), the local networks provide a forum where accessibility champions can meet regularly to discuss planned projects and developments in their area, and get advice from one another.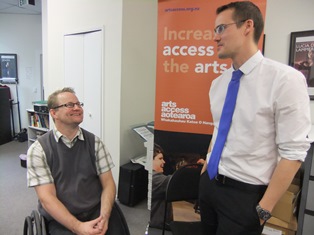 One of the stories this month, InterACT Disability Arts Festival supports leadership, is an interview with accessibility champion Sarah Houbolt (project manager of the InterACT Festival). In the story, Sarah commends Corban Estate Arts Centre for finding a low-cost solution (painting the edges of the steps in a high-contrast colour) to make it safer for visitors to the festival with visual impairment. Jason Strawbridge from Barrier Free New Zealand, who recently provided valuable presentations to Wellington and Auckland network meetings, commented: ""This is a great example of a low-cost fix that makes a world of difference,"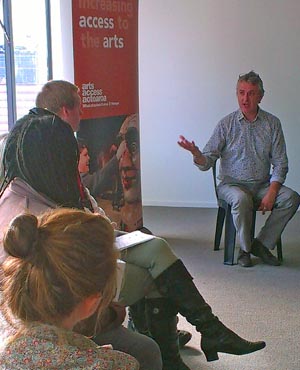 In Christchurch, a founding member of the Arts For All Network is Neil Cox of the Isaac Theatre Royal. Neil joined the network when there was no theatre – at least not one that was usable. Damaged by the earthquakes, the theatre was being demolished and soon to be rebuilt.
Neil and his team have used Arts Access Aotearoa's resources and listened to advice from people with lived experience of disability. The rebuilt Isaac Theatre Royal will not only be able to accommodate theatre-goers with access needs at the highest level but the management and staff understand the theatre will be inclusive of people from diverse communities.
The hardworking team, with General Manager Neil Cox and architects Warren and Mahoney, will be warmly celebrated by the people of Christchurch. And the theatre itself will serve as a model of accessibility where people with access needs are included.
The re-opening of the grand old/ brand new Isaac Theatre Royal later this month is a time for the Christchurch community to celebrate a major milestone and achievement.