The October interview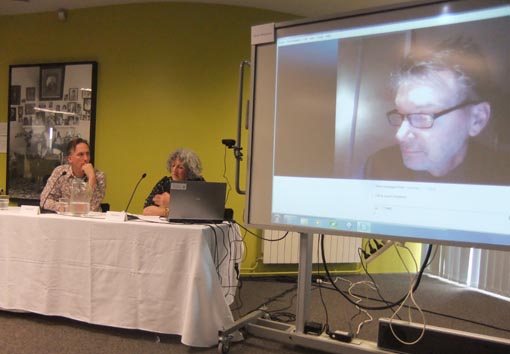 Artsenta artists participated in Arts Access Aotearoa's exhibition called "Original voices", held at Pataka Museum of Arts and Cultures in Porirua in September 2012. We talk to Jill Thomson, Director of the Dunedin creative space, who visited the exhibition and attended the curator's talk and panel discussion about art and inclusion. Jill, pictured here with panel discussion moderator Mark Amery, asked exhibition curator Stuart Shepherd (Skyping from Berlin) why the artists were described as "self-taught".
Q. What did you think of the exhibition?
A. It was beautifully hung. I loved the balance of the artwork, the freshness, and the energy of Pataka the day I was there. I instantly fell in love with Mark Warner's work called Washing Basket and bought it. I would have bought a dozen other pieces if I'd had the money.
Q. At the panel discussion, you questioned the curator about the use of the term "self-taught" in relation to artists and their art. Why don't you like it?
A. I don't mind the term if people really are self-taught and happy to be described in that way. But at Artsenta, we have a wide range of artists – from self-taught through to people with masters degrees in fine arts. We work hard not to give people medical labels and then when we move into the art world, people try to label us. Artsenta is a sanctuary from labels and quite a few of us react strongly to the expression.
Q. What are the key benefits of the exhibitions and other arts events that Artsenta holds throughout the year?
A. It's great for many of our artists to show their work to a wider audience – and for the public to see what we're doing. It's also good for the artists to have deadlines to work towards. We have a permanent exhibition in Dunedin Hospital, which puts Artsenta on the map. We change the works once every three months and get lovely feedback from staff and the public, which makes everyone feel good. The other thing about our events is that it's good for our funders. They like to see us promoting Artsenta's work to the community.
Artsenta celebrated its 25th anniversary last year. It offers a wide range of arts activities, including pottery, painting, jewellery, creative writing, music and drawing.