Article
Arts Access Aotearoa
The RNZB reaches out to diverse audiences
12 September 2019
Pascale Parenteau was moved to tears when she overheard a conversation between a blind boy and his seeing classmates following an audio described performance of The Nutcracker by the Royal New Zealand Ballet.
The boy was one of 61 blind and low vision students who took part in a touch tour of The Nutcracker set and then listened to a live description of the ballet through an earpiece at matinee performances in Auckland, Wellington and Christchurch in late 2018.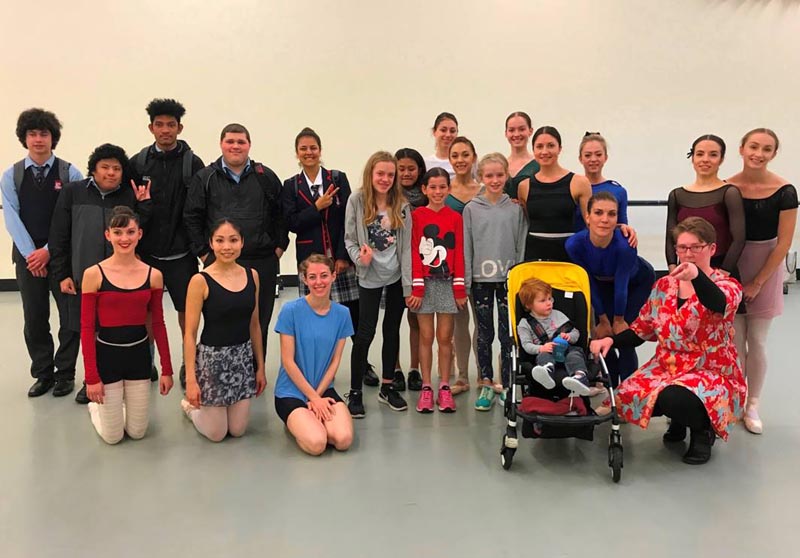 Afterwards Pascale, the RNZB's Education and Community Manager and the driving force behind the company's accessibility policy and programme, heard the boy talking excitedly about the performance.
"I actually burst into tears when he came out of the theatre after the performance and said to his friends, 'Did you see the Nutcracker when he killed the Mouse King?' I thought it was marvellous. Here's this little boy who can't see and he's having a conversation with his schoolmates about what he's just experienced, and he's part of it all and included."
These audio described performances for children are just one of several initiatives the RNZB has undertaken in the past 18 months to broaden its reach and be more inclusive of diverse audiences. During that time, it has connected with close to 5000 people who might otherwise not have been able to experience what the company has to offer.
Its other initiatives include touch tours and audio described performances for adults, as well as a Sign Language interpreted tour of RNZB's Wellington headquarters for Deaf and hard of hearing adults and children.
So far this year, the RNZB has provided three sensory-friendly, relaxed performances designed for people who benefit from a more informal performance environment. This includes people with an Autism Spectrum Condition, sensory and communication impairment or a learning difficulty.
The company also provides a free seat for companions of disabled ticket holders.
Commitment to becoming more accessible
On 11 September, the RNZB's commitment to becoming more accessible was recognised at Te Putanga Toi Arts Access Awards 2019 when it received the Arts Access Creative New Zealand Arts For All Award. The company will receive $4000 to enhance its accessibility.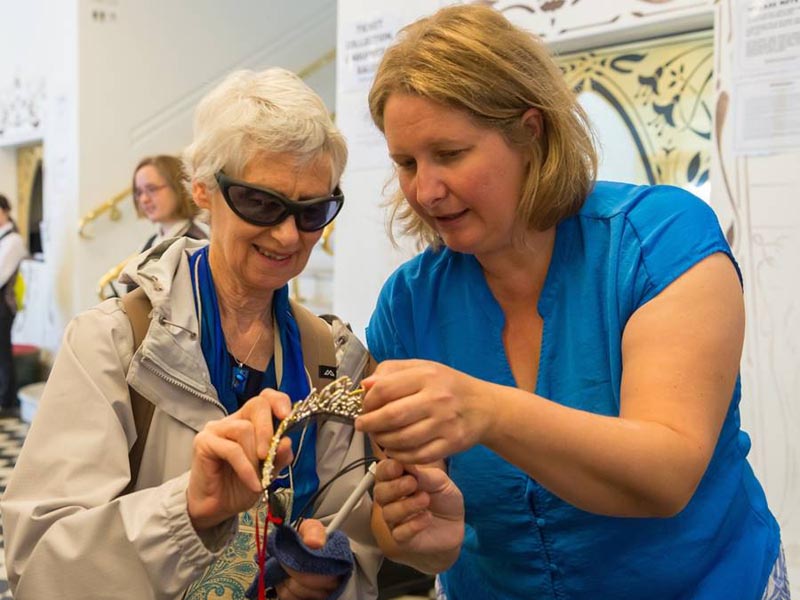 In their comments, the judging panel said: "The RNZB is a role model for everyone in the arts sector wishing to develop new audiences by improving their accessibility and engaging with diverse communities. We applaud its commitment, comprehensive accessibility policy, free companion seat and a programme of events that makes ballet accessible to people who might not otherwise get the chance to experience it. Also impressive is its documentation of audience growth."
For Pascale, the journey towards the RNZB becoming more accessible began when she attended an Arts For All Wellington Network meeting soon after she started work with the company in 2014. She was impressed by what she heard and set out to persuade senior management about the importance of accessibility, including inviting Arts Access Aotearoa Executive Director Richard Benge to talk to the RNZB Executive and Artistic Directors and their senior management team.
"At the end of his talk they all looked at me and said, 'Wow, we should really be doing something about this'."
Board signs accessibility policy
In June 2017, the RNZB board signed the organisation's accessibility policy, and Pascale and her colleagues set about implementing it. The initial focus was on people with vision and hearing impairments but it has now expanded to include relaxed performances.
These performances include dim lighting, low-volume music, and a more relaxed attitude to audience behaviour.
"Instead of being a formal performance, where everyone sits very quietly, audience members are allowed to make involuntary sounds and take time out if they need to," Pascale explains.
The RNZB's commitment to accessibility doesn't only include people with disabilities. Since 2015, the company has held activities for children from low-decile schools. The school matinees come with fully subsidised transport and $5 tickets to performances in Auckland, Wellington and Christchurch, while the free Ballet in a Box series of events in many regional centres give the children a chance to watch dancers in class and onstage, and to get a glimpse of the work that goes on behind the scenes.
In addition, the RNZB has been delivering ballet workshops to women and men in New Zealand prisons since 2017, led by Senior Dance Educator Pagan Dorgan.
"It means a huge amount to the dancers and our production team, who love sharing their work with such diverse audiences," Pascale says. "We are so grateful to everyone who has helped us make this vision a reality, especially the funders who support our programmes."
For Pascale, this is just the beginning. "For the next step, I'd like the company to go beyond accessibility and focus on participation."
The Royal New Zealand Ballet would like to thank the dedicated supporters of its community and education programme in 2018 and 2019, especially the Lion Foundation, Four Winds Foundation, the Kelliher Charitable Trust, Foundation North, Wellington Community Trust, Trillian Trust, the Rātā Foundation, the Les and Sonia Andrews Cultural Foundation, the Ballet Foundation of New Zealand and Perpetual Guardian – the Farina Thompson Charitable Trust and the New Zealand Charitable Foundation.