Validating prison art in an international outsider art context
12 January 2011
The artwork of talented New Zealand prisoners deserves to be seen alongside international outsider art, says Wellington artist, curator and academic Stuart Shepherd.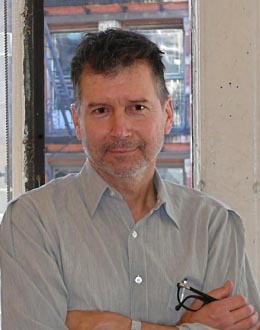 Stuart will return to the annual New York Outsider Art Fair from 11 to 13 February, representing the work of five New Zealand self-taught artists: Susan King, Ray Ritchie, Robert Rapson, Andrew Blythe and Martin Thomson.
Although artwork by prisoners is not presented at the Outsider Art Fair, Stuart believes the fair would be an ideal vehicle to promote the work of talented artist prisoners.
Stuart has been attending the New York Outsider Art Fair since its inception in 1991. More than 12,000 people attend the annual fair, held during Outsider Art Week at the American Folk Art Museum in New York City.
The New Zealand work will stand alongside presentations from more than 100 galleries and community art centres – all intent on selling work to the European, North American and Asian dealers and collectors who flock to New York to attend the fair.
Arts Access Aotearoa asked Stuart the following questions about outsider art and his attendance at the New York Outsider Art Fair.
1. Who are "outsider artists"?
This term describes artists who don't fit into the mainstream art scene; artists who have developed their visual languages outside the established art institutions. Usually their work has developed intuitively in response to their environment, and in response to the availability of materials. I prefer to use the term "self-taught and visionary artists", referring to those who have had no formal or traditional art training and who do not follow a particular style.
2. Who attends the New York Outsider Art Fair? Who buys – and why?
Art lovers! New York continues to be a centre of art consumption, display, gossip, fashion and writing. There's a huge industry, and huge tourism around art and culture – a big hungry audience for the latest artwork or art idea. It's the perfect place to show unknown work from New Zealand. People are very curious and enthusiastic to see new work.
3. What countries participate in the Outsider Art Fair and how many outsider artists are represented?
Most states in the US are there, along with Britain and most European countries. The first serious collectors of "art brut" were from France and Germany 100 years ago. Artists from Asia and central America are the newest areas to be included in the fair. I first presented New Zealand work in 2009.
There's something like 100 galleries, including community art centres, with up to 20 artists represented by each gallery.
4. What successes have you had at previous Outsider Art Fairs?
Any success comes directly from getting the artwork seen by international curators, collectors and writers. Once the work is seen, then getting pieces included in significant collections and exhibitions is the objective.
This has happened for a number of the artworks I've taken to the fair. In 2010, Jim Dornan from Wairoa became the first New Zealand artist to have work shown at the American Visionary Art Museum. Andrew Blythe had work collected for the Museum of Concrete Poetry in Florida. Robert Rapson's work was sold to many different collectors, including Sanford Smith who began the Outsider Art Fair 19 years ago and who organises a number of other New York art fairs. And a number of international art writers have discussed the work online and in contemporary magazines such Art and Antiques Magazine.
5. Why do you think outsider art is important?
The attention given to work by self-taught artists at this point in history reflects the evolution of understanding and respect for indigenous art, and for marginalised art practices. It's also about how we define the idea of "culture" and cultural identity. New Zealand no longer sees England as the mother country and there is a much stronger sense of our unique character. Self-taught art is an authentic voice about who we are and it needs to be heard.
There is a growing field of scholarship around the work of various outstanding outsider artists. Henry Darger is the classic example – an artist now considered one of the most original and defining American artists of the twentieth century. No review of American art and culture would be complete without his work.
6. Could outsider art fairs and exhibitions legitimise the existence of prison art?
Yes. Presenting prison art in this company of serious art lovers and scholars (museum curators, collectors and so on) would definitely legitimise it. Art at these fairs gets considered as having anthropological significance. It is seen as being an authentic human response to a particular time and place. But as with any other art, there are stronger and weaker examples of prison art. This is where serious scholarship and curation comes in.
7. Will you be looking at opportunities to present prison art internationally?
Although it's not part of my research project, the connections I'll be making with curators, writers, dealers and artists will all be valuable. And of course, such a stimulating environment always sparks ideas and possibilities. So who knows?
8. How is outsider art viewed by the arts fraternity in New Zealand?
Over the past ten years, outsider art has been creeping in from the outside and self-taught artists are winning contemporary art awards. For example, Martin Thomson won the 2010 Waiheke Contemporary Art Award and two artists from Sandz Gallery in Hamilton were recognised in the 2010 COCA Anthony Harper Contemporary Art Award exhibition in Christchurch.
Work is being judged on its unique merits and judges are more open (and younger). Art is infiltrating other domains and is being written about in more thoughtful terms.