Blog
Arts Access Aotearoa
Arts Access Aotearoa was founded 20 years ago this year on the understanding that all people have the right to engage with the arts and to express themselves in ways relevent to their culture. We were then and still are concerned to represent and advocate for people who would (because of circumstance) be unheard or over looked.
In this context Arts Access Aotearoa is the national organisation that advocates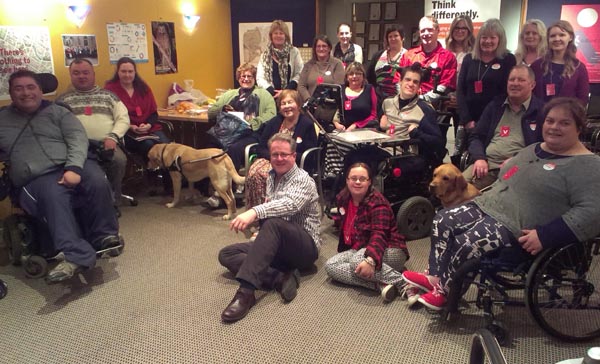 for and with people who experience barriers to participating in the arts. Their right to creative expression should not be overlooked. This is why we talk about our stakeholders in detail - being disabled means different things to different people. Because of their abilities they would rather not be referred to as disabled at all – but here goes.
Arts Access Aotearoa's key stakeholders are artists and arts organisations in the community and professional arts sectors; people with physical, sensory or intellectual impairments and people with experience of mental ill health. We advocate with, for and alongside our people because it's their human right to have access to cultural expression and creativity along with education, food and shelter, safety and many others. We see on any one day in the news or through social media that without a voice, influence, advocacy or strong representation that the rights of vulnerable or underrepresented communities are overlooked.
In New Zealand we fulfil our obligations as parties to the Universal Declaration of Human Rights that we signed in 1948. Since then additions have strengthened its intention to provide a safe and fulfilled world. Under the International Covenant on Economic, Social and Cultural Rights from 1966 is
Article 15 which states
The States Parties to the present Covenant recognize the right of everyone:
(a) To take part in cultural life;
The States Parties to the present Covenant undertake to respect the freedom indispensable for scientific research and creative activity.
I explored these subjects with former Human Rights Commissioner Robyn Hunt when we led a workshop for delegates at the International Federation of Human Rights Museums held at Te Papa 22 – 24 September.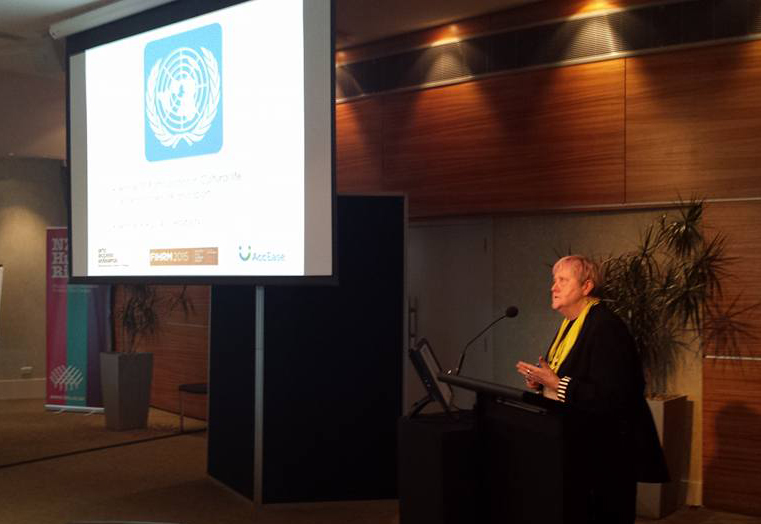 'How do you tell unsafe stories in safe places' is a theme in which museums can play a role in reconciliation, bringing understanding (for example) to past conflicts. Museums can be a safe place to look at hard topics. New Zealand's Te Papa is an experiment (if you will) in how to tell the story of Aotearoa New Zealand as a progression of peoples and events that have sometimes been very unsafe to talk about.
So where do Arts in Disabilities fit in? Delegates at the conference were interested to learn that New Zealand has an NGO that works cooperatively with the New Zealand government supported by core funder Creative New Zealand. This helps New Zealand deliver on our creative and cultural obligations to the UN. There are too many countries in which populations struggle to obtain basic needs let alone their human rights. New Zealand is an example of one of the better stories however we have more to do notwithstanding that we hold the Chair of UN Security Council. We should not be complacent.
Often the arts and creativity is seen as a 'nice to have' when really it can bring much more than 'nice'. To understand the value that cultural and artistic expression brings to and means for people who are disabled requires wide ranging community responses as well as government funding.
Important voices of community leaders are essential to create positive change and I encourage you to follow these three writers who not only speak up for, but speak from within the community of people who are disabled. They represent authentic experience and each person positively influences the work of Arts Access Aotearoa.
Philip Patston is the 2014 Arts Access Accolade recipient. A champion for social change and diversity,
Philip's thoughtful sometimes deeply reflective writing is challenging and often randomly interesting for any of us who think we are working with the best intentions. Follow Philip here
Thane Pullan is a comedian, blogger and software developer. His capability with digital technology demonstrates that (for people at different stages of life and circumstance) that ability comes before disability and he is very good at holding up a mirror to society with his sharp wit. Follow Thane here
Robyn Hunt is a journalist, communicator and writer who served eight years as a human rights commissioner, working on disability at the New Zealand Human Rights Commission. She regularly visited the United Nations in New York with the New Zealand team negotiating the Convention on the Rights of Persons with Disabilities (CRPD). Robyn is expert in the creation of readable, accessible information for print, radio, TV and the web. In 2013 she won the Making a Difference and Supreme Awards in the New Zealand Attitude Awards. Follow her here
If you have any questions or feedback on this column, or if you would like to let me know about your art, organisation, group or project please email me on richard.benge@artsaccess.org.nz