News
Arts Access Aotearoa
A few minutes in the company of Whanganui volunteer Juanita Davis with some of the men she has been teaching to weave, and the value of her work shines through.
She's made he first visit back to Whanganui Prison following the COVID-19 rāhui and everyone is delighted to see her as they work and talk about a practice they have all come to love.
Juanita has been volunteering at the prison for more than two years and her dedication saw her recently awarded a Kaitiaki Whanonga Pono (values) award from Ara Poutama Aotearoa Department of Corrections.
It takes just a few minutes of talking to men who have taken her classes to see why.
"At first I didn't know how to take her. But she's one of the best people I've ever met. She's given me something that no one else has. It's like gold," one man says.
"It's helped me in every way possible, it keeps me out of trouble. I used to be mischief every day. But not any more. Haven't had any trouble since I've been doing this. I love it."
Another tells how the teaching goes well beyond learning to weave.
"We learn about the river, and we learn about the history of the harakeke and the role it has in keeping the river clean. It's environmental as well as being used to make good things.
"But mostly what I like is it that everything is whananungatanga and whānau. There's a lot of guys that come from all walks of life. But when you do this, you set aside who you might be and you come together."
Whanaungatanga, manaakitanga, kaitiakitanga, tikanga
Juanita sums it up: "What guides me is whanaungatanga, manaakitanga, kaitiakitanga, tikanga."
Her approach is in line with the Hōkai Rangi strategy released by the department in August last year. Its six outcomes include:
Humanising and healing – treating people in our care with respect, upholding their mana and dignity and
Incorporating a Te Ao Māori worldview – recognising access to culture is a fundamental right, not a privilege, regardless of a person's circumstances.
Foundations for participation – people in the care of Ara Poutama Aotearoa and their whānau will be supported to have their basic needs met and the relevant tools for full participation in society.
Corrections National Commissioner Rachel Leota says the arts plays an important role in realising these wellbeing outcomes in Hōkai Rangi and encouraging rehabilitation.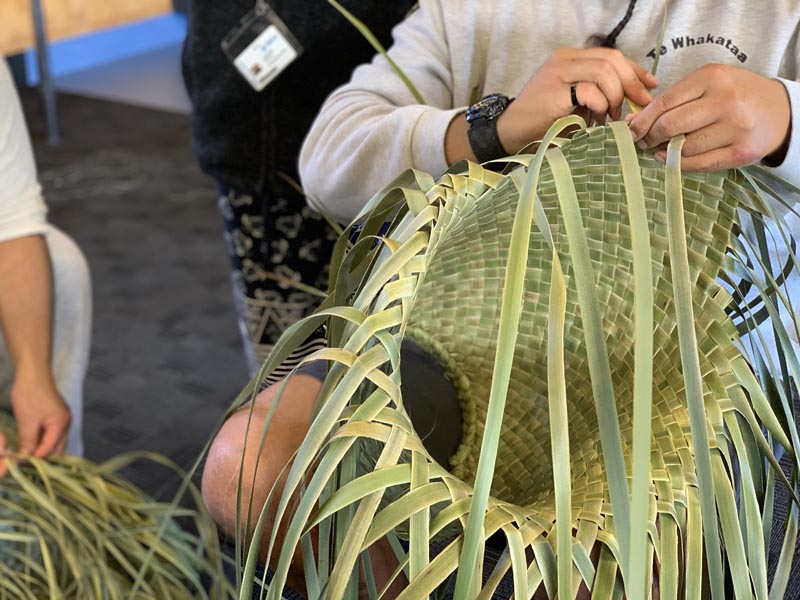 "Through art and creative expression, people serving sentences can explore traditional skills, connect with their cultural identity and be supported by an environment that respects and enhances their mana.
"Providing creative space in the prison environment is an essential part of humanising and healing people in prison and involving their whānau in the journey. Hōkai Rangi will see us extending this work further into high security environments."
She says the relationship between Corrections and Arts Access Aotearoa is critical for ensuring people in prison are successful in their transition back into the community.
"The Arts in Corrections sector plays an important role in supporting the implementation of Hōkai Rangi. The further extension of this work will be invaluable for the success of the strategy," Rachel says.
Meanwhile, back in Whanganui, Juanita and the men share a laugh about their very first lesson, where after the tikanga had been discussed, the exercise was to weave a flower. The men are pretty vocal as they recall the day: flowers were not really their thing and they wondered what they had signed up to.
"But they all came back the next week," Juanita laughs, as she talks about how proud she is of what they have achieved. "I see the confidence, a cultural connection, which helps with that confidence and with their self-identity.
"It gives them a bit of a connection on who they are and where they've come from."