News
Arts Access Aotearoa
Musical pioneer receives Artistic Achievement Award
9 July 2015
Pati Umaga was awarded the Arts Access Artistic Achievement Award 2015. His outstanding achievements and contribution to empowering other people with disability to be involved with music and the arts were acknowledged at the Arts Access Awards, held at Parliament on 1 July.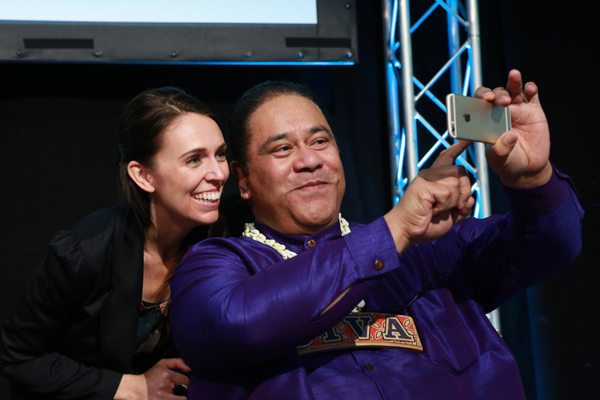 The award was presented by Auckland Central MP, Jacinda Ardern and after Pati asked the guests to cheer for a video he took from stage on his mobile phone, he asked Jacinda to pose with him for a photo.
The almost 250 guests were also treated to an exclusive viewing of his new music video "SIVA" which he composed about dance and disability. The video, which Pati directed, will be released later this year.
Pati is a musical pioneer for Samoan music, both contemporary and traditional in New Zealand.
When Pati was young, he and his brothers were excelling at rugby and heading towards playing at a representative level. But their father didn't approve of the sport and told them to start a band.
"In Pacific culture you don't argue with your parents so we started a band. Now, I can see we were steered in the right direction," Pati says.
He had a successful career as the bass player for the Holidaymakers, which had a number one hit, Sweet Lovers, in 1988. In 2005, as a result of a fall, he became a permanent wheelchair user which led him to form the Wellington Pasifika Disability Network.
Pati Umaga's numerous achievements
Amongst the numerous achievements Pati Umaga accomplished while serving the Pacifica and disabled communities are President Elect for Disabled Persons Assembly (DPA) NZ, a member of the Health and Disability Commissioner's Consumer Advisory Group, member of several advisory groups, a Whanau Ora Champion, as well as a winner of the Queen's Service Medal.
Along with his policy work for ACC and the Ministry of Social Development, Pati has been involved in developing policy for the United Nation's Convention on the Rights of Persons with Disabilities. New Zealand is one of 160 countries that are signatories to the UN Convention.
"It's a binding contract and New Zealand reports every year to the United Nations on its progress towards implementing the UN's policies," Pati says.
"It's very humbling for me to receive this award. I hope it inspires more of our disabled musicians to strive towards their musical dreams and goals, whatever they may be," Pati says.