Blog
Arts Access Aotearoa
The old saying about a picture painting a thousand words can certainly be true – and these are the "iconic" photos we use again and again to evoke an emotion, highlight an issue or make a statement.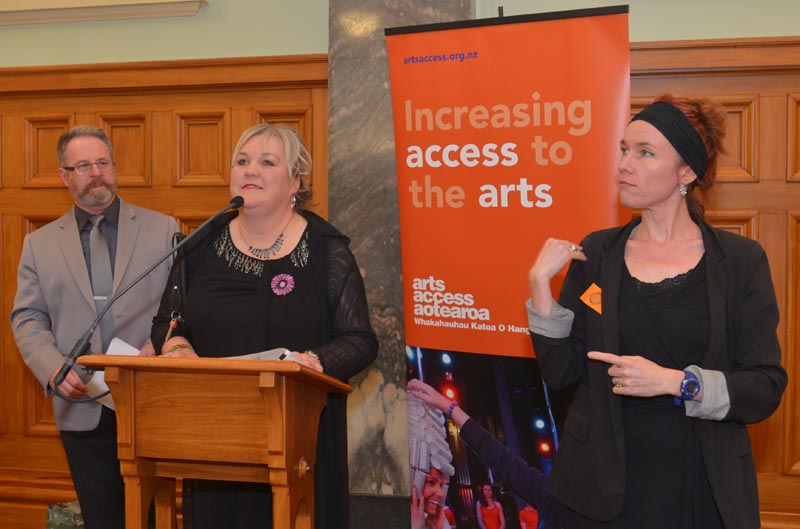 But words – written and spoken – also have the power to move us, provide a voice and inspire change. For Julie Woods, my co-MC at the recent Arts Access Awards in Parliament, words paint pictures and give her a voice.
Julie, who is blind, read her script using braille, and told guests that when she went blind in 1997 she lost both her sight and her voice. "Thanks to Louis Braille and the Blind Foundation, that all changed four years later when I learned braille as a 35-year-old adult."
Throughout the evening, recipients spoke about their journey, their organisation and their projects. Deidre Dahlberg, Director of Pablos Art Studios, made an impassioned speech after Hon Nicky Wagner presented the Pablos team with the Arts Access Holdsworth Creative Space Award 2017.
"All of us have mental health and all of us can be affected by a change in our circumstances – an accident, an impairment as a result of getting older, a trauma from bad experiences ...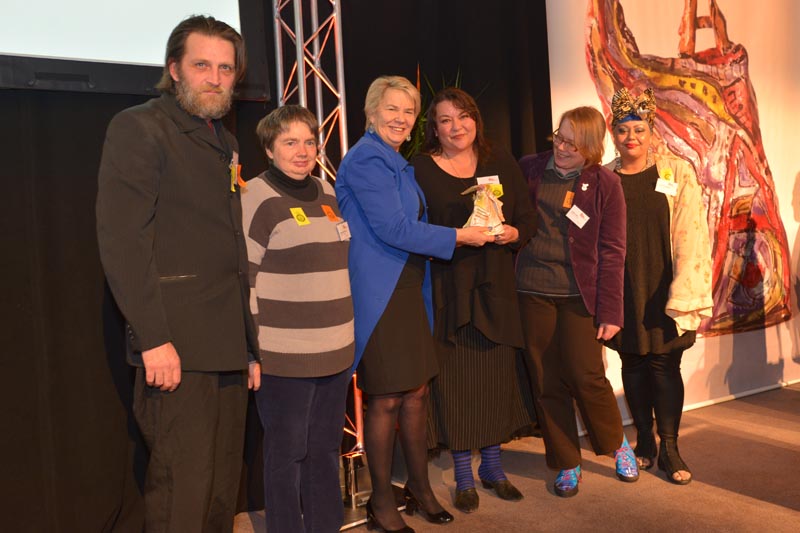 "Pablos has helped thousands of people lost between the health system and their community. We are not the only NGO that has found a positive model of healing that works. There are others we work with and together, we provide choices for those who need our help.
"Choices are what we all deserve. Like the garment in the clothing store that is labelled 'One size fits all', we all know that the label isn't true. Many of us cannot fit into that garment. The same can be said for our health services. No one type suits all and so we need diversity in our choices. We are equal as human beings but diverse in our experiences and needs. I would encourage our government to remember that when they make their choices."
We loved Deirdre's speech so much, we asked her to send us a copy so we could turn it into a blog. You can read it online.
A significant undertaking
The Arts Access Awards are a significant undertaking for our small team – from the February call for nominations to the judging panels, the trophies, communications, the media and event management. They dominate our work calendar for the two months leading up to the event.
However, they are well worth the work involved! It's always wonderful to see the pleasure and pride they inspire among recipients and guests as individuals and organisations are recognised.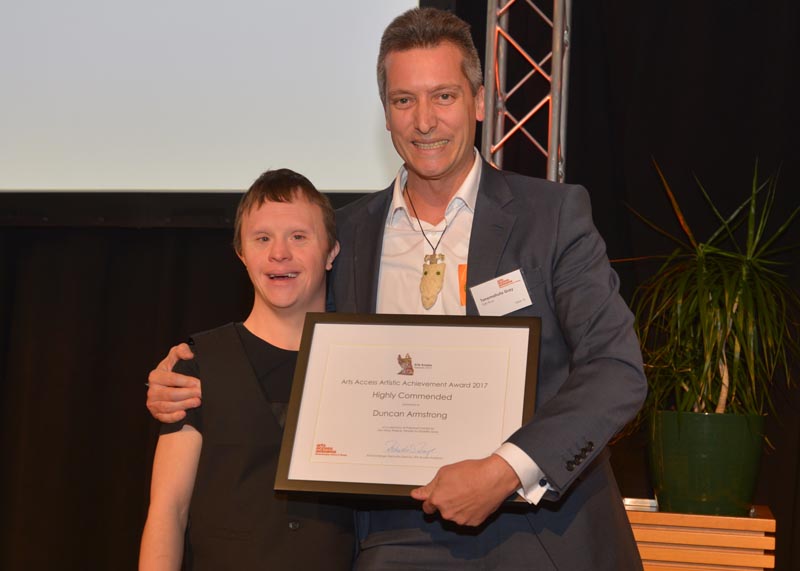 It's also great to see the way the recipients step up so willingly to be interviewed by the media. Thank you for your grace and generosity: I know it's not always easy. You can read or listen to the stories and interviews via links on Arts Access Aotearoa's website.
Along with iconic photos from the Arts Access Awards, there are what we like to call "iconic quotes" – something someone has said that is so absolutely true, it can take your breath away. Take for example, Duncan Armstrong, who received a Highly Commended citation in the Arts Access Artistic Achievement Award. When the newspaper reporter asked him if Down syndrome was an extra challenge to overcome, or an essential component of who he is and his dancing. Duncan responded: "I don't know what that means, I am a person." That's gold. You can read the feature about Duncan on Stuff.
Providing a voice
Words and their power to provide a voice are demonstrated by the Write Where You Are group, which received a Highly Commended citation in the Arts Access Corrections Community Award. The volunteers – writers and teachers Pip Adam, William Brandt, Gigi Fenster, Raj Chakraborti – teach creative writing to prisoners in Arohata and Rimutaka prisons, and are expanding into the community.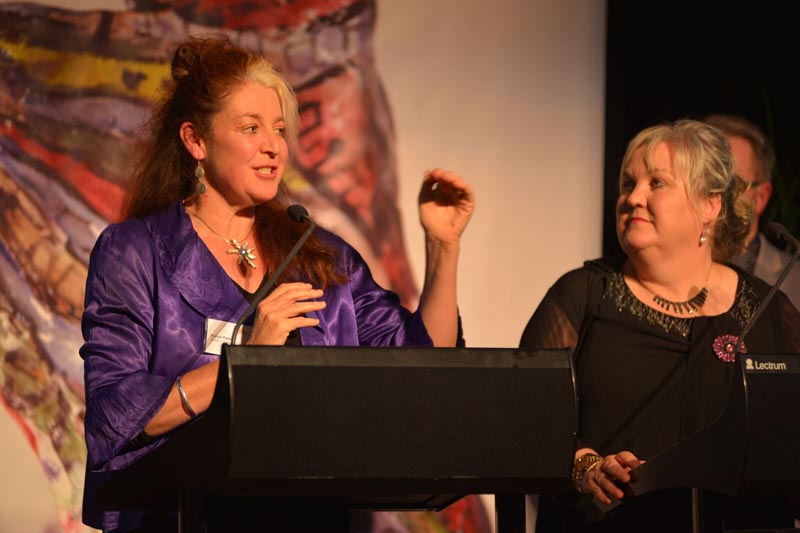 And finally, the Bedtime Stories programme at Arohata Prison – recipient of the Arts Access Corrections Community Award – marries words and pictures to provide a way for grandmothers, aunts and mothers in prison to connect with the children in their lives. You can read more about the impact of this simple but effective programme online.
I'd like to thank everyone involved in making this year's Arts Access Awards a great success. Nominees who put forward people and organisations for consideration understand the importance of this advocacy and what these awards mean to the sectors we work with. Please start thinking about who in your community you can nominate for the 2018 awards. The annual opportunity for celebrating the value of accessible arts comes around quickly.